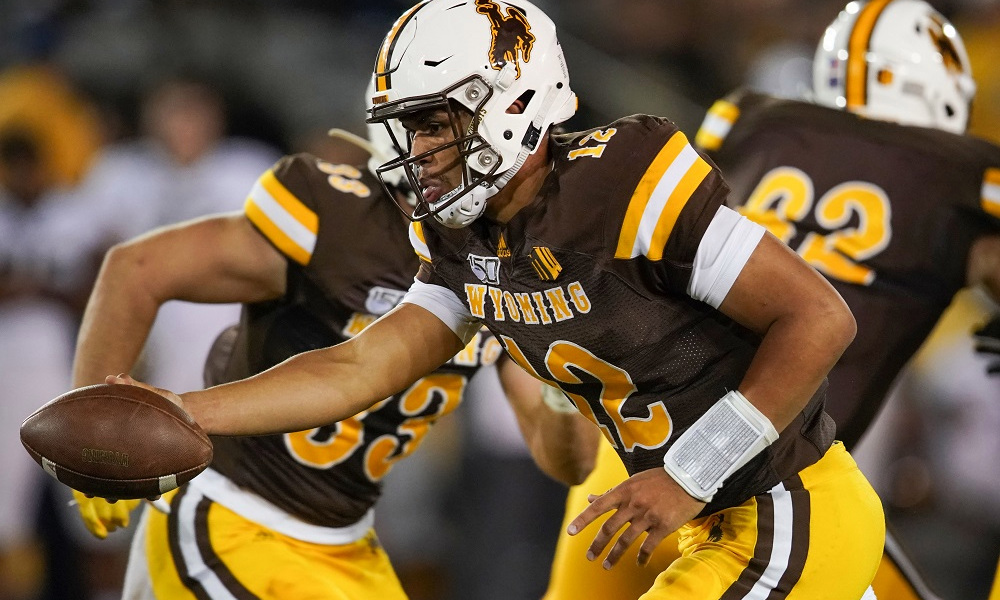 By Davis Potter
Casper Star-Tribune
Via- Wyoming News Exchange
CASPER — Once the Big Ten changed course and announced earlier this week that it will play a fall football season beginning in late October, players, coaches and fans of Wyoming and the rest of the Mountain West schools began asking the same question: Are we going to get a fall season, too?
The answer is definitely maybe.
There are still hurdles for the Mountain West to jump if it's going to be able to play football this year after postponing fall sports indefinitely last month amid the coronavirus pandemic. But a reaction to the Big Ten's announcement on Wednesday from Mountain West Commissioner Craig Thompson — one in which Thompson said the league is "working daily" to clear those hurdles, including finalizing a plan for sufficient testing — made it clear the conference is pushing to join the seven Football Bowl Subdivision leagues that either plan to play this fall or have already started.
University of Wyoming President Ed Seidel also released a statement suggesting the plan to resume football and other fall sports is in overdrive. Even Gov. Mark Gordon took to Twitter on Friday to voice his advocacy for UW's sports safely returning sooner rather than later.
"After good conversations with (Idaho Gov. Brad Little) and (Utah Gov. Gary Herbert) about our shared support for a safe return of Mountain West football, I'm hopeful we can find a path forward," Gordon tweeted. "Stay tuned."
So will the Mountain West actually play football this fall?

The league is exploring an eight-game conference-only schedule. As of Friday morning, it was the only scheduling model being considered for the fall, a source told the Star-Tribune.
UW spokesman Chad Baldwin told the Star-Tribune the Mountain West Board of Directors, which is comprised of the league's 12 university presidents, continues to have regular discussions about the situation, and the group's next meeting is reportedly scheduled for next week. While it's unclear whether or not the presidents will make another decision about a fall season then, the presidents first need a proposal to vote on.
And for a group that cited health concerns and the challenges of effectively mitigating COVID-19 in conjunction with athletic competition as the primary reasons for voting to postpone the first time around, any plan to play this fall isn't likely to get the presidents' stamp of approval without the inclusion of a rapid response testing system, which many conferences have already secured.
Daily antigen testing and enhanced cardiac screening for its players and coaches are among the medical protocols that ultimately made the Big Ten's presidents and chancellors comfortable enough to resume football this fall. The Pac12, which is also reconsidering its decision not to have fall football, and the American Athletic Conference have announced partnerships with companies for rapid testing, which can yield results in as little as 15 minutes and therefore prevent team-wide outbreaks should a player or coach test positive.
Mountain West spokesman Javan Hedlund told the Star-Tribune on Wednesday that discussions with potential testing providers in regards to a partnership with the conference are ongoing. A source with direct knowledge of the Mountain West's thinking said a start date for a potential fall season is still being discussed, but being able to secure rapid testing is the linchpin.
"We prefer soon," the source said, "but rapid testing is critical."
There are also public health orders in place that may affect some teams' ability to adequately prepare for a fall season.
While Wyoming recently loosened its restrictions to allow outdoor gatherings of up to 1,000 people at venues, the Mountain West also has football members in Hawaii, New Mexico and California, all of which aren't able to have full-contact practices at the moment because of their states' restrictions. Pac-12 teams in California and Oregon (Southern Cal, UCLA, Cal, Stanford, Oregon and Oregon State) cleared that hurdle when state and local restrictions were lifted for them to practice if that league decides to play this fall, but that hasn't been the case — at least not yet — for San Diego State, San Jose State or Fresno State, which still hasn't brought its student-athletes back to campus.
Hawaii also requires a 14-day quarantine for out-of-state travelers, but the state's governor, David Ige, said this week that travelers will be allowed to bypass the quarantine beginning Oct. 15 as long as they test negative before arriving on the island.
In other words, it's not a given that every Mountain West team would be able to play this fall, though that may not be a dealbreaker. UW athletic director Tom Burman told the Star-Tribune this summer that scenario had already been discussed within the conference and that teams that are able to play would "continue on" without the others.
But the league doesn't have time to waste.
Every FBS conference that's playing this fall has plans to play its league championship game no later than Dec. 19, which is 13 weeks from now. The Mountain West also needs to be able to finish its season by then, the source said.
That's because the final College Football Playoff rankings, along with other possible bowl matchups, including the New Year's Six, are scheduled to be announced Dec. 20. The highest-ranked Group of Five champion automatically qualifies for a New Year's Six bowl bid, but in order for the Mountain West champion to be eligible, the league would have to finish its season within that window.
Even if presidents do vote to restart football this fall, teams would need adequate time to prepare. In UW's case, head coach Craig Bohl allowed his players to go home following the league's decision to postpone the fall season on Aug. 10, and Burman told UW's Board of Trustees at its meeting Thursday that players have arrived back on campus "not in as good of shape as they were."
Burman said, in a perfect world, Bohl would like six weeks of conditioning, training and full-contact practices to get his team ready for a fall season, but Burman acknowledged the Cowboys may only get four or five.

"We're not going to play if it's not safe both from a COVID perspective and a contact perspective," Burman told the board. "You have to get used to hitting to be safe to hit."
Either way, at least a month would pass from the time presidents signed off on a season until the first game, which, in order to play eight games by Dec. 12 and a conference title game the following week, would need to be played on Oct. 24. That timeline doesn't include any bye weeks that other conferences have purposefully incorporated into their schedules as possible "makeup dates" in case teams have to postpone games in response to positive test results.
So, the Mountain West may end up playing a fall season after all. Or they could still wait until the spring.
Like everything else amid a pandemic, nothing is certain.
Tagged:
Mountain West Football
Wyoming Cowboys football