One suspect in custody; arrest warrant issued for another in Our Valley Pharmacy burglary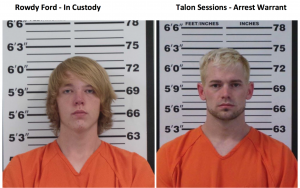 The Lincoln County Sheriff's Office has arrested Rowdy Ford, 18, of Fairview WY in connection with the recent Our Valley Pharmacy burglary in Thayne WY. Ford is charged with burglary as well as other charges unrelated to the burglary.
According to information released by the LCSO, the office has also obtained an arrest warrant for Talon Sessions, 28, of Thayne WY for burglary in connection the pharmacy burglary.
"Investigators continue to work closely with the Lincoln County Attorney's Office on this case and we expect additional charges to be filed," the Lincoln County Sheriff's Office stated.
"If you have any information about the burglary or If you know of Sessions whereabouts please contact the Lincoln County Sheriff's Office at 307-885-5231."
The LCSO has been working on this case since video of the burglary was recorded on February 9, 2018. Information about the burglary was broadcast through the SVI Media network on SVInews.com and also through thousands of viewers through the broadcast arm. Our Valley Pharmacy has locations in both Thayne and Alpine and has offered $3,000 as a reward for information relating to the case.
Tagged:
Lincoln County Sheriff's Office
Our Valley Pharmacy
Rowdy Ford
Talan Sessions