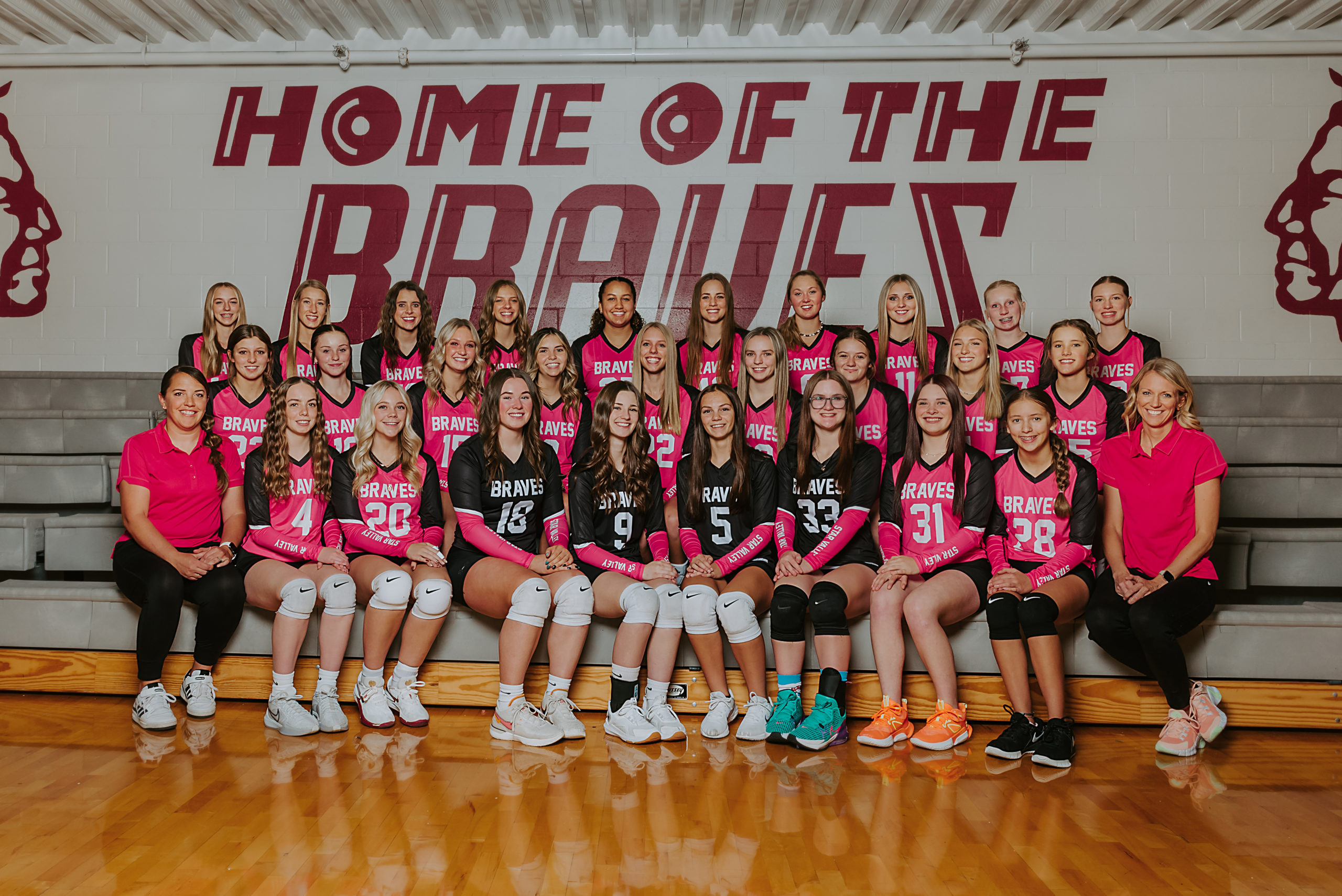 • Matches begin at 4 p.m. at SVHS versus Jackson.
For many fans of high school sports there is a growing emergence of pink accessories and items that go along with the events in the month of October as it is breast cancer awareness month. This is not to say that people are not aware, but more to spur urgency and action as it pertains to detection, conversations and support.
In Wyoming, there are currently 3,170 estimated new cases of breast cancer in 2023 according to the American Cancer Society (ACS) with more than 1,000 deaths estimated to those cases.
According to the ACS, the five-year relative survival rate is 99% when breast cancer is detected early and is in the localized stage. However, roughly 50% of all cancers are at an advanced stage when they are diagnosed.
The odds are that if you don't know someone who has battled or is currently battling this disease, you will in your lifetime. Drugs and treatments have advanced that are directly related to nationwide fundraising and the push to find a cure.
At the local level, the SVHS Volleyball program is one of many across Wyoming who participate in raising funds and awareness for breast cancer with an annual PINK Night which is taking place this Thursday evening, October 12. This year the night will center around helping Staci Horsley and Eileen Humpherys.
"It's fun to see people get help but as a senior class we chose to help Staci Horsley and help her out," said Taya Johnson, the Lady Braves' libero.
"We were skeptical at first because she is so selfless and she offered to pass it along," added senior Kenlee Engelhardt. "She's wanted to emphasize the importance of getting checkups and following up."
"It brings us closer because it's such a big project so we're all working on it. It definitely helps us build together," said Johnson.
The team provides baked good for auction and area businesses have donated many items for fundraising.
"We've had some luck with that as we've had a ton of donations," Engelhardt added. "But they can donate up until Thursday right before the matches."
The gravity of the diagnosis is not lost on the young players either.
"It's a big thing as we introduce the family at the beginning and it hits you hard and it's sad," Engelhardt said. "It's a tough night but once you get playing it's bigger than volleyball."
There is a Venmo account associated with the evening that can be found in this newspaper and on site at the school. Donations can be made by contacting the high school in general or the volleyball coaches and volunteers specifically.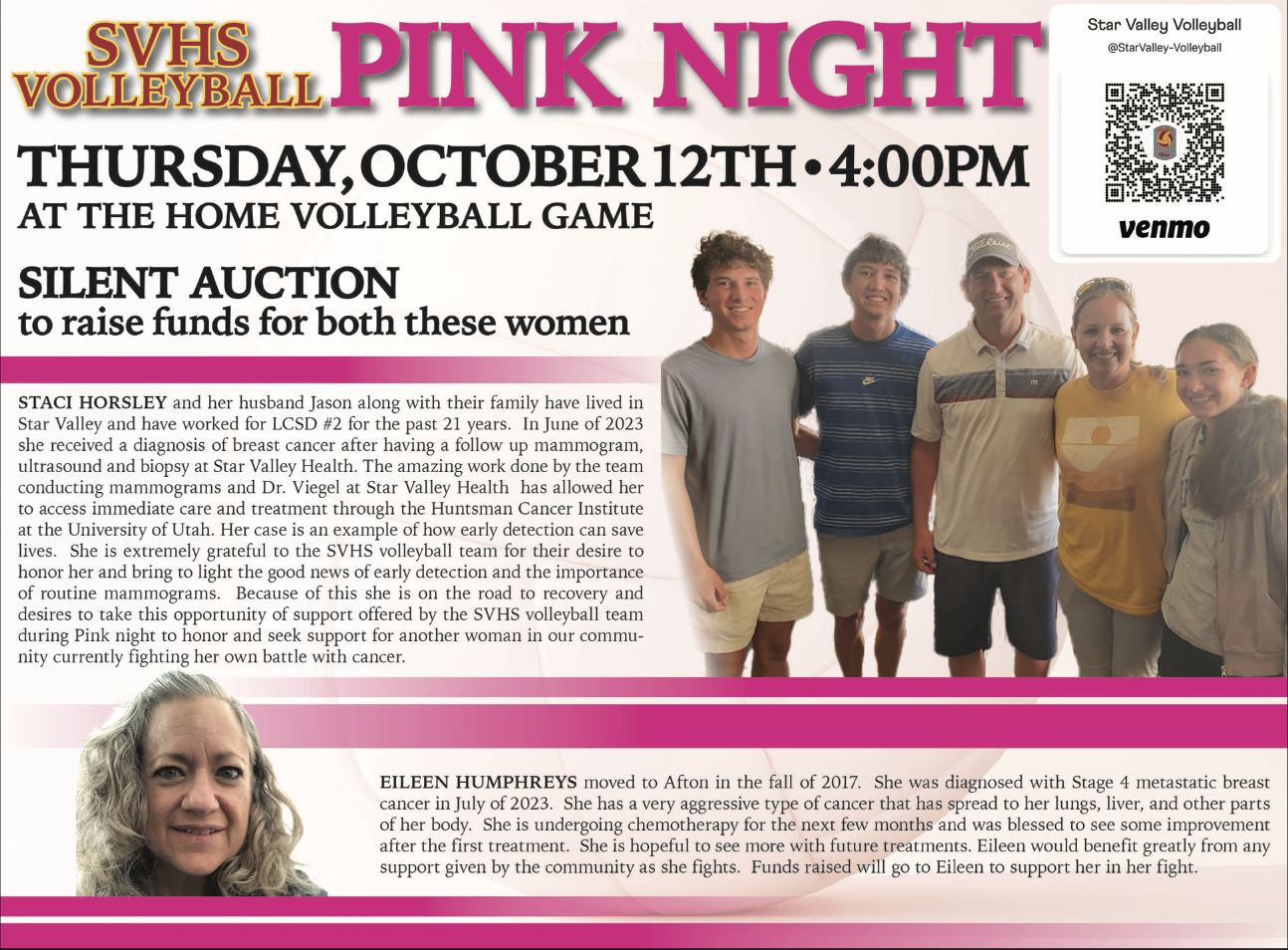 Staci Horsley and her husband Jason along with their family have lived in Star Valley and have worked for LCSD #2 for the past 21 years.  In June of 2023 she received a diagnosis of breast cancer after having a follow up mammogram, ultrasound and biopsy at Star Valley Health. The amazing work done by the team conducting mammograms and Dr. Viegel at Star Valley Health  has allowed her to access immediate care and treatment through the Huntsman Cancer Institute at the University of Utah. Her case is
an example of how early detection can save lives.  She is extremely grateful to the SVHS volleyball team for their desire to honor her and bring to light the good news of early detection and the importance of routine mammograms.  Because of this she is on the road to recovery and desires to take this opportunity of support offered by the SVHS volleyball team during Pink night to honor and seek support for another woman in our community currently fighting her own battle with cancer.
Eileen Humphreys moved to Afton in the fall of 2017.  She was diagnosed with Stage 4 metastatic breast cancer in July of 2023.  She has a very aggressive type of cancer that has spread to her lungs, liver, and other parts of her body.  She is undergoing chemotherapy for the next few months and was blessed to see some improvement after the first treatment.  She is hopeful to see more with future treatments. Eileen would benefit greatly from any support given by the community as she fights.  Funds raised will go to Eileen to support her in her fight.
Let us know what you think!