Potential Start Bus Stop and parking area being considered for new Strawberry Rd. intersection
Lincoln County Commissioner Kent Connelly joined SVI to give more information on the Strawberry Road Project that is slated for 2024.
He says the design has been in place for quite a while and will serve as a commuter center.
Previous information given by the Commission has indicated that construction will relocate Strawberry Creek Road to intersect with Highway 89.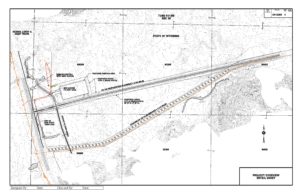 "We should have some solar hook ups in there and solar panels on them," Connelly said.
Connelly says the goal would be to bring the Start Bus down to the parking lot or commute center. He says it is possible they could use that Start Bus further south to accommodate additional workers.
"So, basically a transportation system hub, if you would," Connelly advised.
He says it will hook to the rest stop that is there and straightening the road out as it has been a major safety concern. He also says the parking lot should be about two to three acres and likely won't be more than five when completed.
"It won't be a big footprint," Connelly said.
The full interview with Commissioner Connelly can be found by clicking here.
Let us know what you think!
Tagged:
Kent Connelly