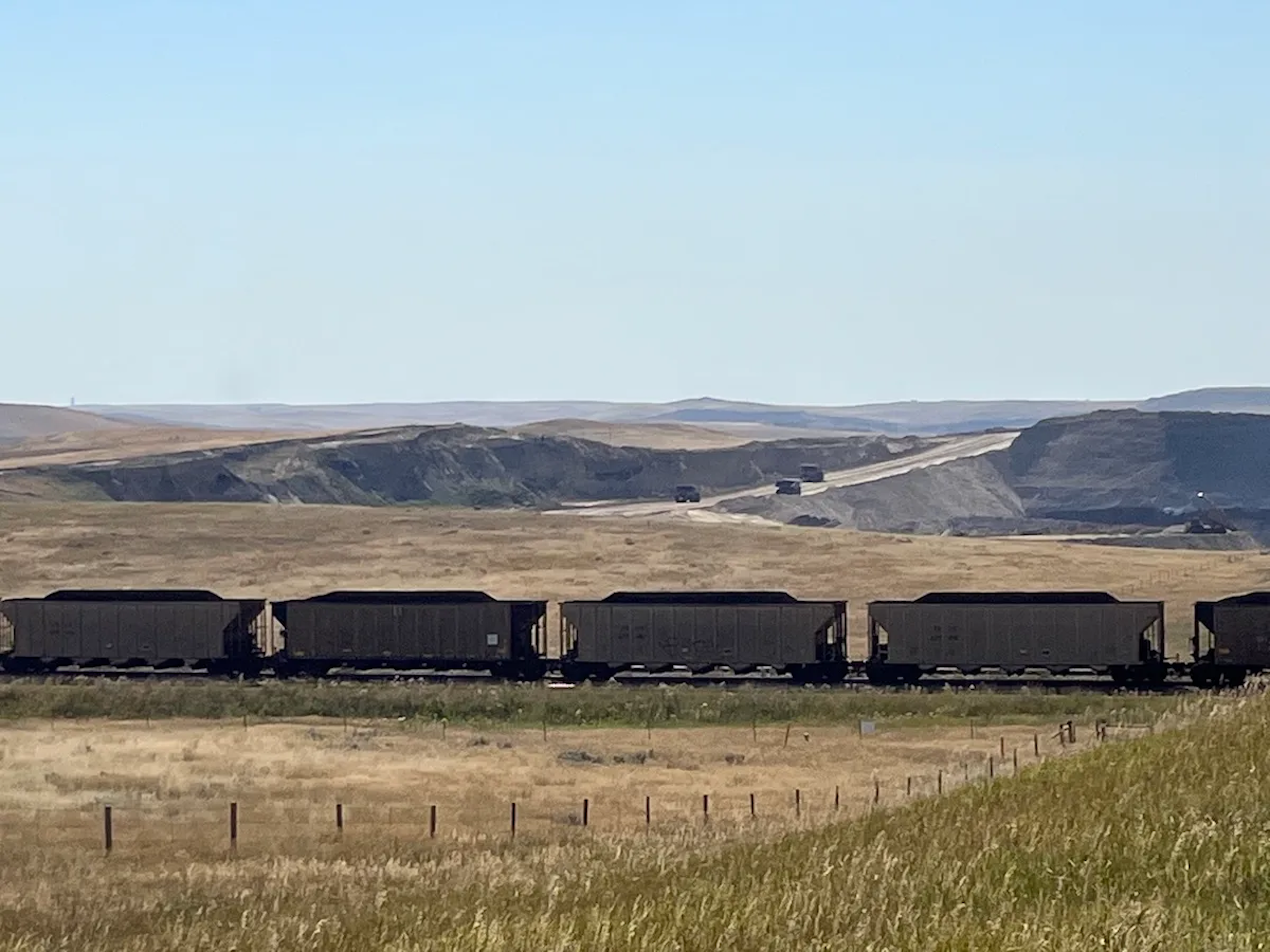 By Jake Goodrick
Gillette News Record
Via- Wyoming News Exchange
GILLETTE —Campbell County had a relatively good year for coal, but it could have been better.
The uptick in demand for thermal coal that began about 18 months ago carried through 2022 and led to a subtle increase in overall production from Powder River Basin mines. But due to persistent logistical issues getting the coal shipped on schedule, those numbers may have fallen well short of what they could have been.
"The thing that's really frustrating about it is we could have had a better year," said Travis Deti, executive director of the Wyoming Mining Association. "We probably lost about 50 million tons in production because the rail service was just not very good this year."
The 12 Campbell County mines combined to pull 237.7 million tons of coal from the Powder River Basin in 2022, more than 7 million tons more than in 2021, about a 3% increase, according to data from the Mine Safety and Health Administration.
The 230 million tons mined in 2021 was a significant rise in production from the 207 million tons produced in 2020, and was credited to a confluence of factors, including high natural gas prices and utilities with low coal stockpiles.
The downswing in 2020 was a 22% drop from the 267 million tons of Powder River Basin coal mined in 2019. While the past two years have rallied above early pandemic levels, the days of shipping 300-400 million tons from the basin are in the past.
The uptick in production also came with an uptick in jobs.
While hiring varied from mine to mine, the overall workforce rose by 200 employees between the 12 mines, according to MSHA data. There were 4,277 employees as of the end of December, 200 more than in 2021 and more than 400 above the 2020 headcount.
Buckskin, Eagle Butte and North Antelope Rochelle Mine saw some of the largest employee gains, while four mines decreased their workforces and one stayed dead even.
Black Thunder led all Powder River Basin mines in coal production, with 62.3 million tons, almost 3 million more than NARM, according to MSHA data. NARM had been the leading producer for at least the past decade.
Production across the board would have been higher if not for poor rail service, Deti said, which turned particularly bad during the fourth quarter of 2022, including a couple of cold weather stints that significantly reduced the number of trains pulling through mines.
Demand for coal has eased some but the prices per ton remain high. The outlook for the Powder River Basin in 2023 will likely depend on natural gas prices and whether the rail performance improves.
"If we do see significant improvement in the second quarter of 2023 — you can't make up for lost production but you can start hitting where you need to hit," Deti said. "If that hits, which we're hoping for, we could be looking at a pretty good 2023."
On-par production from Peabody Energy Corp.'s three Powder River Basin mines contributed to what was a hugely profitable year for the global energy industry giant.
The 21.2 million tons of coal shipped from NARM, Caballo and Rawhide from October through December put the company at 82.6 million tons of PRB thermal coal sold throughout 2022, according to the company's fourth quarter earnings report.
That quarterly haul was about 1.1 million tons short of its expected total due to winter weather that further slowed down rail services, which have been an ongoing issue for Powder River Basin mines.
The cold December in northeast Wyoming hurt the fourth-quarter and end-of-year marks.
During the first cold snap, the Powder River Basin mines received eight to nine trains each day compared to the 18 planned for. The second cold snap saw only one train per day, instead of the 18 expected, said Jim Grech, president and CEO, during the earnings call.
Still, the company ended the year with $1.3 billion cash while taking care of all $545 million of senior secured debt, or debt tied to collateral assets, during the fourth quarter.
The cost to produce Powder River Basin coal increased 13%, or $1.42 per ton, because of lower sales volumes, black lung excise taxes and higher maintenance and repair costs.
The increased tax, which goes toward the Black Lung Disability Trust Fund, came as part of the Inflation Reduction Act and took effect Oct. 1. For surface-mined coal, as in the Powder River Basin, the quarterly tax increased to either 55 cents per ton, or 4.4% of the sales price — whichever is lower.
That rose from the previous rate of 25 cents per ton or 2% of the sales price, according to the IRS.
The adjusted profit margin per ton of $1.17 was significantly lower than the $1.70 margin secured in the third quarter but well above the $0.83 per ton margin from the fourth quarter the year before.
In the ongoing first quarter of 2023, the company expects to produce 22 million tons of Powder River Basin coal. By the end of the year, it plans to ship up to 95 million tons of thermal coal from the basin and has already priced 92 million tons at $13.60 per ton, said Mark Spurbeck, executive vice president and chief financial officer, during the earnings call.
Costs on those are expected at $11.25-$12 per ton, about $0.50 lower than in 2022, he added.
"We are completely sold out in the PRB and also our other U.S. thermal mines," Grech said of coal sales this year.
The company expects the market to remain volatile in the short-term as coal demand fluctuates and mines globally struggle to keep up their supply.
"Global thermal coal markets remain fundamentally sound, with pricing above historical levels," Grech said.
That factors in a recent drop in seaborne thermal prices related to a warm European winter which has caused higher gas and coal stockpiles.
In the U.S., electricity demand increased more than 3% year-over-year, but the electricity produced by thermal coal decreased by 6% in the same span, or 5 million tons, because of utility companies preserving coal stockpiles, transportation issues and more electricity coming from renewable sources, Grech said.
A slight dip in coal production at its Powder River Basin mines toward the end of 2022 didn't stop Arch Resources Inc. from having a banner year overall, as it continues "harvesting cash" from the basin while focusing its future on other coal markets.
Throughout last year, the global energy company saw $1.3 billion in net income, paid down more than 70% of its debt and hit its $136 million target to cover future costs of reclaiming, and ultimately closing, Black Thunder Mine, as well as what's left to reclaim of Coal Creek Mine.
About two years ago, Arch officials announced plans to transition the company away from mining thermal coal, as is found in the Powder River Basin, and focus on metallurgical, or coking, coal used for steelmaking.
At the time, the company had planned to close the Coal Creek Mine in Campbell County sometime in 2022. That timeline has come and gone, in part owed to the renewed demand for thermal coal over the past year or so and the mining industry's struggle to maintain enough supply.
About 75% of the reclamation obligations at Coal Creek have been met, with only a relatively small area that is still actively mined.
Arch sold 16.1 million tons of thermal coal from October through December, a drop from the 18.4 million tons sold in the third quarter of last year and the 18.8 million tons sold in the fourth quarter of the year prior, according to a fourth quarter earnings report.
Coal Creek had its most productive year since 2018. The 3.8 million tons produced last year almost doubled the 2 million tons mined in 2021 and were the most since 8 million tons were mined in 2018, according to MSHA data.
The 62.3 million tons of coal mined from Black Thunder last year was its most since mining 72 million tons in 2019. The mine even out-produced NARM, traditionally the most prolific Powder River Basin operation, according to MSHA data.
NARM produced just 60.4 million tons of coal last year and has decreased production each year since 2017.
Arch officials pointed to rail services in the West to explain the shortfall in production.
"The poor rail performance over the last year in the West has been an extreme disappointment and dampened our results," said John Drexler, Arch senior vice president and chief financial officer, in an earnings call Thursday.
"We've continued to work with the railroads closely, and it will be important that they succeed in addressing their challenges in order for us to fully execute on our plan for our thermal segment in 2023."
Other market conditions could affect the future outlook for thermal coal demand, such as lower natural gas prices, a recent pullback in international prices and the aforementioned railroad struggles.
Despite "headwinds," Arch has "effectively sold out" its 2023 thermal coal production from its Black Thunder, Coal Creek and West Elk mines. The company has also had "significant" thermal coal commitments on the books for 2024 and "a solid start to contracting in the out years," Drexler said.
For 2023, Arch has committed 70.3 million tons of thermal coal, with 68.2 million priced on average at $17.50 per ton, compared to an average cost of $13.50 to $15 per ton to produce. The other 2.1 million tons are unpriced, according to the earnings report.
"However, it's important to point out that the western rail service remains a significant question mark and is likely to constrain our total export opportunity for the year," Drexler said.
Similar rail issues had affected railroad companies in the eastern United States, said Arch President and CEO Paul Lang, "but the eastern rail services basically settled their problems in about four or five months."
"Frankly, the western rail service has gotten worse in the fourth quarter," he added. "It's extraordinarily disappointing what they're doing and their ability to bounce back. That frustration has come through from our customers."
Let us know what you think!
Tagged:
Mine Safety and Health Administration
Powder River Basin
Travis Deti
Wyoming Mining Association