Preserving memories for future generations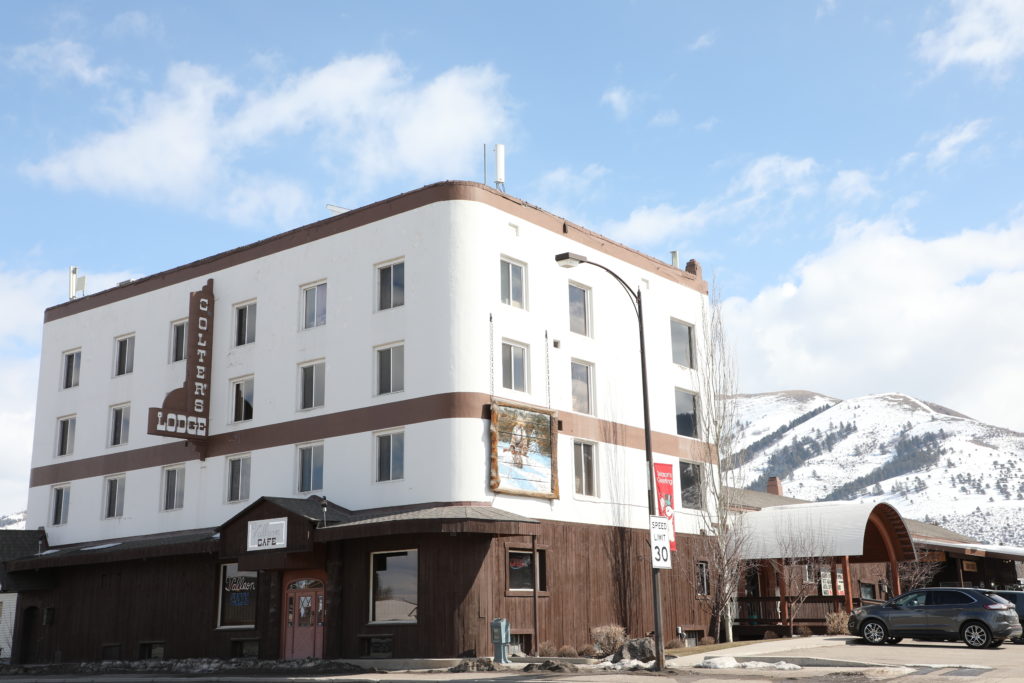 ◆ Landmark Afton ballroom open as Colter's Lodge, café and steakhouse; bar sports historic mural.
On a timeline for the history of Star Valley, 1939 reads like an annotation. Star Valley High School had the sixth largest school in Wyoming with enrollment at 442. On Greys River on May 12, 48 inches of snow were reported. And the road between Star Valley and Jackson Hole was completed.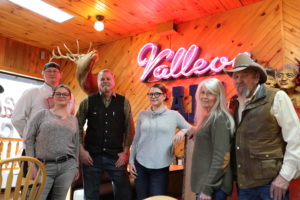 One notation probably thrilled valley folk. The Afton sewer system was done!
But there is one more tidbit – "Grand Opening of the Valleon Ballroom." In the 80-plus years since that new ballroom opened with a retracting wall to the yard, one thing has not changed. It's the same concrete floor Evan and Marius Call poured in 1939 – albeit polished a few times. Since pre-World War II, Star Valley youth have either danced or roller-skated on that concrete for generations.
And if Laura Faye Jensen has her way, that's won't be changing. In the decade since she has represented Ken and Janet Tramp in real estate, she has not only kept what is known locally as Colter's Lodge on Main Street in Afton up and running, but also put her heart into seeing history stay alive. With her husband, Jeff, by her side overseeing renovations, repairs and regrouping, the Jensens have revitalized a Star Valley landmark into Colter's Lodge, Bar & Liquor Store, and Valleon Café & Steakhouse.
"This place has great history," Laura Faye, as she's known to friends, told SVI Media recently during a visit at a western-style dining table in the Valleon Café. "Everybody here [in Star Valley] came to dances, rolling skating. Lots of memories with travelers. It is a wonderful place. We love it."

But this real estate agent turned unexpected business mogul isn't comfortable with extra attention. She's a local woman, wife, mother and grandmother who grew up in Thayne; Jeff is from Grover. And they're a pair, especially when partnered with the people they work with to regenerate Colter's.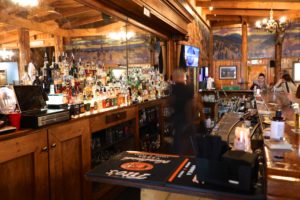 "We're thrilled with the good people here to make it so it's a good place," she said. Sitting with her that day were Jeff; along with Ashley Conn, general manager; and her husband, Andrew, the head chef; Aubrey Noble, marketing manager; and James Ogden, assistant manager. Since then, Liz Clines has joined the Colter's team as bar manager. All were hired under direction of Ken and Janet Tramp, who continue as owners.
"Ken and Janet Tramp are some of the finest people you'll meet," Laura Faye added.
But she never expected to be here today some nine years after Ken and Janet contacted her. What started out as a potential real estate listing turned into a business revitalization. "Lo and behold, we're still here," Laura Faye said, chuckling.
But it all came in pieces – and continued through the economic toll of a pandemic.
The Calls, a family now known for airplanes and Maverik, ran the Valleon for years with dancing, skating and dining. "A lot of people have memories here," Laura Faye related. "It's great for Afton, the people who have grown up here. That is nostalgic for them."
Over the ensuing decades, there were other owners and various leased businesses, including at one time a Chinese restaurant. But there was always the skating and the dancing.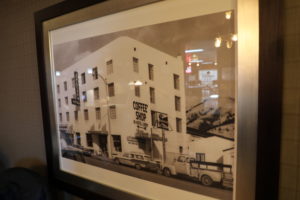 "We get people in the bar and here with family that remembered roller skating back in the 70s. I ran into a lady whose [grandparent] helped put in the flooring for the skating rink. She grew up skating here every weekend," Conn added, while sitting by her husband, AndrewFrom Georgia, Conn said local and family history is important in the south, but her own family history was lost. "Preserving history is important to me," she said.
Last fall, she came and toured Colter's and was quickly convinced this would be more than a job and a move from Jackson where they'd been working. She said she felt "Colter's needs somebody to care and make sure somebody would be here in the long run to bring it back to that previous glory."
And so while the skating rink is gone, it's still the same floor, under some of the original honeycomb lights. Ashley added she's working on her next project – getting a grant from a historical society to refinish the floors.
Since the Jensens have been overseeing the revitalization of Colter's, the restaurant and bar opened in 2013, the hotel in 2014, the kitchens were gutted and renovated in 2016, and in the past few years extensive room renovations, including new room suites, have been completed. After COVID-19 shutdowns in 2020, it's all back open and humming.
"This type of preservation," Ashley Conn said, "[recreates for the community] those memories as well, whether you're in the yard eating a meal [or having a cigar in the bar]. The first time Ken [Tramp] brought us here, I couldn't stop looking at the building."
A unique feature in the bar – where the old dancing floor still opens into the yard — is a nearly room-wide mural depicting western scenes done by a western artist allegedly for a few beers.
To Andrew Conn, Colter's and the Valleon Café & Steakhouse is a "marriage of cowboy culture and art deco. It's beautiful."
— For historical information in this article, see https://starvalleyhs.lincolncountywy.org/Timeline.html. To get more information on Colter's Lodge, Bar & Liquor Store, and Valleon Café & Steakhouse, see https://www.colterslodge.com/.
Tagged:
Colter's Lodge
Valleon Café & Steakhouse