Safe transportation of students takes focus and dedication
◆ Sandi Martin runs the office at LCSD No. 2 Transportation Department.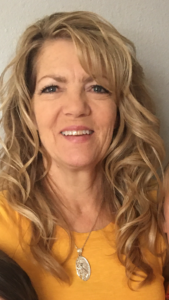 Sandi Martin has served the staff and students at Lincoln County School District No. 2 for five years where she runs the office at the Transportation Department. She frequently serves as a substitute bus driver and aide.
Humble and reserved, Sandi's greatest focus is to ensure that bus routes are organized and practical, bus maintenance is scheduled and completed, and that students are safely transported to and from school.
"We could not do what we do without Sandi," said Ryan Lyman, Director of LCSD No. 2 Transportation Department.
"She is dedicated and reliable. She jumps in and helps anytime and everywhere. Sandi manages a parts inventory of over $400,000 in parts. She is our emergency driver when a driver has a family or medical emergency on short notice, and she schedules substitute drivers and aides for an average of 40 leave requests per month."
Sandi was raised in Thayne with two younger brothers. "My parents had a hunting camp up Greys River. I learned to ride horses in the mountains and we also snow machined into my great uncle's cabin in the winter. We spent most of our time in the Greys River area growing up. When school started in the fall each year, I stayed with my grandparents during the week while my parents were at hunting camp."
She is blessed with six children (two sons and 4 daughters) who have married and now she also has 10 wonderful grandchildren. They spend as much time together as they can, and she enjoys watching her sons and daughters become parents and raise their families.
"I enjoy my job at LCSD No. 2," said Sandi. "It is a great responsibility to transport students and I try to attend driver trainings as much as possible. I will continue to take the opportunity to train and improve my job skills.  The opportunity has taught me a lot. We have a great team at the Transportation Department and the school district is a great place to work."
Tagged:
LCSD No. 2
Ryan Lyman
Sandi Martin