School Board Tackles Redistricting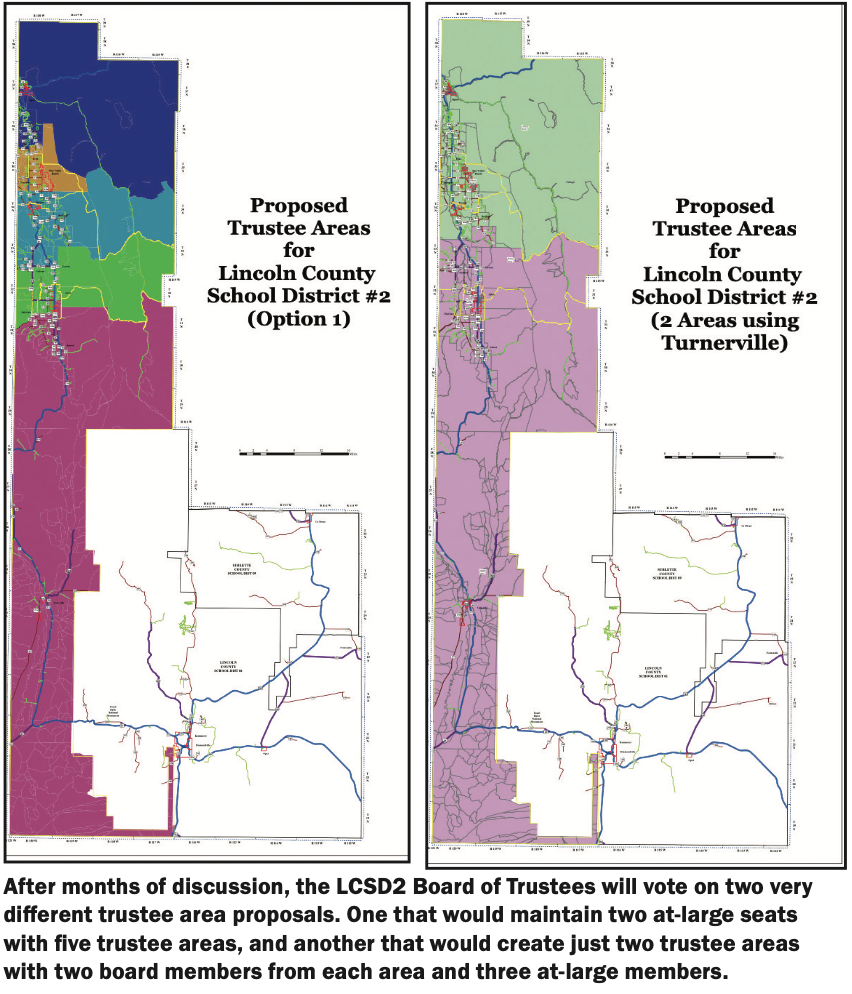 Following 2020 census, LCSD2 trustees consider two proposals
The seven member Board of Trustees for Lincoln County School District #2 has discussed redistricting over the last few months, with a decision needed before the end of the year regarding various proposals. The redistricting conversation began over the summer following the release of the 2020 census.
"Interestingly enough, as we've read through the state statute over and over again, we don't have to do this process," said Board Chairman Wade Hirschi during an interview on SVI Radio. "We could just say 'hey, we've got these trustee areas and that's what it is and we're just going to leave it like it is,' but as a board we didn't want to do that because we've got some areas that have really grown a lot and some that haven't grown as much. That would really get out of balance over time so we're using this census to re-balance where we're at."
According to the census results, there was large growth in the northern end of the school district. By percentage, Alpine is currently one of the fastest growing communities in the state with 392 new residents since 2010, an increase of 47.3%. Star Valley Ranch increased by 363 residents. By contrast, Cokeville on the southern end of the district saw a slight decrease in population, while Afton increased by 13.7% and Thayne just 3.8%.
By state statute, each trustee area within a school district needs to be within a 10% population variance of each other. "As it's grown, our smallest area now has 2,935 people. That's Area 1," stated Hirschi. "Our largest area, which covers north of Etna and Alpine, is 3,500. So you can see there's quite a variance in that and again we need to equalize those trustee areas as much as possible."

According to Hirschi, another statute is that the district has to have at least two at-large board members. The current format used by the LCSD No. 2 School Board has two at-large seats along with five trustee areas, one board member elected from each area.
During discussions the board has come up with a handful of options to address the differences in growth around the district. Those options have been whittled down to two proposed trustee area maps with one distinct difference between them. First, should the district stay with the current format of two at-large trustees and five trustee areas with new boundaries to account for population adjustments?  Or should a change be made to create just two trustee areas, a north and south, with the line being the narrows area and Turnerville. In this proposal there would be two board members for each trustee area, and three At-Large seats.
"When we first started our discussion we even discussed the option of going all at-large," Hirschi explained. "That didn't have a lot of support just because we are a very spread out district." According to Hirschi, there are a large number of districts in the state where all board members are at-large, but most of those districts have much smaller geographic boundaries when compared to LCSD No. 2.
There has been a back and forth discussion amongst the seven member board, with some supporting the five area option while other members support the two area proposal.
 According to Hirschi, who explained the advantages being discussed from both proposals, the argument in favor of keeping five trustee areas is that it "ensures representation from a broader range of people within the district from north to south" and it's "what we've been doing and it's worked."
On the flip side, Hirschi explained that board members in favor of the two trustee areas argue that the proposal "ensures that you always have two board members from the north end of the district and two board members from the south end of the district" and that it "opens it up more for people to run for the board that might not otherwise." Meaning someone may choose not to run for school board because they live in a trustee area already represented by someone else they don't want to run against. "This opens it up because there's two seats for each area and it doesn't matter where you're at in that area. And there's an extra at-large so it opens that up some more," explained Hirschi.
One important clarification made by Chairman Hirschi during the radio interview is that "as far as voting goes it's all at-large." Hirschi explained that even though a candidate may live in a certain trustee area, community members from across the district vote for the entire board, not just the At-Large members and those living in their area. "We are voted in by all of the district and have a responsibility to all of the district, not just to our trustee area.  The trustee areas just ensure that there's somebody from that part of the district."
A full discussion on the redistricting proposal, which included comments and opinions from each board member, took place during the most recent board meeting on October 13. A video recording of the board meeting can be found at LCSD2.org or the Lincoln County School District #2 Facebook page. The board discussion begins at about 2 hours and 22 minutes into the video recording.  The board elected not to make a decision at the October 13 meeting, instead voting to hold off for at least one more month to provide more time to gather community feedback and comment.
Part of that feedback will come in the form of a public survey which is currently being developed. The survey will be made available in the coming days once it has been prepared.
In the meantime the board has until the end of the calendar year to make a decision, as any changes in trustee boundaries must be done in a non-election year. "I'd like to get it done at the November meeting," concluded Hirschi. "Unless something pops up and we just can't do it. But we've had a lot of discussions as a board and kind of gotten the maps down to these two options. Hopefully we'll be acting on this in our November meeting."
The next board meeting is scheduled for Wednesday, November 10 at the LCSD No. 2 District Offices in Afton. Board meetings are open to the public and are also streamed live at LCSD2.org and the Lincoln County School District #2 Facebook page.
Let us know what you think!
Tagged:
2018 Cokeville volleyball tournament
Lincoln County School District No. 2
Star Valley school district
Wade Hirschi