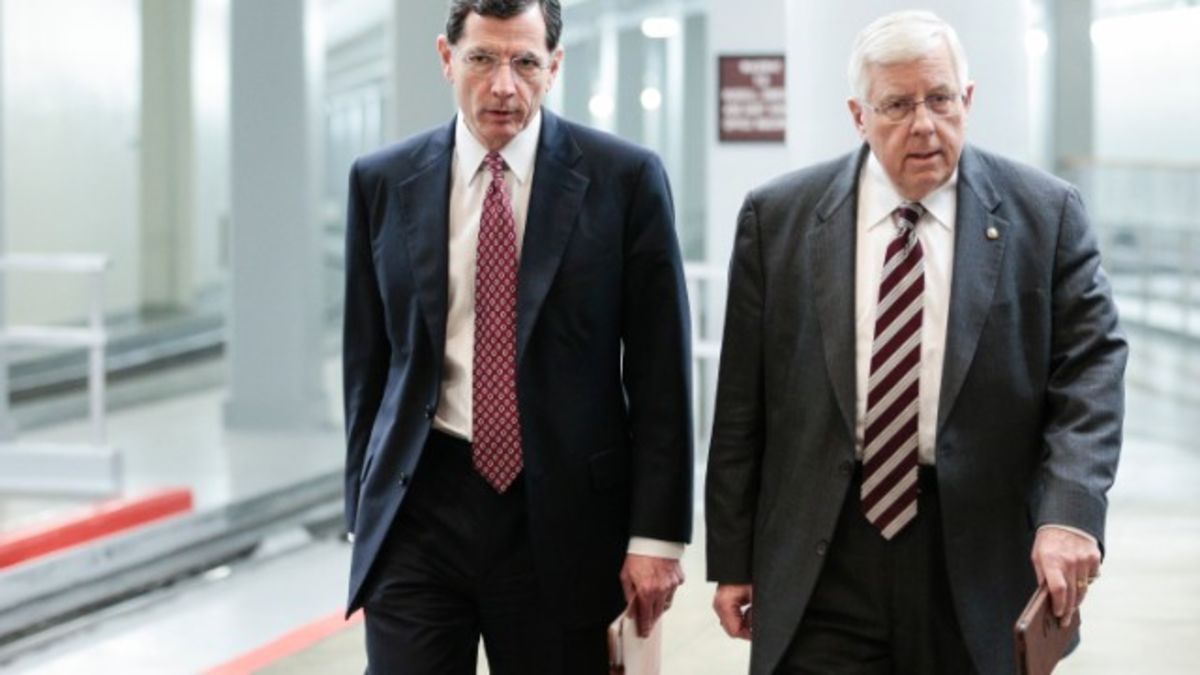 ————————
By Nick Reynolds
Casper Star-Tribune
Via- Wyoming News Exchange
CASPER — Roughly half a year before the 2016 presidential election, Sen. John Barrasso justified Republicans' decision to block a vote on then Supreme Court nominee Merrick Garland by saying the American people should "consider it as part of deciding who to support in November."
Just two days after the death of Justice Ruth Bader Ginsburg – and with only about six weeks until the 2020 presidential election – Barrasso now believes that decision should be made before voters return to the polls.
With their Senate majority and the presidency vulnerable, Republicans will be rushing to confirm a new Supreme Court justice this fall. In two separate appearances on the cable news circuit over the weekend, Barrasso said President Donald Trump could choose his nominee to replace Ginsburg as early as this week after the president said Republicans have "an obligation" to fill the seat as soon as possible.
This contrasts greatly with the attitudes of Senate Republicans in 2016, who blocked the nomination of Garland, President Barack Obama's nominee, following the death of conservative Justice Antonin Scalia in an effort to save that seat for a conservative and help tip the nation's highest court in their favor.
During an interview from his Casper office with MSNBC's Chuck Todd on Sunday morning, Barrasso was asked why he didn't want to let the voters speak first.
The senator said Republicans' current plans are consistent with past precedent.
As Senate Judiciary Committee chairman in 1992, then-Sen. Joe Biden – whose Democrats controlled the Senate – declared that there would be no vote on Republican President George H.W. Bush's nominee to the bench in an effort to similarly let the people have a voice in the next Supreme Court justice.

Biden's speech at the time related to a hypothetical choice – and he never actually had the opportunity to kill the president's nomination.
Still, it was seized on by Republicans in 2016 and now to argue that GOP actions are not hypocritical but consistent with precedent: If the Senate and president are not of the same party, then the matter should be delayed. If they are of the same party, then the nomination should proceed full speed ahead.
"Let's be very clear," Barrasso said Sunday morning. "If the shoe were on the other foot and the Democrats had the White House and the Senate, they would right now be trying to confirm another member of the Supreme Court. What we're proposing is completely consistent with the precedent. What happened in 2016 – and let's go back – we were following the Joe Biden rule."
Republicans have said differently, however.
In 2018, South Carolina Republican Sen. Lindsey Graham even committed that the Senate would not vote on a Supreme Court justice if an opening came in 2020, telling attendees at The Atlantic Festival to "use my words against me" should the situation ever arise.
With a Democratic "trifecta" possible in 2020, Todd told Barrasso that the effort to tilt the bench further to the right was not just ideologically inconsistent, but sounded "like a power grab, pure and simple."
In a way, it could be: Barrasso said in a hypothetical world where Democrats held the presidency and the Senate, they would be doing the exact same thing.
"Chuck Schumer has been very clear, the Democrats have been very clear. If they win the White House and the Senate, all bets are off," Barrasso said. "They are going to blow up the filibuster. They are going to use the nuclear option. They are going to stack the Supreme Court. They've talked about raising the number of members of the Supreme Court even though Ruth Bader Ginsburg said it's a bad idea and she said it would politicize the court, and she said nine is the right number."
Despite the optics, Republicans are playing by the rules, noted Sen. Mike Enzi in a statement of his own.
And like the Republican-majority Senate of 2016, the Republicans in the Senate this year plan to exercise their role in that process to their advantage. "The Constitution gives the Senate the right to advise and consent on a Supreme Court nominee," Enzi wrote in a statement Monday. "Last time a Supreme Court vacancy occurred in a presidential year, the Senate and president were of opposing parties. A vacancy under divided government during an election year hasn't been filled in more than 130 years. I supported upholding that precedent in 2016. But we are not in a divided government now and the Senate has confirmed multiple judges in similar situations in the past. The Senate should continue to follow that precedent and consider President Trump's nominee."
"As with any nominee, I plan to review all qualifications and information provided to ensure that they demonstrate a clear commitment to the rule of law and are fit to serve on the highest court in the land," he added.
Senate Republicans, meanwhile, have made controlling the judiciary a critical point for their re-election campaigns.
In a fundraising email on Aug. 4, Barrasso reminded voters that the Republicans had helped to deliver "strong judicial candidates confirmed to the federal bench."
Other GOP leaders have stressed their work confirming additional Trump-nominated justices as a reason to vote Republican this fall.

And they have a lot to gain as well. As federal justices serve lifelong appointments, their legacy will likely outlast the next Congress and president, making the accomplishments of sitting conservatives long lasting.
It remains to be seen how the upcoming election will play into the nomination process.
While many Republicans have made the nomination of conservative judges a central achievement of their Senate majority and are likely to support a Trump nominee, vulnerable lawmakers like Sen. Susan Collins of Maine and Sen. Lisa Murkowski of Alaska have already come out against supporting a nominee prior to the election.
Other vulnerable senators could be reluctant to support the election of a Supreme Court nominee and risk mobilizing Democratic voters: a very real possibility, according to polling.
According to a Morning Consult poll released Monday, approximately 50% of all voters — including 49% of all independents — believed the winner of November's elections should pick the next Supreme Court Justice.
Just 31% of all independents and 37% of all voters combined believed President Trump should make that choice.
On the national level, Democrats have already begun coordinated messaging against another Republican Supreme Court justice.
Appearing on "This Week" with ABC's George Stephanopoulos on Sunday, House Speaker Nancy Pelosi argued that Republicans were attempting to replace a justice prior to a Nov. 10 hearing on the still-popular Affordable Care Act, colloquially known as "Obamacare," while Senate Minority Leader Chuck Schumer teamed up with New York Congresswoman Alexandria Ocasio-Cortez at an event in Brooklyn Sunday night to mobilize Democrats in an effort to stall a vote until after the election.
"So many people's rights are at stake in this election," said Schumer. "If you care about all these rights, if you don't want big, powerful, wealthy special interests to turn the clock back 100 years, please, our fervent plea, our fervent wish, is that you call your senator."
Tagged:
Ruth Bader Ginsburg
Senator John Barrasso
U.S. Supreme Court nominee