Service organizations in Cambodia honor the memory of Marion Robinson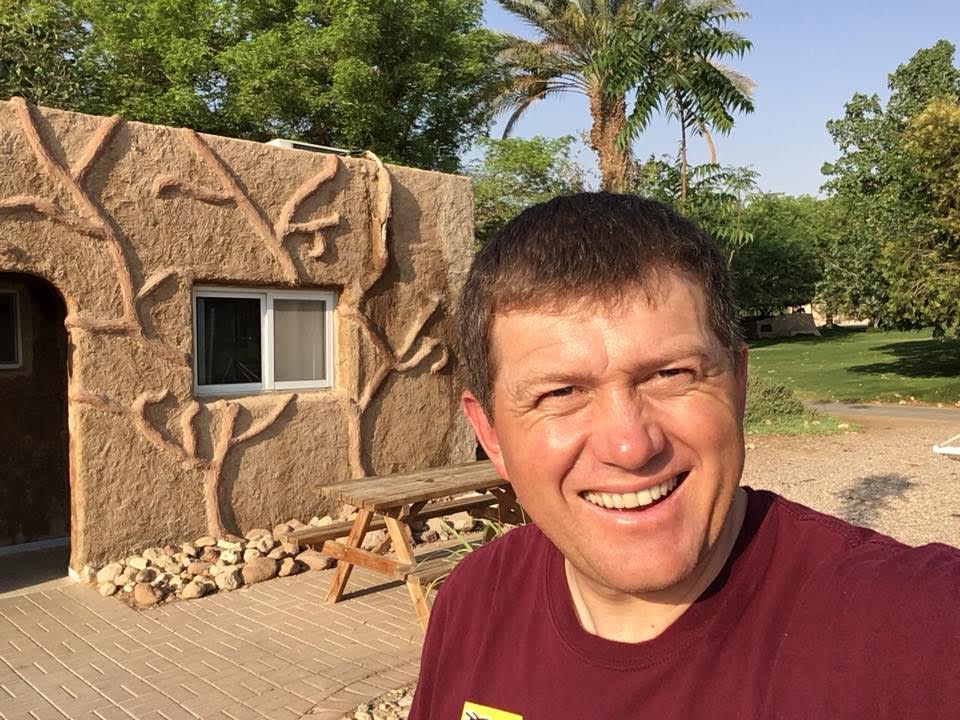 By Janet Erickson
◆ His name and memory are there where endangered humans, cattle and elephants flourish.
November 22, 1974, marked the beginning of an extraordinary life – the life of Marion Robinson – A life of compassion, inclusion, courage, integrity, vision and the deepest kind of friendship and brotherly love imaginable – the kind of love that each human seeks to feel at least once in his or her life.
January 28, 2019, marked the conclusion of that mortal life. Thousands of people throughout the world mourned the loss of their dear friend and brother who, in only 44 years on earth, had created an extended community of individuals that he cherished as family.
Loved ones that Marion left behind – his wife, DeeAnne, his sons, Soren and Anson, his parents, Bruce and Joyce, many siblings and in-laws, nieces and nephews, cousins and his family of friends – continue to honor and celebrate the singular life that he lived and the profound love and respect he held for each human being, each earthly creation of God, and each opportunity to learn and grow.
Two dear friends that Marion considered family, Russell and Margret Ellwanger, are sharing his extraordinary character and honoring him through the projects of their small service organization. forPEACE, and their partner organizations, The Wildlife Alliance of Cambodia and Tabitha-Cambodia, have introduced Marion's memory to people from all over the world and have celebrated the genuine devotion he held for supporting the unsupported and defending the defenseless.
The Ellwangers met Marion and DeeAnne several years ago and Marion convinced them to visit Star Valley, where they fell in love with Bedford and purchased a retirement home here. In kind, the Ellwangers invited Marion and DeeAnne to visit them at their home in Israel where Russell serves as the CEO of TowerJazz Semiconductors in Migdal Haemek. It took a few years of constant encouragement, but in May of 2018, Marion and DeeAnne made the trip to Israel where Margret hosted them on a personal tour of sacred, cultural and agricultural locations and peoples.
Marion, with his humble love for Jesus Christ, reverenced the sacred seas and lands and soaked in the tender spiritual presence he felt there. With his passion for chemical-free vegetable production and grass-fed meat production, this Star Valley boy and rancher lit up when they toured a Kibutz that embraced ecofriendly practices and visited fields that controlled pests with owls and falcons rather than pesticides. He was fascinated by the connection that people had to the land and to the agricultural history of the area. Additionally, he was smitten with the idea of supporting those in need through Margret's service opportunities.
Margret knew and loved Marion's enormous heart and spoke to him often of her forPEACE projects where they have been aiding Bedouin women and children in Israel and building homes in Cambodia for families who were living on the streets.
"We have been working in Cambodia for 25 years," Margret quietly shared with this writer over a cup of warm chamomile tea. "We have taken more than a half million people permanently out of poverty in those 25 years – not into riches, but into sustainable family life, where kids can go to school and where they no longer live on the streets."
Less than a year after Marion and DeeAnne visited Israel and only a month before Margret would launch her 2019 home-building expedition in Cambodia, Marion was killed in a tragic auto accident. In shock, Star Valley mourned deeply, and Margret mourned her friend and building colleague who they had joked would surely build nine houses in the time it took the remainder of the team to build one.
"Before Marion passed away, he had been very interested in the forPEACE work in Cambodia," shared Margret. "He was determined to join a forPEACE Cambodia Service Learning Expedition, especially once he had visited us in Israel and toured the forPEACE projects serving the Bedouin of the Negev [Desert] and schools in [Nazareth] the Upper Galilee. I shared with my team the story of what kind of person he was – that he was this big bear from Wyoming and that he really just had the most caring heart, and so we decided that we were going to build a house in his honor."
And a tradition was born.
The home in Cambodia that Margret now refers to as "Marion's House" proudly displays a plaque. "Tabitha-Cambodia: In memory of Marion Robinson." During the dedication of the house and through a translator, Margret shared with the family that would receive the gift of this new home, a special message about Marion and the person that he was. "They know that there is someone out there, that they will never meet in this life, who truly cared."
Once the tradition of creating projects in Marion's name was established, Margret watched for a perfect fit to honor Marion in 2020. When her associate, Nick Marx, presented her with his idea, she found it to be unique and delightful.
"Were I to assign a 'spirit animal' that incarnates Marion, it truly would be the elephant – a gentle giant, full of wisdom, kindness, depth, inclusion and compassion for the whole herd," smiled Margret as she explained the 2020 project. "I discussed this with our friend and partner, Nick Marx, from the Wildlife Alliance in Cambodia and their director of Wildlife Rescue and Rehabilitation.  Many years ago, Nick rescued a baby elephant named Chhouk, in the jungles of Mondulkiri, whose mother was killed by poachers while Baby Chhouk was caught in a vicious snare that necessitated the amputation of his lower leg.  Nick succeeded to stabilize the starving baby elephant and, together with the Cambodian School of Prosthetics, designed a prosthesis for Chhouk's lost limb. This had never been done successfully anywhere else in the world.  Now Chhouk was a celebrity! Each day, his prosthetic needed to be removed so his foot stump and prosthetic shoe could be cleaned, and then re-attached. As the tiny elephant baby grew into a big, strong elephant bull, his daily shoe cleaning became a bigger challenge. He needed a strong structure which he could enter daily so his caretakers could safely remove and clean his prosthetic and then attach it back onto his leg before he wandered back out into the forest. This elephant is a world sensation. He is the only elephant that for 18 years has run around with a prosthetic."
Margret determined that, in Marion's honor, forPEACE would fund the design and building of a structure that would support Chhouk and his caregivers during his daily cleaning experience.
"The funding of this enclosure seemed a perfect way to honor Marion's kindness and empathy for all living things," Margret added. "He inoculated himself against evil, embracing all the good and reaching out. He was ahead of his time. One of the big fashion words today is inclusion. He's the poster boy of inclusion. No one was as inclusive as he was. He was ahead of his time."
Today, people travel from all over the world to visit the Wildlife Rescue and Rehabilitation Center where Chhouk receives his prosthetic care. They also learn of the gentle giant from Wyoming, Marion Robinson, who was a true friend to all who knew him, and who, like the elephant, lived in wisdom and compassion for the entire herd.
In 2021, Margret was presented with a project that she is certain would have held great significance to Marion. "Marion was a man with the ability to see different sides of an issue and work towards bridging differences. He also loved nature and farming wherever he encountered it.  He would have been interested to learn about the Prambei Mum Forest in Cambodia that holds a critically endangered population of wild Banteng, which is a beautiful species of wild cattle threatened by extinction. In this forest, local villagers take great pride in protecting 'their' wild Banteng from illegal poachers and snares. Unfortunately, they were beginning to lose their battle when a nearby sugar plantation fenced the Banteng out of their only watering hole."
The Wildlife Alliance and forPEACE, designed and built a well that, under solar power, pumps water from underground to the surface into a concrete pool, providing life-giving water to the struggling herd. Once again, the forPEACE project reverently bears Marion's name.
"Marion would have found a win-win solution for both sides," shared Margret. "To honor his memory and legacy of goodness and service towards man and creature alike, this watering pool was built in Marion's name on the Banteng side of the fence. Now farmer and wildlife can peacefully coexist without breaking into each other's domains to access life-giving water for both their needs. We want to ensure the survival of this beautiful wild cattle species."
Through this tradition and her life-giving and life-saving efforts, projects, Margret honors Marion's connection to the land. "He liked to be in harmony with the land, and that's very forward thinking. Man typically thinks that you are in battle with the land, but he pulled it back to the spiritual and the creation of God, and you can't be at war with God's creations."
Marion is tenderly remembered in the hearts of all who knew him in life, but he is also tenderly honored and remembered in the hearts of individuals who never met him and who never witnessed his constant determination to foster harmony and peace in a world of contention and division.
"His influence is truly great. That's why it's important to keep his story and his memory alive," concluded Margret. "It's about love. I feel that this town can be proud of having Marion. His legacy of service, kindness and consideration of others should not just be a memory but should be an action item."
To learn more about Russell and Margret's projects, visit www.forpeace.us and www.umojastyle.com. The Wildlife Alliance in Cambodia can be found at www.wildlifealliance.org.
Marion counts and tags barn owls with Ornithologist Motti in Israel where the birds are used to control pests, thus eliminating the need for pesticides in the country's food supply.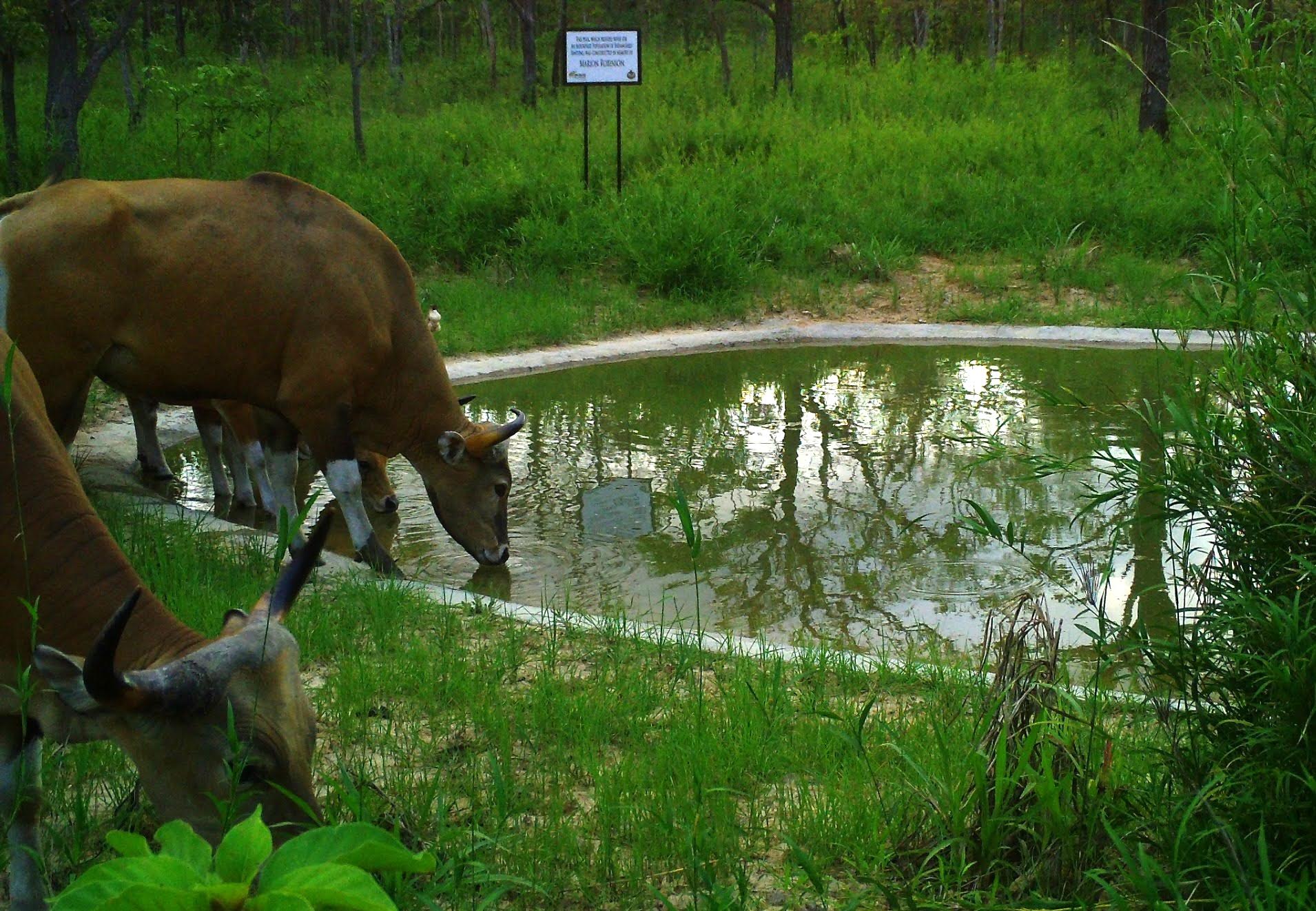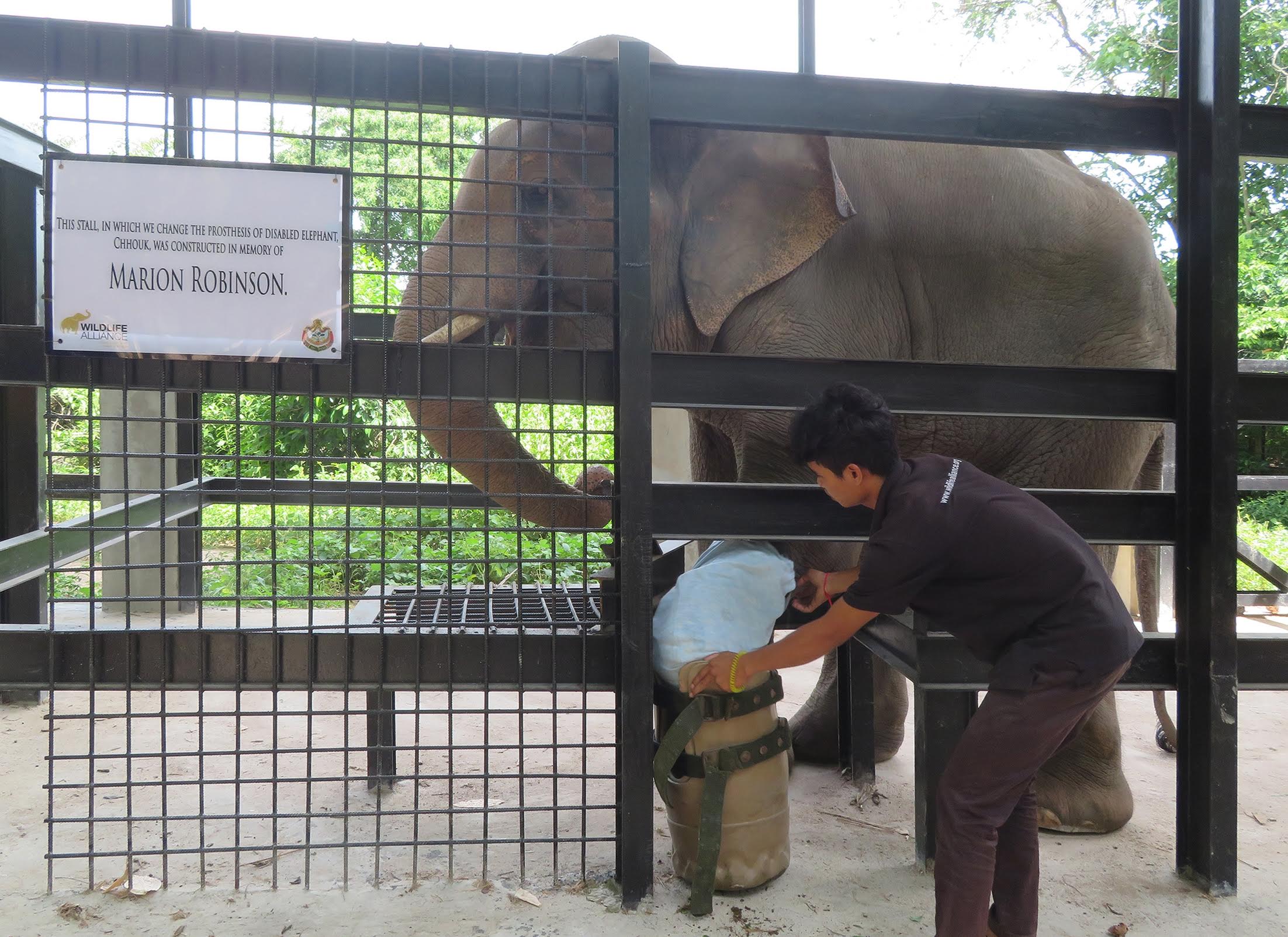 Chhouk, an 18-year-old bull elephant, who was rescued as a calf, has his prosthesis cleaned daily in this structure named in honor of Marion at the Wildlife Rescue and Rehabilitation Center in Cambodia.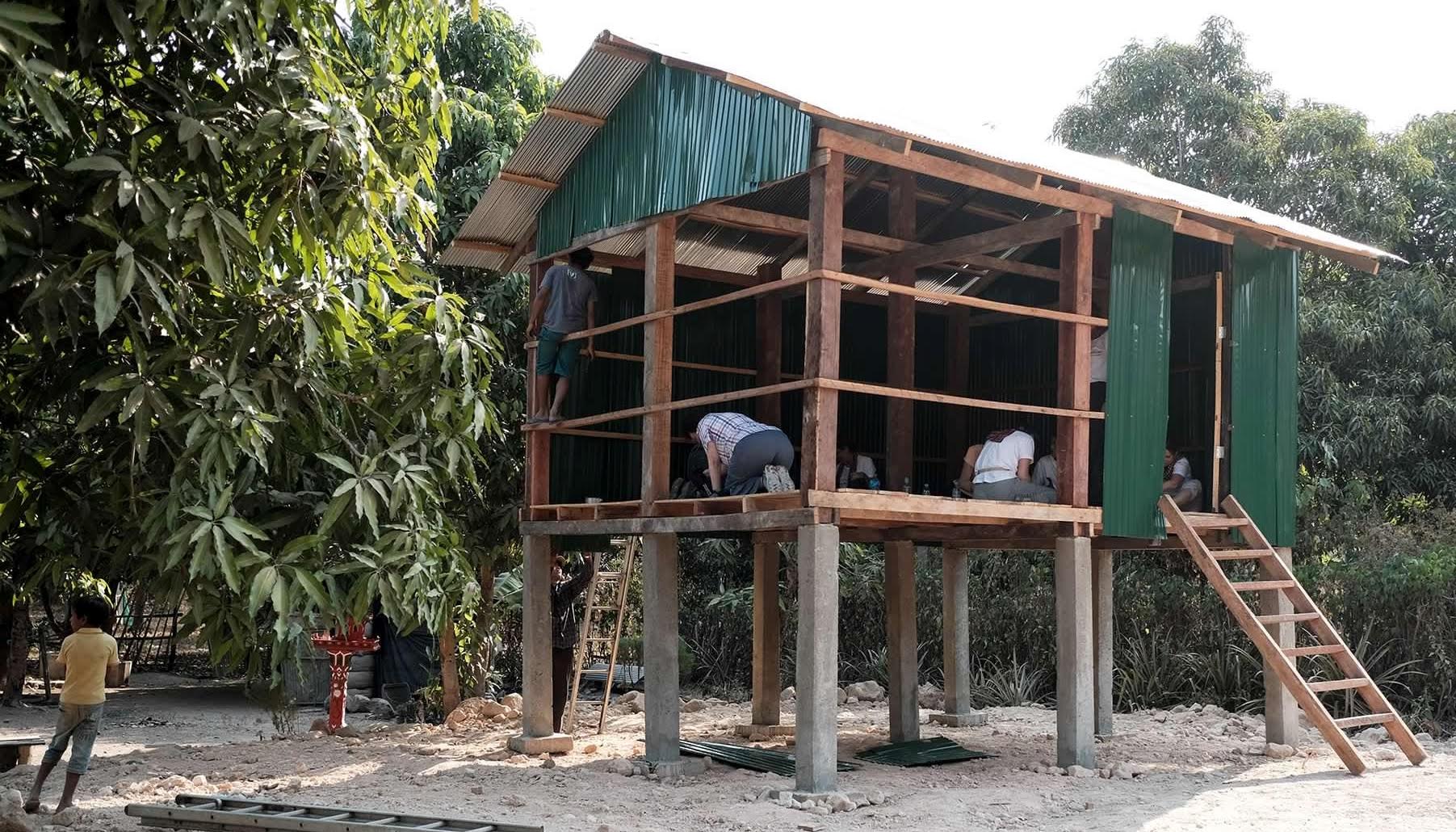 "Marion's House" was constructed during the 2019 forPEACE Service Learning Expedition. Dedicated to Marion's memory, the house provided a home for one family that would otherwise be homeless on the streets of Cambodia.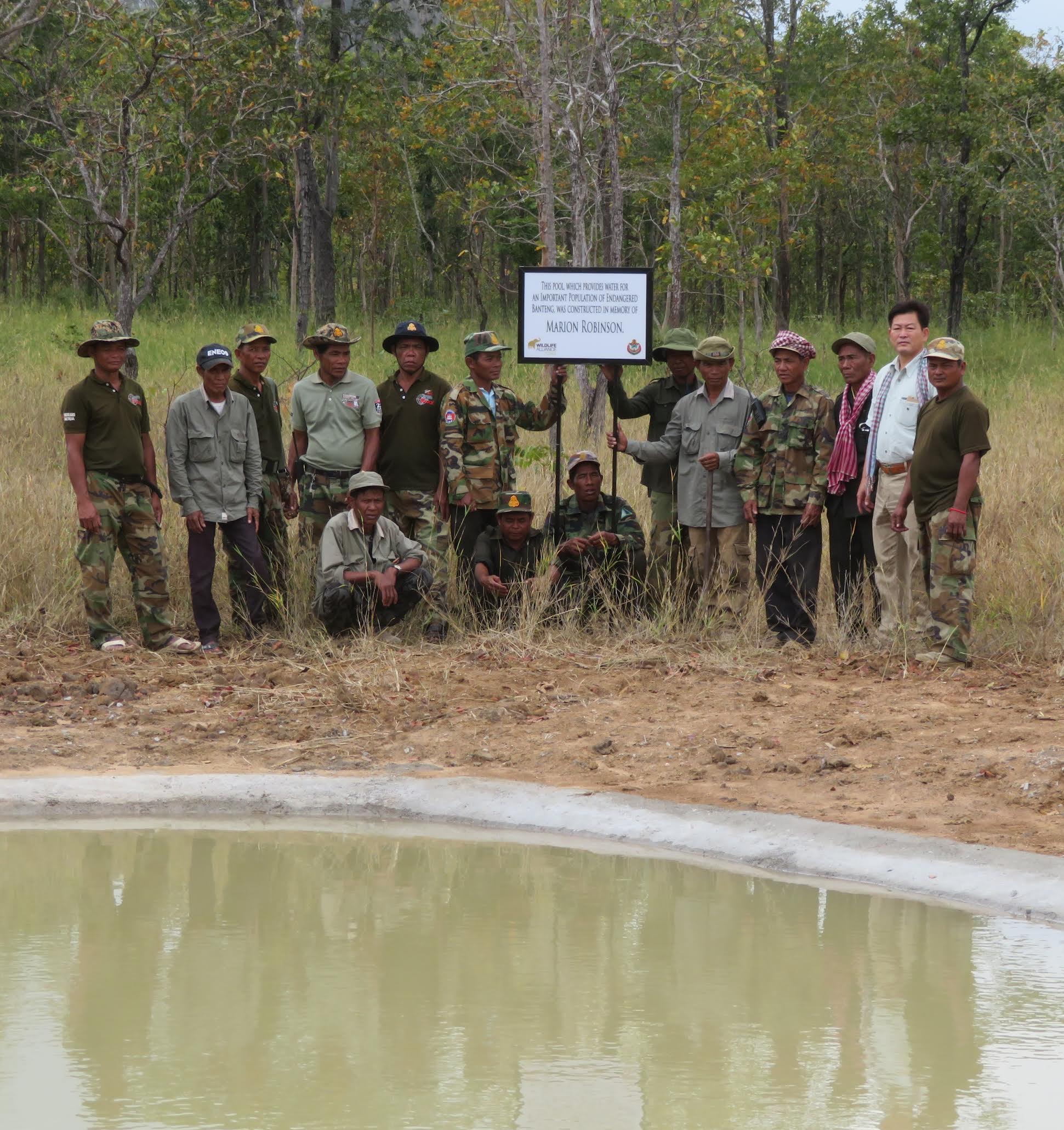 Members of the 2022 forPEACE Service Learning Expedition pose for a photo on the banks of the water pool named for Marion. This pool now serves forest wildlife and the endangered Banteng wild cattle herd in Cambodia. 
Let us know what you think!
Tagged:
Cambodia
Marion
Robinson