By Allayana Darrow
The Sheridan Press
Via- Wyoming News Exchange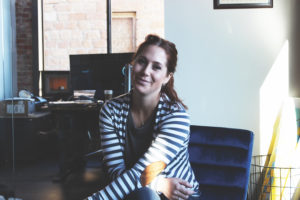 SHERIDAN — There is a "healthy" number of people focused on renewable energy in the U.S., but few who are dedicated to improving sustainability on the fossil fuel side, Whitney Wickes said.  Wickes, Rocking WW Minerals co-founder and recent Sheridan transplant, was named to Forbes 30 under 30 top entrepreneurs for 2020 in the energy sector this month.
Wickes was contacted as one of 20,000 nominees throughout 16 industries in October and asked to submit a narrative of her career motivations. Since she saw a Forbes issue at age 21, making the 30 under 30 list has been on her bucket list. With just two months left in her 20s, Wickes made the cut.
Wickes moved from Denver, to plant the Rocking WW Minerals headquarters in Sheridan in June. At 29, Wickes said the two things she is most passionate about are the energy industry and making positive connections with communities that are deeply entrenched in the energy industry.
"I feel like my generation has villainized the oil and gas industry…and really misunderstands the global impacts of fossil fuels and domestic energy production," Wickes said.
As global energy demand continues to increase, Wickes said it's important for millennials to be leaders in the oil and gas industry long term.

The U.S. Energy Information Administration projects that natural gas production will grow 60% in the next 30 years, along with exporting.
Crude oil production has nearly doubled in the past decade and is expected to grow until plateauing between 2025 and 2040.
"Fossil fuels aren't going anywhere," Wickes said. "So we can't continue to try to scare or guilt all the good people out of the fossil fuel industry."
As coal mines shut down across Wyoming, Wickes said she is looking to provide regional energy jobs and shift her generation's negative perspective on fossil fuels — pioneering a field that is expected to grow substantially in the next 30 years.
Born and raised in Aspen, Colorado, Wickes was a professional skier until a fourth knee surgery, when she quit skiing and started to focus on academics and a planned career in finance. She began self-educating about oil and gas and gained certificates in petroleum land management.
She worked her way up, took a company through bankruptcy and became the youngest female executive at a public oil and gas company in the nation at 26 as vice president of land. Wickes described the experience as 10 years worth of education in just two years.
Challenges with the downturn of the oil and gas industry didn't deter Wickes from continuing to grow professionally. In 2017, she was head-hunted out of Colorado to work with Exaro Energy and fell in love with Wyoming when she and her business partner purchased Linn Energy's assets in southeast Wyoming for $200 million.
When Wickes left the company in August 2018, she started to focus on mineral royalty acquisitions — a growing market sector since 2014. Wickes saw an opportunity in the region to become a grassroots mineral buyer.
The production system between individual mineral owners, brokers and large mineral development companies is flawed, Wickes said. When brokers mark up the price of minerals to larger companies, mineral owners often miss out on the profit. With Rocking WW Minerals, Wickes said she hopes to be a resource for mineral owners in the Wyoming and the Rocky Mountain region, to help them make the best decisions for themselves and their families.
"We're not trying to convince anyone to sell their minerals that doesn't want to," Wickes said. "But there's a lot of families out there whose net worth is so tied to their minerals, and your minerals aren't worth anything unless they're developed."
Mineral worth is determined based on geology, engineering and drill timing, Wickes said. Many operators have secured land by filing permits — maintaining control of the land without drilling.
Mineral owners won't see the value of their minerals for an extended period of time under this process, she said.
Wickes said with a large enough portfolio and sustainable capital, her company can mediate the volatility of fluctuating oil prices and ease the risk of mineral ownership and development.
Wickes said she partly left Colorado because she doesn't want to economically support a state that opposes the oil and gas industry. Wyoming grossed more than $800 million last year in oil and gas production on federal lands, she said.
Wyoming ranks eighth nationally for crude oil and natural gas production, according to the Wyoming State Geological Survey.
Even as oil and gas enters another "pseudo downturn," Wickes said her business is backed with the capital to grow and eventually acquire another operator as other companies need to sell.
Domestic natural gas production can play a substantial role in mitigating climate change, Wickes said, by encouraging other nations to move away from coal and toward natural gas, as well as cleaning up fossil fuel exploration itself.
What ties Wickes to oil and gas is its history as a frontier industry in the Wild West, she said. With a wide variety of skills involved from exploration to production, Wickes said there are a multitude of ways to be an entrepreneur in fossil fuels.

As a young woman in oil and gas, it was easy to stand out, Wickes said. Yet she was still expected to outperform her male counterparts. Male mentors who supported her independent success were influential to her career, she said.
"Being able to surround yourself with good people in the industry is going to make you or break you as a woman in the industry," she said.
Making the shift from "individual out-performer" to a business leader has been a difficult but worthwhile role change, Wickes said. After spending a decade proving she could work the hardest and focusing on her own success, it's gratifying to build, lead and support a team, she said.
Wickes looks forward to a long career in fossil fuels, encouraging millennial engagement in the industry and protecting the U.S. energy future through responsible resource development — perhaps dabbling in renewable energy along the way. One day, maybe she'll make a 40 under 40 list, she said.
Tagged:
U.S. Energy Information Administration
Whitney Wickes
Wickes Rocking WW Minerals