Size will factor in for Braves Basketball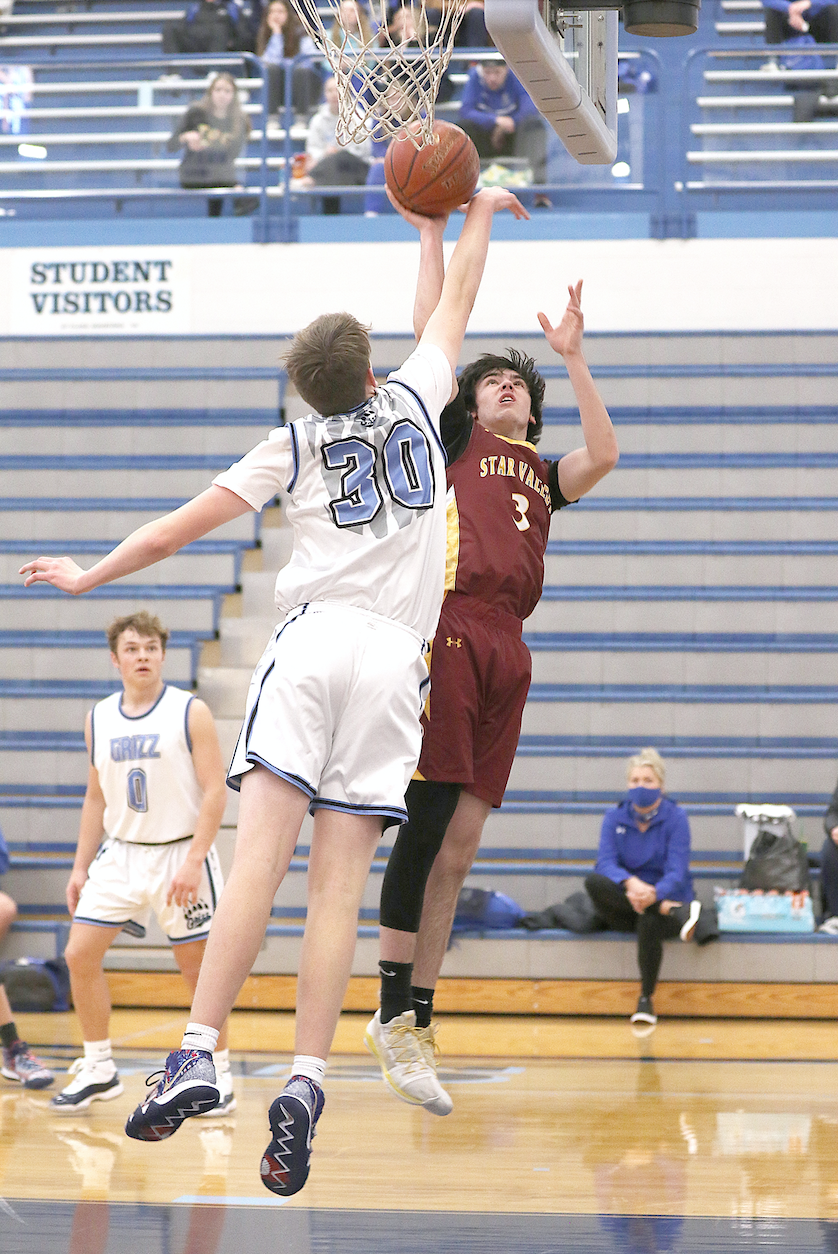 ◆ Team opens up the 2021-22 season against Cheyenne East, Sheridan and Cheyenne South.
After back-to-back seasons where the Braves Basketball Team earned the 4A West's top seed, fans have become accustomed to seeing the Crimson and Gold atop the area standings.
Practice for a new season officially began last Monday with similar expectations in place.
"It's always been the goal to build a program," stated Head Coach Paul Kabonic. "We want to have a team show up to Casper every year ready to compete with guys that are able to play fast and effective. I think we did that last year with a reshuffle of our guys and still go out there and get to the semifinals."
The Braves defeated Cheyenne East in the opening round of the 4A State Tournament before losing to Thunder Basin in the semifinals. Star Valley then lost the third place game against Sheridan.
"We don't necessarily run the same things every year," Kabonic continued. "We have a whole new look this upcoming season. It's another reload and we kind of like the sound of that. Our kids were varsity-ready for us last year. I don't think our JV lost many games last year so we've got good kids again and we've had a good summer and beat some good teams. Sometimes we look like we can win the whole thing and other times we might not win a game. It's all going to depend on how we gel."

One of the main differences for this year's Star Valley crew will be height.
"We really didn't hunt offensive boards the last couple years so we styled our game based on our height," Kabonic said. "This year is different. I'm anxious to get some second shots. Jacob Hodges I think can make a living there under the basket and Taft McClure is 6' 4" and Croix Jenkins can jump out of the gym. Rather than have a Kolter Merritt who will drive and kick we'll have a little different look on how we do things. "
Height is one thing, but can fans expect any dunking this season?
"We dunked it like crazy this summer," Kabonic chuckled. "I think the rims are going to get worked over this year. We have so many that can do it. I think it will be fun. I think it charges the crowd and kids get into it so we'll cut 'em loose this year."
Kabonic offered a glance at what is coming back in the 4A Southwest among other divisions.
"Our pod just gets better," he said. "Jackson will be much better. They have a new coaching staff. Green River with Dylan Taylor back will be tough. They had a junior-heavy team. Riverton returns quite a bit; there are some new coaches so we'll see how things get going."
"Cody, Jackson and Rock Springs have new coaches. We know that Luke Talich is exceptional. I think the West is better overall and I don't think the East is quite as talented as they have been with the exception of Thunder Basin who brings basically every body back so I think they are the team to beat."
Don't expect any easy wins on the schedule as the staff will continue to play the biggest schools they can in preparation for the post-season.
"We won't be in Preston this year," Kabonic said. "Instead we are over in Riverton so we'll see East, Sheridan and South. We'll go back to Idaho Falls for that Christmas tournament. We'll continue to play up as much as we can. Kids know what we're trying to do and be challenged so when Regions hit we'll be ready to go."
Let us know what you think!
Tagged:
Cheyenne East
Cheyenne South
Paul Kabonic
Sheridan
Star Valley Braves Basketball
Thunder Basin