Snake River flows start slow and steady, with Jackson Lake unlikely to fill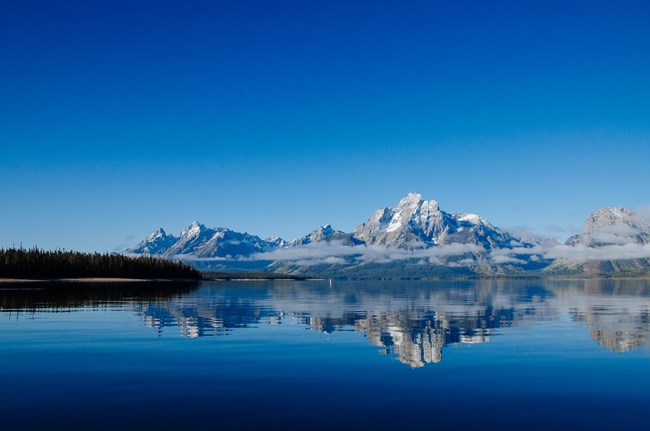 By Jim Stanford
Jackson Hole Daily
Via- Wyoming News Exchange
JACKSON — In a departure from customary practice, federal water managers have begun increasing the flow of the Snake River from Jackson Lake Dam and plan to maintain that flow consistently throughout the summer.
The release from the dam was to increase from its winter flow of about 280 cubic feet per second to 2,000 cfs on Tuesday. The U.S. Bureau of Reclamation is aiming to keep the release between 1,750 and 2,250 cfs until mid-September, said Jeremy Dalling, lead operator for the bureau's field office in Burley, Idaho.
"We're going to start at a more moderate release earlier this year, the intent being to avoid higher releases and larger rampdowns later in the year," Dalling said Friday.
The new strategy comes as water managers continue to grapple with drought, despite recent precipitation, and move water through a series of reservoirs at historically low storage levels.
The bureau also is responding to heavy criticism that a sharp drawdown of the dam release last fall stranded fish in side channels and caused a die-off of the food fish eat, such as small non-game species and aquatic invertebrates.
That drawdown, which saw the release cut from 3,000 cfs to 280 cfs in the span of a week, prompted a meeting in Jackson in early March with concerned anglers, river outfitters and officials from the bureau, Wyoming Game and Fish Department and Grand Teton National Park. Trout Unlimited and the Snake River Fund facilitated the dialogue, and bureau officials said they would take additional steps to coordinate their operations with state and federal agencies.
Typically, the bureau tries to store as much water as possible behind Jackson Lake Dam and doesn't increase releases until early May or later. That usually makes for a higher release later on — last summer it was 4,000 cfs or greater from early June to late August.
But with Jackson Lake and Palisades reservoirs so low this year, the bureau has ample storage space and decided to move water to Palisades early, Dalling said.
While the new plan may please anglers, one recreation group stands to lose: lake boaters. Jackson Lake likely will not fill enough for the Colter Bay Marina to operate this summer, as bureau officials warned in March.
The bureau projects Jackson Lake will fill to an elevation of about 6,747 feet above sea level in late June and decrease to about 6,735 feet by late September, said Brian Stevens, operations manager.
The end of the Colter Bay boat ramp is at an elevation of 6,753 feet, while Signal Mountain is 6,737 and Leek's Marina is 6,735, according to bureau figures. At best, barring heavy precipitation, the Colter Bay ramp will be 6 feet out of the water this summer.
Last summer, boaters moored at Colter Bay had to pull their boats in July. Early last month, with drought persisting, Alex Klein, vice president of Vail Resorts-owned Grand Teton Lodge Co., which operates Colter Bay, told the Jackson Hole Daily that "we might have limited or no marina options" this summer.
Of course, the bureau's operations plans are always subject to change, depending on weather. Late snow storms have increased water in the snowpack anywhere from 5% to 20% at various monitoring stations this month.
Despite that increase, "we're so far behind that it's hard to recover," Dalling said.
Jackson Lake was 23% full as of Saturday, while Palisades was at 39%. The upper Snake River system, including the nearly full American Falls Reservoir, was at 59% of capacity.
In contrast, last year at this time Jackson Lake was more than 77% full.
In early March, the water content of the snowpack around the upper Snake basin had some of the lowest measurements in more than a century. But those figures have rebounded significantly with recent snowfall.
As of Sunday, the monitoring station at Lewis Lake Divide showed water content at 76% of normal, while Togwotee Pass was at 85% and Two Ocean Plateau was at 91%.

Let us know what you think!
Tagged:
Colter Bay Marina
Grand Teton National Park
Jackson Lake
Jackson Lake Dam
Snake River
U.S. Bureau of Reclamation
Wyoming Game and Fish Department