S&R helps stranded hiker east of Afton
A stranded hiker needed the assistance from both the Star Valley and Teton County Search & Rescue teams after becoming trapped in the mountains east of Afton.
The Teton County Search & Rescue said they were contacted by the Star Valley Search & Rescue just after 7:00 p.m. on Wednesday, June 14. Star Valley S&R asked for helicopter assistance to help the hiker who was in "extreme terrain" and had gotten disoriented and lost in fog hours earlier. After becoming wet and cold, the woman followed the wrong ridge line until she came upon deadfall and steep terrain, leaving her unable to continue. Exhausted and lost she called for help at that time.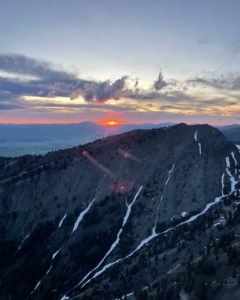 Star Valley S&R first responded on motorized dirt bikes to a position above and to the south of her, then hiked several miles to her position and made contact. With daylight getting short, SVSAR volunteers believed it would take to long to help get her down safely without helicopter assistance. That's when they put in the heli request at TCSAR.
TCSAR volunteers dispatched a short-haul heli team to the woman's location. The heli team found the woman at 8:40 p.m. and successfully short-hauled her to the valley floor just outside of Afton at 8:55 p.m.
Teton County Search & Rescue described "short-haul" as a rescue method where a patient and rescuers are hoisted via a rope connected to the belly of the helicopter for a short flight out of the back country, saying it is often used in steep terrain where landing the helicopter is not an option. The woman, an Afton resident, did not require medical care and wished to express her gratitude to all responders when debriefed at SVSAR headquarters immediately after her rescue.
Let us know what you think!
Tagged:
Star Valley Search & Rescue
Teton County Search & Rescue