Star Valley fabric artists create quilt for 105-year-old veteran
By Charlotte Flood Kane
Jackson Hole News&Guide
Via Wyoming News Exchange
JACKSON — Family and friends gathered Thursday morning on the sunny second floor of Sage Living to watch 105-year-old veteran Fred Miles receive a Quilt of Valor.
When he was wrapped in the quilt of red, white and blue, he gleefully responded with, "Wow! Thank you!" and "Amazing!" as the crowd snapped photos.
The quilt was presented by Donna Viljak, leader of the Star Valley Wyoming Quilters group, a section of the Quilts of Valor Foundation.
The Quilts of Valor Foundation was started in 2003 by Catherine Roberts, the mother of a soldier deployed in Iraq. The foundation was inspired by a dream she had, where she saw a man in despair hunched over his bed, his "war demons" surrounding him.
Then, as if by magic, a quilt wrapped around him, offering protection from the darkness that surrounded him. The takeaway from her dream was that quilts were equated with healing.
As Viljak draped the quilt around Miles, she said, "We want you to remember that as you keep the quilt around you that it's our arms surrounding you to thank you for your service to your country and for keeping us all safe and free."
An old brown leather jacket with "Thunder Booms" painted in gold lettering hung on the wall behind Miles. Below the word was a detailed painting of a P-51 Mustang, the plane flown by the Thunder Booms, his squadron. Miles flew this long-range, single-seat fighter and fighter-bomber during World War II and the Korean War.
Miles served first as a flying cadet in the United States Army Air Corps, which would later become the Air Force. There he moved up through the ranks, earned his pilot designation, and Miles became a Lieutenant Colonel. He served for a total of 28 years before leaving in 1968.
Although he no longer is an active pilot, Miles hasn't lost his sense of adventure and love of the skies. In 2021, he set a record for the oldest adaptive paraglider to fly in America, taking off from the top of Jackson Hole Mountain Resort.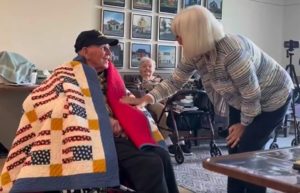 Even after breaking his hip at 100, Miles continues to live an active lifestyle. Each day he continues to exercise by lifting hand weights or using handrails to walk.
Since its founding, the Quilts of Valor Foundation has given over 300,000 quilts. They are made up of 10,000 volunteers across 600 community groups in all 50 states.
Star Valley Wyoming Quilters have been making quilts for the foundation for 15 years and have awarded 75 quilts. The group is made up of 40 to 50 members who meet weekly to show what they have been working on or teach classes to the others.
Miles' Quilt of Valor was designed and pieced by Mary Fagerquist and quilted by Cathy Kirk.
It takes Fagerquist four to five days to complete a quilt.
"I really enjoy the process of it, the beauty of the quilt and the love that goes into it, especially when you know that someone will appreciate it," she said. "My dad and uncle both served in World War II, so making the quilts is a really good way of remembering them both at the same time."
She also has made a quilt with a soldier on it for her son who served for 17 years in Iraq and Afghanistan.
Visit QoVF.org to nominate someone deserving of a Quilt of Honor.
Let us know what you think!
Tagged:
Donna Viljak
Fred Miles
Quilt of Valor
Quilts of Valor Foundation
Sage Living
Star Valley Wyoming Quilters