Star Valley Historical Society looks to the community to aid in website enhancements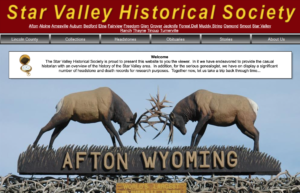 The Star Valley Historical Society is embarking on a project to upgrade and enhance its website. The goal of the project is to make the site more user friendly and searchable.
According to Ed Lisota of the Star Valley Historical Society, the website offers a wide range of interesting information and historical photos.
"If you are into researching cemeteries, we have almost 28,000 headstone pictures from Alta, Wyoming to Woodruff, Utah and from Bear Lake, Idaho to Viola-LaBarge, Wyoming," he said. "And, if that's not enough, there are over 1,000 personal histories and stories from our early pioneers."
"In addition to interesting facts, the website has almost 13,000 obituaries extracted from the Star Valley Independent from as far back as 1905 to the present," Lisota added.
According to Lisota, some of the things you can learn about this area from the Star Valley Historical Society Website include:
• In 1937 plans were underway to build a large dirt dam in "the narrows."
• In 1906 Star Valley was really close to getting a railway line.
• There was an operating coal mine in Greys River area in the 1930s.

"These are just a few of the little tidbits you'll find while browsing through the Star Valley Historical Society's website," Lisota said.
To access the website, visit www.lincolncountywy.org.
According to Lisota, having the information available is a good start, but now the Star Valley Historical Society is looking to make the information more readily available to the public.
"We are about to develop a newer, more searchable version of our website," he said. "As you know, these things take money, lots of money. In order to make this happen the Star Valley Historical Society would like to invite [the community] to donate to this good cause."
According to Lisota, individuals and businesses can donate any amount to the website project. Those who donate $25 and over will be recognized by having their name listed on the revamped website.
Donations for the website project can be sent to: Star Valley Historical Society, Attn: SVHS Website, P.O. Box 1212, Afton, WY 83110.
The donation drive for the website upgrade will continue through December 31, 2019.
Let us know what you think!
Tagged:
Ed Lisota
Star Valley HIstorical Society