Star Valley Quilt Trail is seeking entries for Barn Quilt Contest
The following was provided by the Star Valley Quilt Trail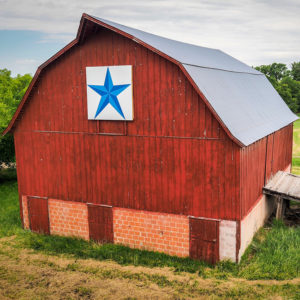 This year, the Star Valley Quilt Trail is joining with other cities across the state of Wyoming to put us on the Wyoming Quilt Trail map by hosting a "Barn" Quilt contest!
Paint a quilt block and install it on your barn, home, outbuilding, business, shed or any structure you'd like to enhance with a colorful quilt.
The Wyoming Quilt Trail originates in Lusk, Wyoming and with the help of the Star Valley community it will end here in the Star Valley!
• Event History
Beginning in 2016 Niobrara County, Wyoming, residents rallied for a community project to beautify Lusk and the surrounding area and put it on the map as "the heart of the Wyoming Quilt Trail". Over 100 painted quilt blocks adorn homes, businesses, garages, fences, barns and outbuildings in Lusk.
Their idea originated as a sign of the undaunted spirit of the residents of Lusk during recovery from the devastating flood of June 4, 2015. In the aftermath of the flood the local quilt shop spread hundreds of yards of fabric in the city park to dry. A photo of the colorfully adorned park went viral and became an icon of the town's united efforts to rise above the onslaught of nature with pride and strength of spirit.

The Wyoming Quilt Trail is a continuation of the American Quilt Trail. The American Quilt Trail was started in Ohio by Donna Sue Groves in 2001. It is one of the fastest growing grassroots public arts movements in the United States and Canada.
Barn Quilt expert and author Suzi Parron has written two books on the subject: "Barn Quilts and the American Quilt Trail Movement" and "Following the Barn Quilt Trail."
• Star Valley Quilt Trail Barn Quilt Contest
You must enter the contest in order to have your "barn" quilt block judged to have the chance for a prize.
Entry forms are available at town halls in Afton, Thayne, Star Valley Ranch and Alpine.
Entry Forms must be submitted no later than June 1, 2020, with your barn" quilt block(s) completed and installed by July 1, 2020.
The minimum size "barn" quilt block to qualify for judging is 4 feet by 4 feet – there is no maximum.
It is important that "barn" quilt blocks be able to withstand the elements, sustain their beauty and be maintained when necessary.
Valley residents and visitors to the Star Valley will enjoy these pieces of art for many years to come.
Mail entry forms to: SVQT, 72 N Branch Circle 7027 Star Valley Ranch, WY 83127.
Tagged:
Barn Quilts
Star Valley Quilt Trail
Town of Star Valley Ranch