Star Valley Quilt Trail open at four buildings in the valley this weekend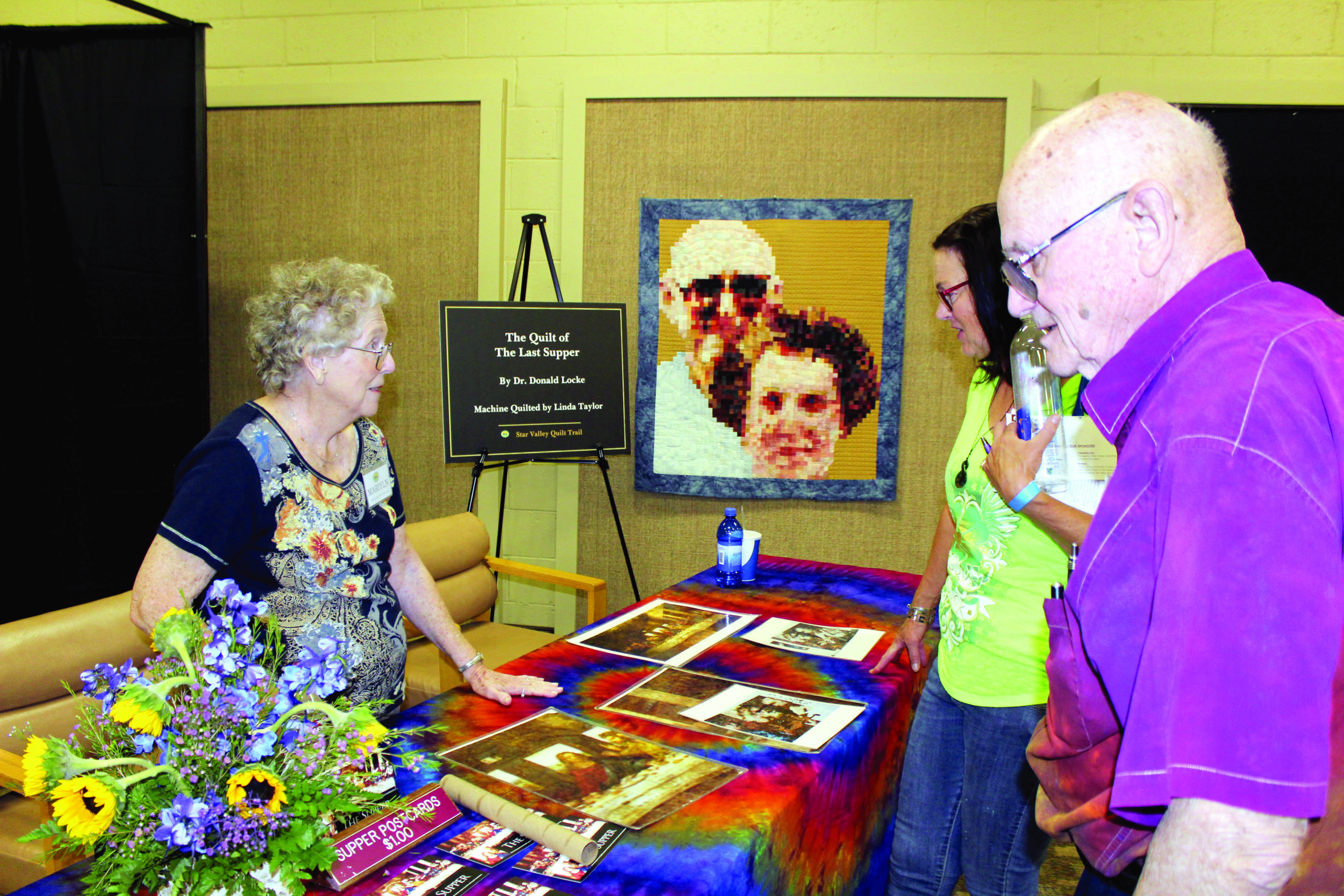 Cowboy entertainer, Dave Stamey, presents a concert Friday in conjunction with the quilt show.
After two years of delay due to COVID19, Star Valley's Piece Makers are hosting their second Star Valley Quilt Trail this weekend, Friday and Saturday, July 29 and 30 in locations throughout the valley.
"Star Valley Quilt Trail is a quilt show, and it's called a trail because we don't have a big convention center in the valley, so we use buildings in our communities," explained Shirley Greenhoe, Quilt Trail Co- Chair, in an interview with SVI News last week. "Thayne, Etna, Star Valley Ranch and Alpine will all have quilt exhibits in their community centers or town halls."
The show displays approximately 90 submissions from local quilters and features two special quilt exhibits with work from quilters throughout the nation.
Special exhibits include the Jackson Hole Quilt Guild's "A Ribbon Runs Through It" challenge, and the Minnesota-based fabric manufacturer, Cherrywood Fabrics, 2021 quilt challenge.
"'A Ribbon Runs Through It' is a quilt challenge that the Jackson Hole Quilt Guild did in their guild just amongst themselves, and they had to use a specific blue fabric, and everyone had to put that blue fabric running through their quilt," shared Greenhoe. "As it hangs, you see the ribbon that connects all of them."
Cherrywood Fabrics' 6th Annual Cherrywood Challenge invited artists from the global quilting community to create a themed piece and submit it for judging and exhibition throughout the USA. Last year's challenge was themed "Diana," in honor of the Diana, Princess of Wales. The suede texture of the Cherrywood fabrics make them a favorite among quilters. The themed art quilt challenge defines a limited color pallet from Cherrywood solid-color fabrics, allowing for only a few accent colors.
"People from all over the country can make a quilt. They are little, like 24 inches, that fit the theme, and then [the show] premiers in Houston in November, and after that, they break it into smaller exhibits, and it travels the country for the next year," explained Greenhoe. "We have one of those exhibits that will be on at the Town Hall in Star Valley Ranch. It's a pretty special exhibit – very creative."
As part of the Art Trail, renowned cowboy entertainer, Dave Stamey, is scheduled to perform live in concert from the "Barn" on the Star Valley Ranch RV Resort at 3522 Muddy String in Thayne.
According to davestamey.com, Stamey has been lauded as "perhaps the greatest cowboy balladeer alive today." He has been voted Entertainer of the Year and Male Performer of the Year seven times, respectively, and Songwriter of the Year five times by the Western Music Association.
"Dave Stamey is a fabulous western singer, who presents a really fine performance – just gives a fine, fine show," Greenhoe stated. "He has quite a reputation. He's in the Western Music Hall of Fame, and he's well respected in the western music community."
With a group of nearly 50 artists, the Star Valley Piece Makers are pleased to invite the community to attend the trail and view the works that they have created especially for this quilt show.
"Quilting is a folk art and it's worth the time it takes to go and look at what your friends and neighbors are doing with fabric," encouraged Greenhoe. "They are stunningly beautiful quilts. Some are designed to hang on the wall, and some, obviously, for the bed. In these challenges, they are small wall pieces, but by working small, you can play with more fabrics and ideas and get it done in a shorter period of time. They are all just gorgeous. It's just beautiful to see."
Wrist bands for the trail cost $8 for adults and are free to children 12 and younger. They can be purchased at any location and will provide entrance to all locations throughout the two-day show. Exhibits are open in each building from 10 a.m. to 4 p.m. both days. Dave Stamey Concert doors open at 6 with the show be- ginning at 7:30. Tickets can be purchased online at starvalleyquilttrail.com.

Let us know what you think!
Tagged:
Cherrywood Fabrics
Dave Stamey
Jackson Hole Quit Guild
Sherley Greenhoe
Star Valley Quilt Trail