Star Valley High School Track & Field competed at Blackfoot on Thursday afternoon. Although conditions were not ideal, they were much improved than the local athletes have been dealing with in Wyoming.
"We had about 70 kids who competed on a dry track," said head coach Ty Draney. "You know it's been a rough winter when 38 degrees feels balmy."
The Braves finished fourth as a team with 82.5 team points. Wyatt Moore won both the 100 and 200 meter events, Jesse Loveland won the 1600 and Asefa Wetzel and Peter Visser finsihed first and second in the 3200 meter.
The Lady Braves placed second with 110.0 team points without any individual champions. Riley Jo Heward (100 Hurdles) and Lily Jenkins (High Jump) had the highest individual finishes with second-place efforts.
The SVHS Track & Field team will be at Sugar City, Idaho next Thursday, March 21.
• Blackfoot Invitational Placers (Women)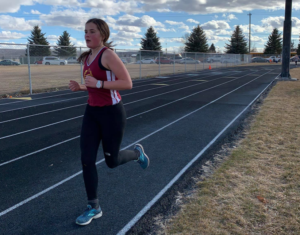 100M: McCora Wolfley (8th)
200M: Sarah McKen (3rd), Emma Dubisz (8th)
1600M: Brooke Kallgren (3rd), Shaelee Angel (4th), Makenna Bird (7th)
3200M: Shaelee Angell (6th)
100 Hurdles: Riley Jo Heward (2nd)
300 Hurdles: Riley Jo Heward (5th), Jessica Lainhart (7th)
4 x 200 Relay: Jessica Lainhart, McKenna Brog, Arianna Fluckiger, Cheyenne Hall (2nd)
Cassie Clinger, Julia Zachmann, Riley Jo Heward, Halli Hoopes (3rd)
4 x 400 Relay: McCora Wolfley, Sarah McKen, Elsie England, Emma Dubisz (4th)
Shot Put: Samantha Agerton (2nd), Matashia Moffat (3rd), Lizzy Moffat (5th), Izzi Carello-Zarate (7th)
Discus: Emily Gertsch (2nd), Lizzy Moffat (8th)
High Jump: Lily Jenkins (2nd), McCora Wolfley (5th), McKenna Brog (6th)
Pole Vault: Navy Southam (3rd)
Triple Jump: Cheyenne Hall (5th), Arianna Fluckiger (7th), Jessica Lainhart (8th)
• Blackfoot Invitational Placers (Men)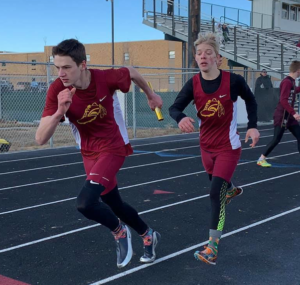 100M: Wyatt Moore (1st)
200M: Wyatt Moore (1st)
800M: Jessie Loveland (3rd)
1600M: Jessie Loveland (1st)
3200M: Asefa Wetzel (1st), Peter Visser (2nd)
4 x 200 Relay: Blake Matthews, Nate Matthews, Wyatt Moore, Tavon Southam (2nd)
4 x 400 Relay: Peter Visser, Zeke Kemp, Gabe Clinger, Asefa Wetzel (2nd)
High Jump: Jaron Clevenger (3rd)
Pole Vault: Blake Petersen (5th)
Long Jump: Jaron Clevenger (6th)
Triple Jump: Gabe Clinger (4th), Tavon Southam (5th), Beau Philpott (8th)
Tagged:
Asefa Wetzel
Blackfoot Invitational
Jesse Loveland
Lily Jenkins
Peter Visser
Riley Jo Heward
Star Valley track & field
Wyatt Moore