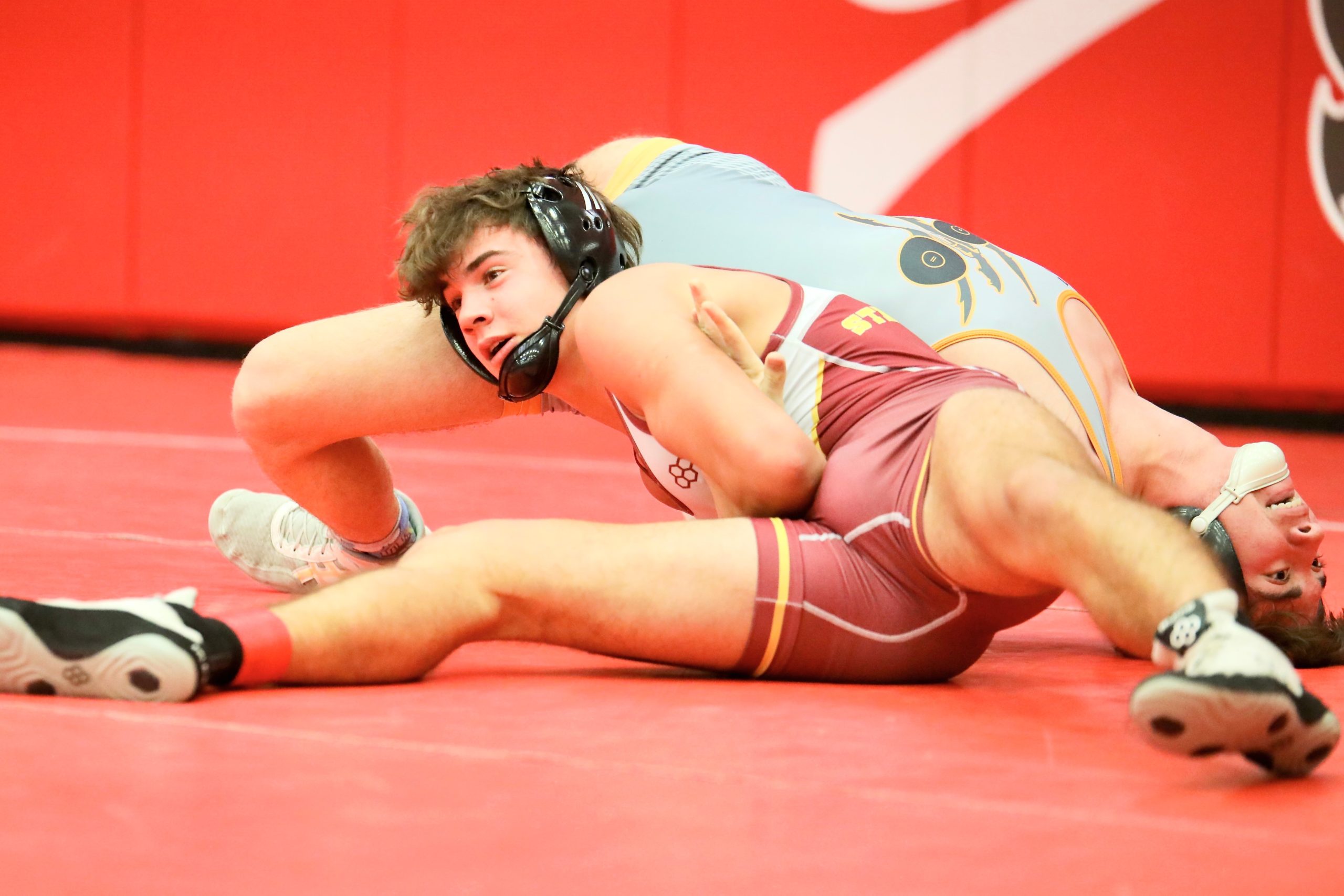 The Star Valley Braves Wrestlers competed in the Madison Invite over the weekend where they finished second overall in the 24-team event. Star Valley finished with 173.5 points while South Fremont High School won the tournament with 260.0. Bonneville High was third with 166.0.
"We feel good about it and the kids wrestled hard," said Head Coach Eddie Clark. "We came in second to a super-tough South Fremont team. They might be the best team in the midwest. We could have done better but we won some matches and others we'd like to have back.
Porter Merritt won the 152-pound weight class as the team's lone champion. Peyton Andrews (132) and Kooper Burk (160) advanced to the finals and placed second. Levi Byrd (106), Bridger Smith (120) and Tel Parry (132) placed third.
"He had a great tournament," Clark said of Merritt. "Had some close matches to get to the finals and then dominated the finals. He wasn't even seeded. The first match he had the #2 seed and knocked him off and then wrestled his way to the finals. He had the hardest route."
"Porter came on at the end of last season and got a medal so he's progressed nicely from last year to this year. He's starting to take ownership of his own success. He's seeing things that he needs to do better. When kids go out and make it happen; he's at that next step."
Weslee Turner (220), Grant Weiss (170), Malachi Patterson (126) and Caleb Morrison (120) placed fourth.
In the Junior Varsity bracket, Grant Thomson (182) and Ryan Talbot (220) won their weight class.
"Kooper is a kid who dislocates his elbow and gets surgery to get fixed and he's wrestling hungry," Clark added. "He's working hard to develop his craft. Peyton had a really tough semifinals match and he's having a good year. It's good to see him get to the finals."
After medaling three athletes at 120 pounds at the tournament, Clark appreciated the depth that is being developed there and said the team is in the process of spreading them out.
"Until Tel [Parry] moved to 132 this week he was making a big sacrifice to get to 126," he said. "Wes Turner dropped down to 220 this week and wrestled himself to fourth place. He had an outstanding weekend and might be the wrestler of the week. There are a lot of positives from this."
This week the team heads back to the Tiger-Grizz Tournament with a lot of memories and experiences for Star Valley wrestlers in its history but also a meet the Braves have not attended in quite some time.
"I'm excited to go," he added. "It's been since more than ten years since we've back back to that. Not being in 3A anymore we don't go to the Lander tournament anymore so this gives us an opportunity to go to a tournament that the wrestling families have probably had dads and cousins and uncles and brothers wrestle in it. There's probably even some grandpas; we're to that point. I'm excited about the effort we're getting and the kids are getting along well. Some of the bigger lessons about helping your teammates succeed are coming though."
Let us know what you think!
Tagged:
Bridger Smith
Caleb Morrison
Eddie Clark
Grant Thomson
Grant Weiss
Kooper Burk
Levi Byrd
Madison Invite
Malachi Patterson
Peyton Andrews
Porter Merritt
Ryan Talbot
Star Valley Wrestling
Tel Parry
Tiger-Grizz
Weslee Turner