Stockdog finals return to Afton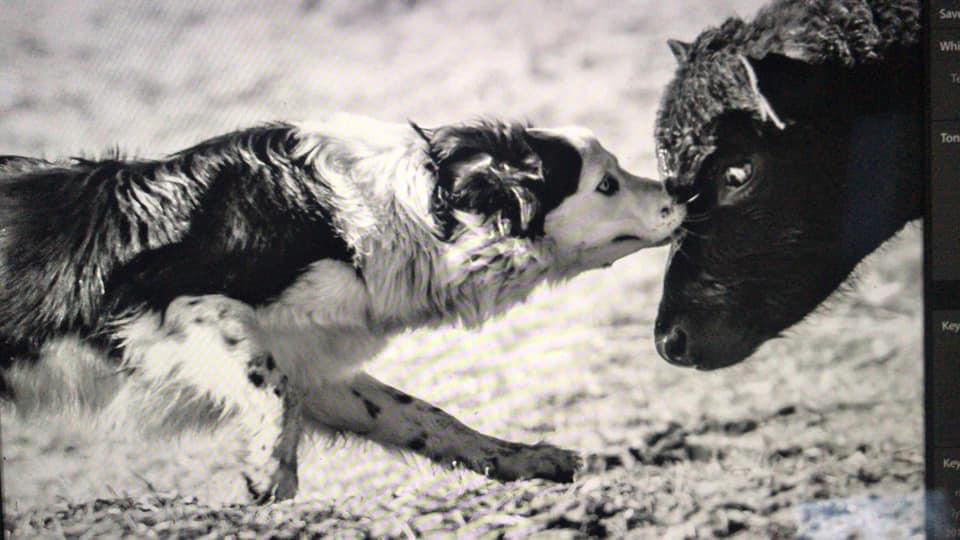 ◆ Championship runs June 19-24.
Afton and Star Valley are known as a lot of different things to a lot of people. In the world of stock dogs and their handlers, it is the goal. A location to aspire toward. The final destination at the end of the road to success. The best and brightest will once again come to town to test their mettle against each other June 19-24 to see who is at the top of their profession.
"This is the seventh year that we've been in Afton and this will be the biggest one we've ever had," said Steve Wight, President and Chairman of the Board of the Mountain States Stockdog Association (MSSA). "We are the largest in the world. We'll have over 1,000 runs this next week. We are the only ones doing sheep and cattle that I know of. The crew that it takes to put this on is incredible."
The MSSA Finals begins on Monday at the Lincoln County Fairgrounds. Wight credits the growth of the sport to a couple of elements.
"I think we help the beginners of the sport move up and they can be part of something and work their way up to the top," he stated.
"Two, it would really have to be the camaraderie. This is a family event with classy people and they have to qualify to come to Afton. It's the most prestigious award you can win in the stockdog world. Everybody wants to come to Afton. The handlers have [fallen] in love with this place, it's a destination. There was a wedding last year because they wanted to get married here.
They schedule their winter and summer trips after they've been here because they like it here so much."
For Sheri Wight, Steve's wife and fellow organizer of the event, it's a family affair.
"My kids have literally grown up at dog trials since the time they were babies," she replied. "The handlers have watched my kids grow up and they compete now. My boys started competing when they were nine years old. The kids have a big part of it and the adults want them to succeed. It's a fun way to grow up and a fun thing to be a part of."
Sheri said she selfishly designated the Saturday of the event to be a family day because she needed a break.
"I started it as kind of for my kids benefit but it's grown since then," she laughed. "There will be bounce houses and face painting. It will coincide with the Freedom Festival so it will be fun to do both."
Kent Herbel is a former national champion handler. He's now a judge for the MSSA Finals.
"I've been in stock dogs for over 30 years now," he said during an interview with SVI News this week. "My wife and I teach clinics. I got started coming to trials up here and Steve does a super job with his stock and his courses. They are just first-class events all the way around."
Herbel feels one of the reasons the handlers and dogs at the finals are so amazing is a bit more than just practice.
"The competition level is great," he answered. "What you run into are a lot of ranchers. People who use their dogs as a lifestyle not just a hobby."
Lori Herbel has been there to chronicle the sport with her camera as the official photographer of the MSSA.
"I live to take pictures," she stated. "It's like breathing for me. If I don't have a camera with me I'm looking for one. The amount of pictures I take now I'm close to 20,000 images but I just love it. Back when I started in 1990 we had to mail off the film and wait for them."
• Wednesday Night Auction
"We've been doing a 4H benefit auction for many years," Wight said. "We've turned it into a dinner for the handlers and at the end of the dinner we have a big auction and that goes into a fund to help the kids and they can apply for a scholarship."
Leftover money is used for more specific needs at the local level. For example, last year the hog barn got more fans added so there was more air for the animals at the fairgrounds.
The sport continues to grow and Wight credits Afton for growing with them.
"This community has been behind us since the beginning," he concluded. "It's grown so fast that we thought at one time we might have to leave because of facilities but the people here have adjusted and expanded their fairground to keep us here and now I don't see us ever leaving."
Area residents and visitors are invited to attend the MSSA Finals at the Lincoln County Fairgrounds starting on Monday morning at 8 am. Events typically wrap up by 2-3 o' clock daily. There is no cost to attend any or all of the event.
SVI Media will be streaming the entirety of the week at svinews.com with cameras in all four different competition areas. For more information and details, go to mountainstatesstockdogs.com.
Let us know what you think!
Tagged:
Mountain States Stockdog Association