Strong summer participation shows complacency not an issue for streaking Braves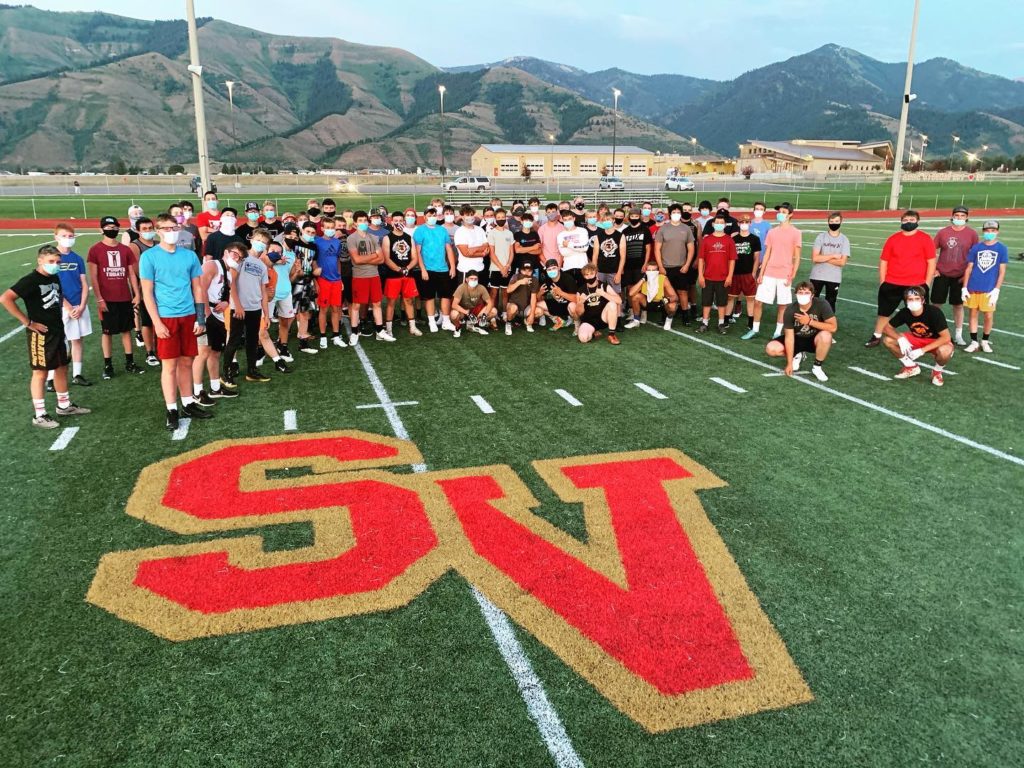 ——————-
◆ Star Valley hosting Summit Academy on August 28.
Not long ago, Star Valley was a winning football program looking for a championship after having gone 20 years in-between hoisting trophies.
In the last five seasons, the program has gone (53-5) and claimed four of the last five Wyoming 3A state championships. During that time, the Braves have lost to an in-state opponent just twice. Last year the team set a new record for points scored in a season and most wins in a season.
It would be natural to ease off the throttle with that much success. But based on the number of players who have made the extra effort to mask-up, use Zoom or otherwise participate in the summer weightlifting program, the Braves seem to have a group of players anxious to put their own stamp on a successful program.
"We're usually averaging in the high 40's in the workouts," said head coach McKay Young. "This year we were pushing 55 so that's the most we've had. We've also got more than 100 on the roster which is the most we've ever had."
With football participation trending downward nationally and the coronavirus throwing this off-season into a blender, why are the numbers up? Young had a couple of theories.
"I'd like to think that it's a sign of the health of the program," he said. "It's also made kids look for things outside of [the virus]. I wonder if they've played enough video games and are ready to do something real."

The high number will benefit a Star Valley team that graduated arguably one of the best teams in school history a year ago and has roles to be filled. That being said, there also appears to be players who have paid the off-season price to fill those roles according to the staff.
For this year's team, the number of linemen returning with experience will certainly outweigh the amount of reps returning from the skill position groups. But that's a scenario that Young would take every season if faced with the decision to choose.
"It's a really hard working crew already," he said of the junior and senior linemen. "The winter after their freshman year [the juniors] spent a ton of time in the weight room. The guys that are gonna be seniors sat behind a really talented group and they practiced behind one of the best lines I've been around for three years. I think that makes you tough."
Gabe Nield and Lucas Chappell both return as All-State linemen from last year and will be joined by JaAren Smith, Kysen Hebdon, Mason Hutchinson and Phoenix Merritt.
It doesn't hurt that Brant Nelson returns at quarterback where he's thrown for 25 touchdowns in his career and is 21-0 as a starter.
Still, the shoes are large. Starting with the cleats of R.J. Cazier who rushed for over 2,000 yards in his career and set a new school record for touchdowns scored. In addition, Dean Shaw gave last year's team many options and his production of nearly 1,000 yards and 15 touchdowns will be missed as well.
Then there is Chase Merrell who re-wrote the receiver record book for SVHS while also nailing down the position of All-State kicker on top of that. In all the trio was responsible for 48 touchdowns last season.
The teams top returning rusher from last season is Nelson who finished with 90 yards and three touchdowns on 31 carries.
But the program has been in this position before over the last handful of years. Needing to gain experience during game-time scenarios. The staff is confident in the players that have performed at the junior varsity level to this point.
The first game will be against the Summit Academy Bears who throttled Cottonwood 40-6 and then outpaced San Juan 49-28 this past weekend to open up the Utah prep schedule. The team brings back one of the state's most prolific passers in Joe Garlick who had over 2,800 yards and 28 touchdowns a year ago. In addition, newcomer Jaxon Case scored three rushing touchdowns.
Also on the minds of the Bears will be the 36-7 drubbing Star Valley gave them on their Bluffdale field a year ago. Star Valley will also have to overcome a three-week head start by the Bears.
"They also had camp over the summer and 7-on-7 camps and we didn't," Young pointed out. "It's a significant thing to overcome. The nice thing is, win or lose as long as kids stay healthy we don't have a bad outcome. If we win we win, if we lose we learn more about ourselves and improve on those things we need to do to get better."
The Braves open up the season with a pair of home games as the Preston Indians out of Idaho's 4A Classification will be in town on September 4. The Indians open their season against the Shelley Russets on August 28. The team will then travel to Sugar City Idaho to face the Diggers of Sugar-Salem in what has become a spirited rivalry between two championship caliber programs.

•The Coronavirus Effect
Based on preliminary discussions with Activities Director Rob Erickson, there will be seating changes for the upcoming season.
Current guidelines allow Braves Field to have 1,000 in attendance. According to Erickson, visiting bleachers will not be put out allowing for more room to utilize social distancing.
Seating in the main bleachers will be limited so bringing a lawn chair will be highly encouraged.
The SVHS Band will be playing in the north horseshoe of the venue to free up more bleacher space.