Superintendent Matt Erickson welcomes students and staff back to school
◆ Erickson asking everyone to choose an attitude of positive learning.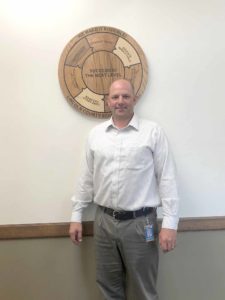 Superintendent Matt Erickson is calling for a rally – of sorts. Not one with cheerleaders and a school pep band. But of broad community support in unprecedented times.
"We're super excited that we have the possibility of resuming the school year with face-to-face education," Erickson told SVI Media last week during a telephone interview. "But in order to meet the school district goal of 'Tier One education,, which means in-person teaching and extracurricular activities we need our students and parents and stake holders to rally around us and support the health orders and help us in staying with our goal of Tier One."
Just days away from the first day of school in Lincoln County School District 2 – with Cokeville students starting on August 24 and Star Valley students on August 25 – Erickson emphasized that school administrators and teachers are not health experts, nor are they in health fields.
"We are in the education field. We are just adhering to the conditions that have been placed upon us not only by the [Wyoming] Department of Education, but also by the governor and by state [public] health orders," he said. "We are staying in our lane in order to be in Tier One face-to-face. We get to choose our attitudes with the health orders."

And those health orders are the following: all staff and students in-doors and outdoors will wear masks when six feet or more of social distancing cannot be maintained. Schools will have extra masks for those who lose or forget their masks.
Erickson said it will be just like schools have extra pencils – they'll have extra masks. And lots of sanitizing, he added.
However, Erickson also explained for students and parents concerned about the effects of masks that teachers and administrators will most certainly provide ample opportunities throughout the school day for students to be able to "drop their masks. It's not like they're really be in a mask all day."
Erickson said he is confident instructors will mix up situations like set groups of desks apart from a smaller group of desks and rotate students through the smaller sets for a mask break.
Or when they have to bring groups together, like to the reading carpet in elementary schools, they'll have the kids put on the masks for that period of time.
"They'll be lots of creative ways to handle it," Erickson assured.
Most of all, Erickson spoke confidently of the people of Star Valley and within the school district.
"Knowing the people the way I do, we're going to choose to be responsible and respectful of each other," he said. "The people of Star Valley and Cokeville respect education to the point we'll do whatever it takes to meet our goal to be in a situation to teach face-to-face."
Erickson also reminded SVI Media that the school district is not "the face of law enforcement" when it comes to masks and health orders, but that he expects students and teachers to treat one another respectfully and responsibly.
At this point, he added, there are no set numbers of new COVID-19 cases within the school district that would alter the Tier One plans, but that the school district follows protocol from the Wyoming Department of Education.
Erickson was energized, however, by how 17 new teachers coming to teach in Lincoln County School District 2 reacted earlier this month to a bus expedition to their new schools. "All the time on the bus, they wore their masks," he said.