Suspect in Kemmerer Child Homicide being held without bond
A Kemmerer woman is being held without bond following the death of a 5-year-old girl. Lincoln County Attorney Spencer Allred told SVI News that following her initial court appearance on Monday, November 28, the court has decided to hold Cheri Lynn Marler, 51, of Kemmerer without bond. A preliminary hearing has been scheduled for Friday, December 2 at 1:30 p.m. 
Kemmerer City Police Chief Michael Kahre said at approximately 3:38 p.m. on Friday, November 25, police were called to Marler's home for a 5-year-old child that was unresponsive. Upon arrival police began lifesaving efforts until EMS arrived. The child was transported to South Lincoln Medical Center in Kemmerer and later life flighted to Primary Children's Hospital in Salt Lake City, Utah. She later died from her injuries the following morning, November 26.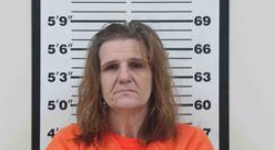 Marler made her initial court appearance on Monday, November 28. According to court documents, Marler had been taking care of the child since September at the request of the child's mother. Court documents state that the child had multiple bruises, some of which appeared to be fresh and some that appeared to be older. Upon initial questioning at the scene, Marler stated to police that the child had fallen down steep wooden stairs that lead into the home's basement, which was the cause of her becoming unresponsive. She claimed that previous bruising had been caused when the child had fallen off a swing set and a retaining wall that was near the swing set. The responding officer determined that injuries on the child's face, head, arms and shoulders were not consistent with the report of a fall down the stairs, and the incident began to be treated as a crime scene, according to court documents.
As the investigation continued it was found that the child had many more bruises, cuts and open wounds on her body. Some were described by medical personnel as burns and stretching of the skin. There were also old head injuries along with a current new one. The head injuries were described as "brain bleeds." In the court documents, the investigating officer states that doctor's in Utah confirmed his assessment that the injuries were not consistent with falling down the stairs but appeared to be from physical abuse. It was found that the girl had multiple rib injuries, a punctured lung, several head injuries (old and new), broken back, many lacerations, scrapes and countless bruises on the entire body. 
Upon further questions, Marler did eventually admit to police that she had snapped and had hit and kicked the child. It was also found that the child's sibling, who had also been staying in the home, had been physically abused as well but on a smaller scale. Marler was shortly after arrested without incident and charged of Murder in the First Degree and Aggravated Child Abuse.
Kemmerer City Police Chief Michael Kahre has stated that the case remains an active investigation. Friends of the girl's family have set up a GoFundMe page. The page identifies the girl's first name as Annabelle. All proceeds from donations will go directly to Belle's funeral expenses. The page can be found by clicking here.
Let us know what you think!
Tagged:
Cheri Lynn Marler
Michael Kahre
Spencer Allred