SV Half Marathon returns for in-person event in 2021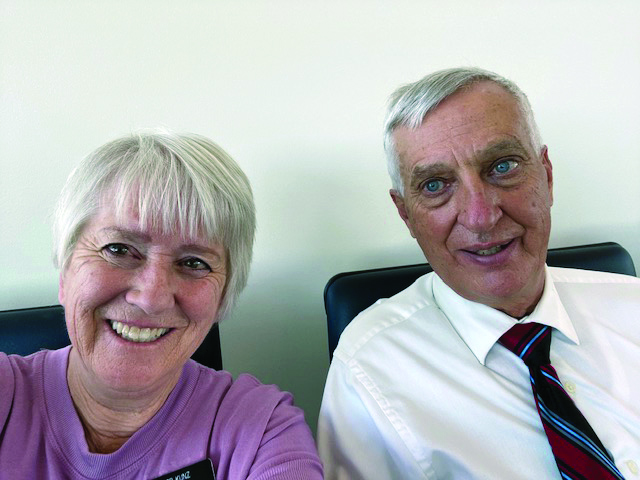 ◆ Bart and Denice Kunz leave for Germany, family takes over event.
The 2021 Star Valley Half Marathon is on — as in on the road from the Gover Park area in the Bridger-Teton National Forest to the Thayne Elementary School.
No virtual platform, No printed-out bib number. No slating your own course. The race is set for July 10 with nothing missing from the past. Well, except the presence of the annual event's co-founders.
As their children and grandchildren gear up for the 10th anniversary running of a race in memory of a husband, father, son and brother who died in 2009, Bart and Denice Kunz, are headed for Germany. After one year of waiting since their call from The Church of Jesus Christ of Latter-day Saints, the Kunz couple leaves Thursday, April 22, for the Germany Frankfurt Mission.
However, Denice emphasized, "nothing will be different [with this year's half marathon]. It'll still happen, and we want to keep it going. [Family members] all carry their load, and they do a great job. They're the greatest. It's how it's always happened. They've always done their part."

In fact, as Denice packs her bags for their 18-month mission, she's been finalizing her part of the yearly race. "My part is done other than being there and bossing people around," she added, laughing, over a Face Time with SVI Media. "I'm not the one designing medals and T-shirts. They'll do the hard stuff."
Early registration is open through May 31, Denice related. From June 1, racers can still sign up online into July and even in person at the elementary school the morning of the race at 5:15 a.m, with fees incrementally rising. Early registration is $45. In addition, race organizers will hold their free kids run at 7:30 a.m. at the finish line. Kids with or without an adult may run, walk or whatever around the block and then back to the finish line.
The Star Valley Half Marathon continues perpetually because not only does the Kunz family want to honor the memory of Jeremy Kunz, the son of Bart and Denice, who loved his wife and family and all things outdoors, but the family also finds joy and solace in service.
Denice considers the race, slated nearest Jeremy's birthday each July, as "a gathering of runners to share this day with us."
Organizing the half marathon has also aided in healing after Jeremy's death during the 2009 Las Vegas Ragnar Relay. A drunk driver hit him as he waited with water on the sidelines for a teammate.
"[Creating the race as a family] helped immensely, especially the first year for us to focus on something we had never done before," Denice told SVI. "Our thoughts and energy were placed on other good things instead of thinking about our own loss. Which is just a good way to live life in general – to look outward instead of inward. There's so much good that can be done when we look for it."
And the Kunz family has certainly sought the good. Last year the Ragnar Rely people hosted the half marathon virtually on their platform to keep the race going despite the pandemic. "COVID forced us to use technology in good ways," Denice added.
In essence, she explained, the Star Valley Half Marathon has taken on a life of its own. "We're just blessed to go along for the ride and enjoy the people who come and celebrate them, their own personal victories."
In the meantime, Bart and Denice will leave the race to the Kunz siblings, spouses and grandchildren. The couple will go to Germany to meet the missionaries and senior couples they've already gotten to know via weekly zoom meetings.
Will they miss being in the middle of everything in 2021 and 2022? Denice said she'll miss "the gathering of my family and the running family."
And family is exactly how she sees the runners. Each year, Denice refuses to leave the finish line until each runner is "home."
That's because, she said, "every one person counts. Everyone deserves to be cheered, to be recognized for their worth, not compared to other people."
So listen closely on July 10 as you cross the finish line. You may just hear Denice and Bart cheering from a cell phone on Face Time.