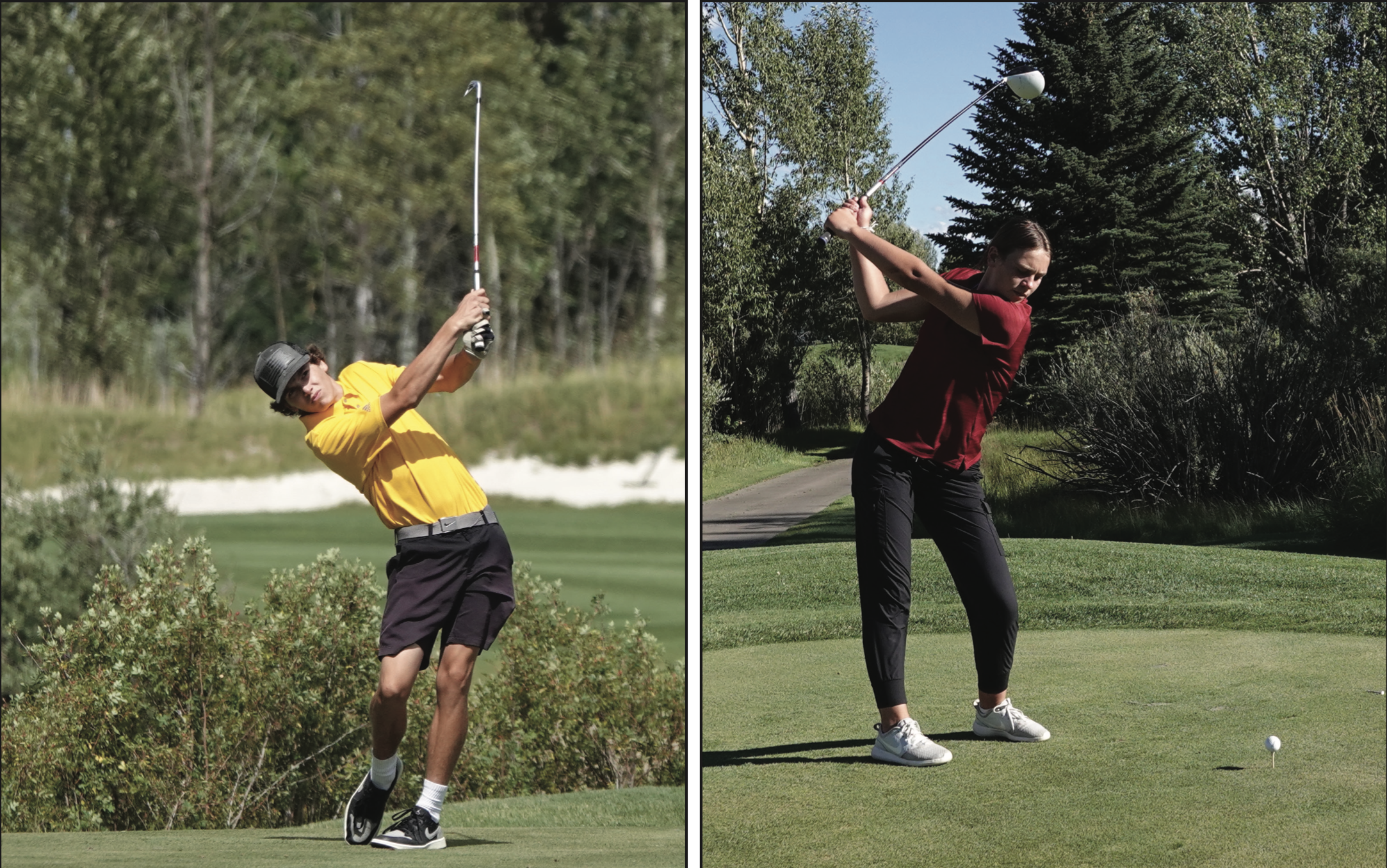 • 4A Tournament is this week in Sheridan.
The Star Valley High School Golf teams took advantage of their knowledge of one of their home courses and qualified for the 4A State Tournament in Sheridan this week.
The 4A qualifier took place in Afton after Jacoby Golf Course in Laramie declined to host, leaving the venue open for another municipal course to volunteer. Star Valley View obliged.
"We enjoyed great weather and excellent conditions at Valli Vu for the 4A West Conference Championship," replied head coach Kelly Fullmer. "Of the six team in attendance, the top four qualified for the state tournament next week in Sheridan. Individuals in the top twenty not on a qualifying team also punched their ticket to Sheridan. Not only did both our girls and boys teams qualify for the state tournament, but every one of our players finished in the top twenty individually as well."
The Kelly Walsh Trojans took the boys team title with Jackson placing second. Star Valley was just one stroke behind the Broncs.
"In terms of two days and eight total individual scores, those numbers are very small indeed," Fullmer continued. "The margin was close. As much as we wanted to win on our home course, we competed well and nearly pulled off the win. PJ Horsley played a stellar second round of one under par. Combined with his first day 75, the senior finished second in the tournament individually with a chance to win right down to the last couple holes. Junior Aiden DeCora earned all-conference honors along with Horsley with the Ordyna twins Brigham and Benson shooting identical scores of 160 total over two days to join junior Sean Stout's 166 just outside the top ten."
The Lady Braves also got a pair of all-conference performances.
"Our girls finished comfortably in the third position as well," Fullmer added. "Jordyn Horsely led the team both days, finished third individually in the tournament, and was backed up by solid play from her teammates, particularly Sheridan Coles. Both girls played their way to all-conference honors."
It is the second straight year the SVHS teams have both qualified for the State tournament since making the move to the 4A Class.
"We're going into the state tournament with confidence and an outside, but real, chance to win a title on the boys side," Fullmer said. "Our girls have designs on finishing inside the top three teams."
The teams will leave on Wednesday this week, play a practice round on Thursday, and compete in the state championship on Friday and Saturday.
Fullmer praised the local course for their hospitality.
"Our thanks to the Town of Afton for their generous loan of the course as well as golf shop manager Julie Hardy and superintendent Bryce Burton and his crew for all their hard work that made this event possible," he said. "It literally would not have happened without them. Many of the coaches, parents, and players expressed their appreciation for the beauty of our valley and the quality of our Afton course."
4A West Boys Team
Kelly Walsh 299 308 607
Jackson  303 314 617
Star Valley  311 307 618
Natrona County 328 328 656
Rock Springs  331 329 660
Laramie  341 342 683
SVHS Boys
PJ Horsley  69 75 144
Aiden DeCora  80 77 157
Brigham Ordyna  78 82 160
Benson Ordyna  83 77 163
Sean Stout  80 86 166
4A West Girls Team
Natrona  County  244 253 497
Kelly Walsh  259 264 523
Star Valley  277 281 558
Jackson  288 297 585
Laramie  384 382 766
SVHS Girls
Jordyn Horsley  80 82 182
Sheridan Coles  92 97 189
Bailey Erickson  102 105 207
Kate Ricks  110 105 215
Kambree Johnson  111 108 219
Let us know what you think!
Tagged:
Aiden DeCora
Jordyn Horsley
Kelly Fullmer
PJ Horsley
Sheridan Coles
SVHS Golf
Wyoming 4A State Golf