SVHS student journalists/yearbook recognized for outstanding work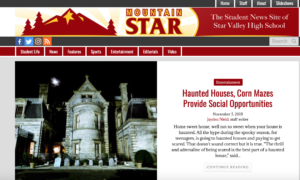 Students involved in the journalism and yearbook programs in Star Valley High School recently took part in a statewide competition in Riverton. The Star Valley students earned top honors in two different categories.
"We have an annual convention, called the Wyoming High School Student Press Association Convention," said Kelly Fullmer of SVHS. "This is also part of Wyoming High School Activities Association, so if you were to go to their page you would see our wins listed right next to football, basketball and the other sports. It may be something that people are not as aware of."
"These kids put in a lot of work and they work on publications throughout the year," Fullmer continued. "We submit those publications for judging and then at the convention among other things like break-out sessions and learning they also have an awards ceremony where they recognize the top publications in the state."
Star Valley High School students were awarded top honors for online newspaper publication in all classifications and best 3A yearbook.

According to Fullmer, awards such as these take an entire year's worth of effort on the part of the students involved.
"One thing we are lucky to have in our high school is that we have class time for both of these publications," said Fullmer. "Some schools do these as clubs. They have to get kids to do it on their own time or as extra curriculars. We have always been able to have it as release time during the day. That's beneficial because it gives kids dedicated time to work on these publications each day."
"Our school has always been very supportive of that and treating our activity just like any other," Fullmer continued. "When it all comes together it is nice to have somebody else look at it with a fresh eye and validate all of your hard work."
Tagged:
Kelly Fullmer
Star Valley High School
WHSAA
Wyoming High School Student Press Association Convention