It was a full winter weekend of action for the SVHS sports teams who had both home and away contests to close out the month of January.  Here's a look at how each program fared.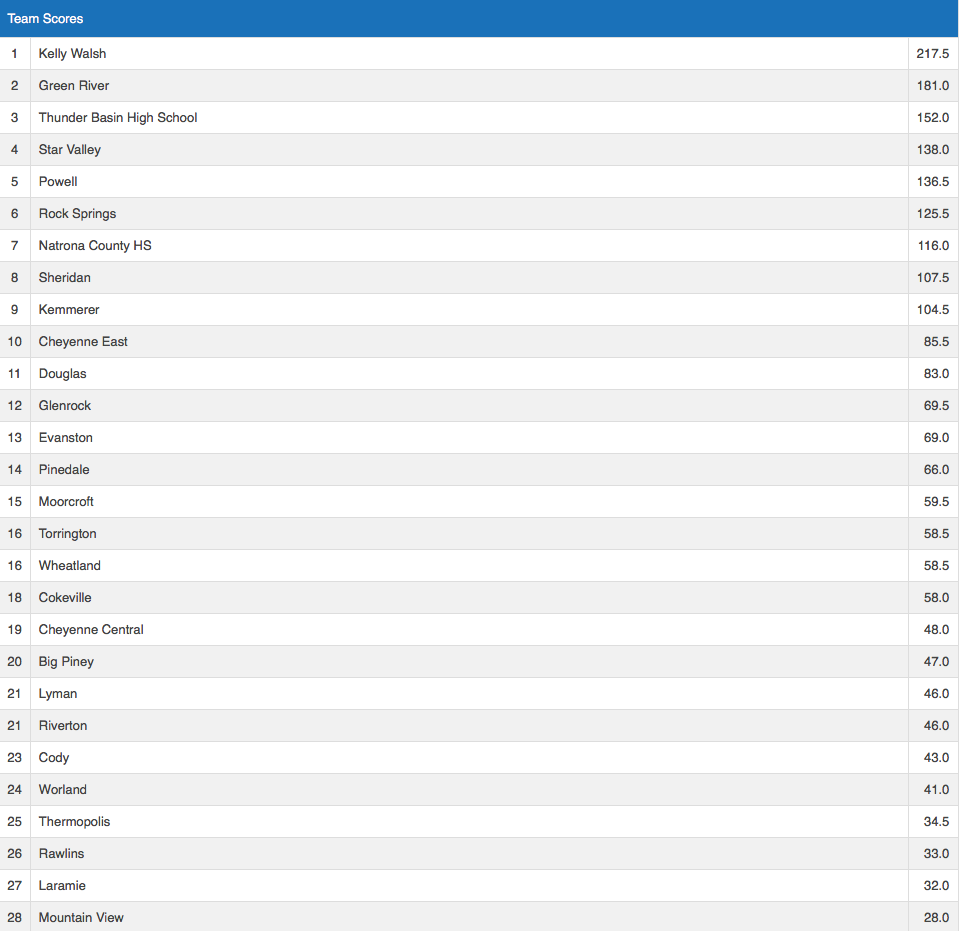 • Wrestling
Taking on the full field from Wyoming at the Ron Thon Memorial in Riverton, the Braves finished fourth as a team with 138.0 points. Kelly Walsh won the program's first-ever Ron Thon team title with an impressive 217.5 points. Green River was second with 181.0 and Thunder Basin was third with 152.0. Powell rounded out the top five with a team total of 136.5.  Two other Lincoln County schools were in the field as Kemmerer placed ninth with 104.5 team points and Cokeville 18th and a total of 58.0.
Individually, Star Valley advanced one wrestler to the finals with Kyle Kunz placing second at 160 pounds. Koa DeLong was third at 170 pounds and Parker Merritt was fourth at 285 pounds.  Jacob Guild  (106) also placed fourth while Winston Green (113) and Haze Child (120) placed fifth.  Tyson Hoopes (152) placed sixth.
The junior varsity won the team title at the Ron Thon with 208.5 points. Cody was second with 178.0 and Thunder Basin was third with 152.5. The JV Braves had four event champions with Kale Johnson (145), Tony Mickelson (152), JaAron Smith (195) and Gabe Nield (220) winning their weight classes.  Zachary Patterson  (138) also advanced to the finals in the JV tournament and placed second.
The Star Valley wrestling team will host a Sublette County All-Star team from Pinedale and Big Piney High Schools this upcoming Tuesday, January 29. SVI will broadcast the event.
• Girls Basketball
The Lady Braves picked up a pair of wins over the weekend to improve to (11-3)(3-0) on the season.
On Friday, the program traveled to Pinedale and took on the Wranglers in a 54-27 win. Shay Erickson led the way with 12 points while Abby Coles finished with eight points. Caitland Erickson also scored eight and pulled down six rebounds. Millie Merritt finished with eight points and seven rebounds and Olivia Muir and Otessa Olsen combined for 13 points and 12 rebounds.
On Saturday, The Lady Braves hosted Green River in a key 4A West Conference game. After trailing 29-19 in the second quarter, Star Valley outscored the Wolves 34-13 the remainder of the way as they won 53-42 and improved to 3-0 in the District. Shay Erickson again led the way with 13 points. Millie Merritt finished with nine points and four steals as well as four assists. Olsen, Muir and Coles all combined for 19 second-half points to help key the win. Star Valley hosts Cody and Riverton High Schools on February 1 & 2.
• Boys Basketball
The Braves saw their five-game winning streak snapped as they were defeated on the road in Pinedale on Friday night, 65-56. Chase Merrell scored 13 points. Andrew Jeske and Taylor Horsley each finished with 11 points. The Braves shot a dismal 3 of 17 from beyond the arc while the Wranglers hit 9 of 16 from the three-point line, led by 25 points from Danny Gosar.

Returning home after the loss and hosting Green River in a pivotal 4A West match up, The Braves came out on fire behind huge night from Horsley. The sharp-shooting junior scored 21 points in the first half, missing just one shot from the field in the first two quarters. He finished with 27 as the Braves held on to win 68-65. The Wolves trailed by ten points in the fourth quarter but rallied to draw to within a single possession. Chase Merrell finished with 11 for Star Valley.  The Wolves got 20 points from Braxton  Yeager and 19 from Chase Stoeger. The Braves now stand at (9-5)(3-0) as they host Cody and Riverton next weekend.
• Indoor Track
Competing at the Olympic Oval in Kearns, Utah as part of the Utah High School Track Coaches Association (UHSTCA) meet, full results will be updated here once they become available.
Some initial results included senior Asefa Wetzel winning the 1600-meter run and broke his own indoor school record in the process. Wetzel finished with a time of 4:18.2. Sophomore Peter Visser was fourth in the event with a time of 4:24.  Wetzel ran a 1:57 in the 800-meter event to place third and set a new indoor school record in the 3200 meter event with a 9:24. Visser also ran a 1:59 in the 800-meter and a 9:45 in the 3200 meter events; the top sophomore in those events.
Let us know what you think!
Tagged:
cody
Cokeville
green river
Green River Wolves
Kelly Walsh
Kemmerer
Lady Braves basketball
Olympic Oval
Pinedale Wranglers
powell
Riverton
Ron Thon Memorial
Star Valley Braves
Star Valley Wrestling
Thunder Basin
UHSTCA