Swift Creek High School to honor student with special graduation ceremony
Swift Creek Principal, Tyler Jack, announced this week that Swift Creek High School will be honoring one of its students, Mike Stewart, in a special individualized graduation ceremony Tuesday June 8, 7:00 p.m. at Swift Creek High School.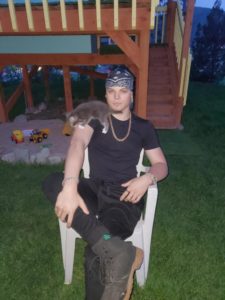 SCHS staff and students invite friends, family and community to come celebrate Stewart and his accomplishments at this ceremony. 
Stewart, who has battled cancer, losing a leg to it earlier, has a grim prognosis. Doctors give him just weeks to live. 
Stewart has been a student at Swift Creek for about a year and a half. Principal Jack said, "He had a little work to finish to graduate, and it started to make sense why he had been so tired. We put together the work he needed to finish and now he's going to get his last credit and graduate."
One of Stewart's dreams is to write and record a rap song. The Make-A-Wish foundation provided Stewart with software and hardware to do just that, but it's very complicated. Now he's not sure he wants to take the time to learn the software to record songs. He has plans to travel to Oregon to see the coast.
Principal Jack said, "He's a really quiet guy until you get to know him. He's an awesome young man and we're proud of him finishing and graduating from Swift Creek High School."
Let us know what you think!
Tagged:
graduation
Mike Stewart
Principal Tyler Jack
Swift Creek High School