The B-Side Band brings six decades of rock favorites to the Ford this weekend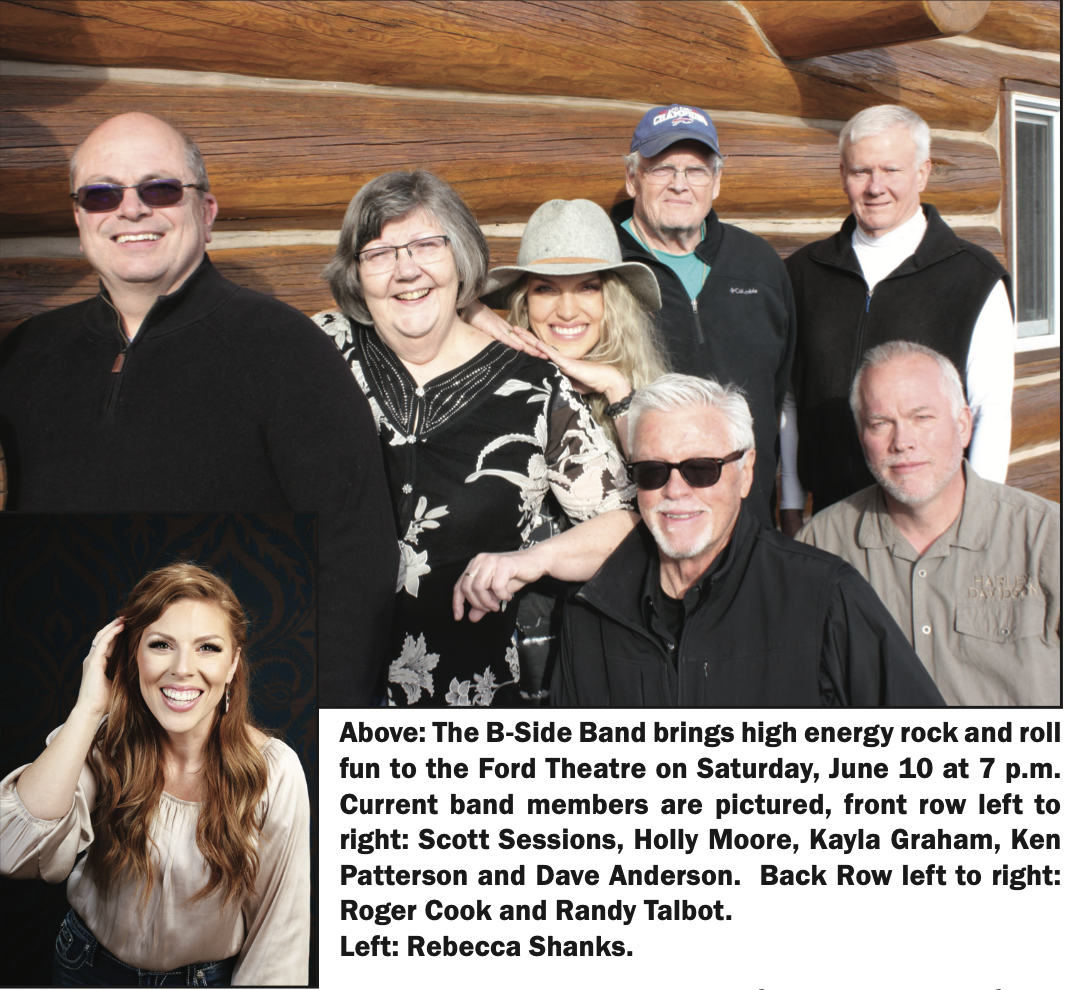 ◆ A surprise guest artist is flying in to perform with the band.
Offering rock, classic rock and country favorites from the last six decades, The B-Side Band is scheduled to present their 2023 summer concert Saturday, June 10 at 7 p.m. on the stage of the historic Ford Theatre in Afton.
Consisting of eight local musicians ranging in age from 29 to 72, The B-Side brings decades of musical experience to the stage with a line-up of music hand-picked for fans of all ages.
In an interview with SVI News last week, the band reminisced about their history and the fun they have making music together, teasing one another, and frequently throwing a song title or two into their cheerful conversation.
"The thing I enjoy about what we do, is that it's very family oriented," shared guitarist Randy Talbot. "We want everybody to come out and have a good time and sing along. Rock and Roll is what we do, but everybody can appreciate our selections."
The B-Side originally came together in the spring of 2021 when SVI Media was looking for a band to open for their Vocalist Wildcard concert scheduled for that summer. Scott Sessions, who serves as the bass guitarist for the band, learned of the search and shouldered the task of finding musicians and building a band from scratch.
Sessions immediately recruited Holly Moore on keyboard, Roger Cook on drums and Talbot on guitar. Vocalist sisters Dani and Sarai Erickson came on board, and guitarists Dave Anderson and Evan Byrd joined the group.
"That was how the band started," said Anderson. "The core members have continued mostly because we just enjoy playing. None of us are in it to make money or because we think we are going to become rock stars one day. We have just enjoyed playing."
Since then, the band has grown to include Ken Patterson on guitar. Several vocalists have contributed, including Weston Stucki, Daniel Lechner and Toni Sellers. Current vocalists are Rebecca Shanks and Kayla Graham.
A chiropractor, Sessions has been playing guitar since 1977, and moved his family from California to Star Valley in 2006. His wife, Tanita, descends from a native Star Valley family. "They built the very first home in Smoot. My mother-in-law was the first baby born in the old, old hospital that is now High-Country Behavioral Health. We have roots that go back a long way here."
Anderson has been playing music since his youth. "I'm retired and I do this because I love it. This is the first actual live band I have ever played in, and I just enjoy playing. It's fun to get together."
Originally from Casper, Cook has a degree in music with a percussion emphasis. Having drummed for several bands, he has played in symphonies most of his life and sought out opportunities to play with the Salt River Symphony when he moved to Star Valley after retiring as a mechanic. He currently drives a bus for Lincoln Uinta Child Development. "I came here and wanted to play and started with the Salt River Symphony on Tympani. Scott called me up and I started playing with him."
"Roger is the best drummer I have ever played with," shared Sessions. "And Holly is the best musician in the band, technically speaking." With significant knowledge about the building blocks of music, Moore keeps the band unified and sounding good. Raised in Idaho Falls and trained as a classical pianist, she followed her dairy farmer to Star Valley and has been here 52 years.
Patterson, a native of Idaho, has played mostly as a solo artist until joining the B-Side. "That's been a challenge for me. I am just really happy at this stage and age in my life to be able to play music again that I like." He worked in child protection throughout the intermountain west and for a couple of foundations on the west coast "before my desire to fly fish led me to Star Valley."
Shanks, whose first title is "Mom," serves as the current "Mrs. Star Valley." "I love to sing, and I love music and I always have. My parents raised me on the classics, and it's been really fun being part of the band."
Talbot started playing guitar in 1972 as a sophomore at the University of Florida where he also played competitive football for the Gators. "My roommate, David Bowden [who was the Gators' quarterback at the time], walked through our door wearing a Yankees hard hat. He sat down with a guitar and played with the victrola to an Allman Brothers song. I was fascinated. I bought a guitar and started playing."
Raised to sing from the time she could talk, Graham is a professional massage therapist and birth attendant. Her current project is the painting of five murals in the new building on Highway 89 that houses The Giftery, Swirl and Gather, which is an events center that the band will be performing in throughout the summer once the building opens. "Singing with the B-Side has been especially fun, because I grew up listening to my dad's music, which is all this great music that we are doing with the band."
Fans should plan for an encore, as the band has invited a special guest to join them during the concert. "Our surprise vocalist is joining us at the end of our show," Sessions smiled with a sparkle in his eye. "Hopefully, his plane is small enough to land in Alpine. This person is famous so don't miss it!"
Each member of the band is excited to share all the fun with their Star Valley community. "If you are a country music fan, you will be pleasantly surprised, and we might make room in your heart for a little rock and roll," the band concluded. "Bring your family and let the children come down front to dance and sing along."
Tickets to The B-Side Band concert can be purchased at the door or in advance at saltriverarts.com.
Let us know what you think!
Tagged:
B-Side Band
Daniel Lechner
Dave Anderson
Ford Theatre
Kayla Graham
Ken Patterson
Randy Talbot
Rebecca Shanks
Scott Sessions
Toni Sellers
Weston Stucki