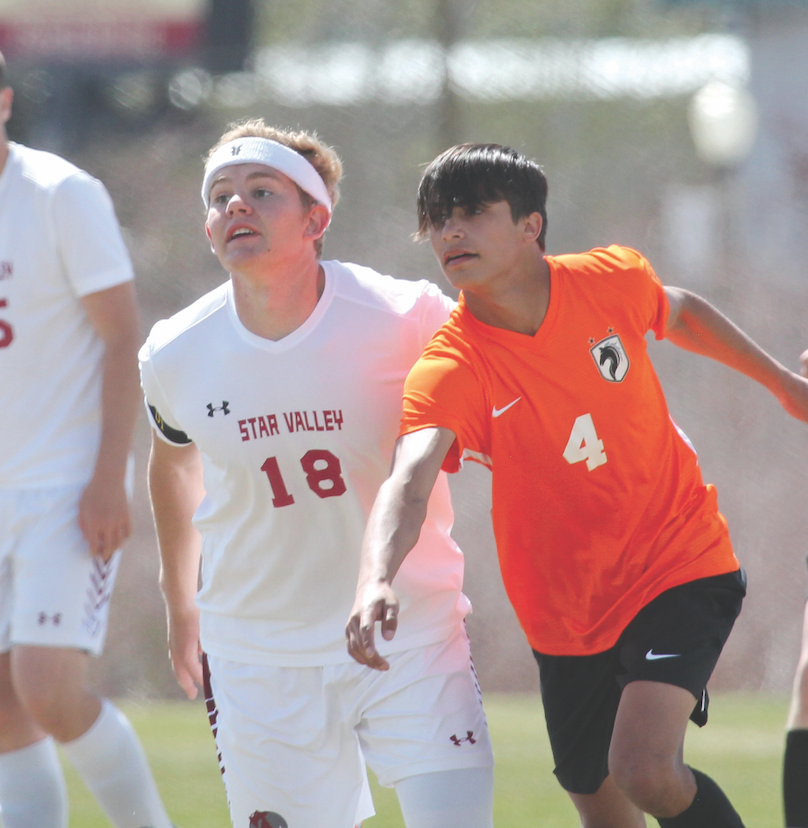 ◆ Mason Brown is just getting started.
A casual fan would not even know they are watching something special.
Senior Mason Brown lined up to take a free kick against the Green River Wolves last week and let one loose some 50 yards from the mouth of the goal. Two seconds later and the ball was caroming off the underside of the crossbar and crossing the gold line of the turf for the game's first goal.
Nothing the opposing keeper can do about it.
Brown has been doing this for years since his days as a little boy.
"I've been doing that for as long as I can remember," he said. "Even in youth league that was one of my jobs."
Another thing Brown has been doing for as long as he can remember is working to understand those around him. Designated as profoundly deaf, Brown cannot hear sounds below 90 decibels (dB). A normal conversation is generally around 60 dB and a whisper is around 30. A motorcycle engine is about 95. In other words, about the time average people wish things would quiet down, Brown can start to hear.
But that is without medical technology and a lot of effort.
"We found out I was deaf at about one year old," he added "I've been going to school since then. I had hearing aids and I got my first cochlear implant when I was five and the other when I was eight. I've been going to speech therapy to learn and I've learned to work hard and had some struggles but I have good parents who help me with whatever I need."
A cochlear implant is a small electronic device that electrically stimulates the cochlear nerve (nerve for hearing). The implant has external and internal parts. The external part sits behind the ear. It picks up sounds with a microphone. It then processes the sound and transmits it to the internal part of the implant.
The technology is miraculous but is only part of the process.
"Sometimes it's hard to hear but I read lips really good so I make sure I'm in view of people," Brown continued.
"I went in for surgery and they put magnets in that send signals. I have an external processor that takes in information and sends it down into my brain. It's removable so I take them out at night."
Mason is an All-State selection in 4A Soccer from last season as his signature headband covers up the equipment but they don't always make it through the contact that comes with the job.
"They would just fall off and I could easily put them back on," he said. Sometimes they can get broken but I can easily get them replaced. It's just expected of me to go out and perform just like any other kid. I'm just an athlete."
Brown also played football for the Braves through his junior season where the school procured a custom helmet that allowed him to hear on the gridiron for the first time.
"That was the first time I could play football and hear," Brown replied. "In middle school I just played completely deaf."
As a guard, he would look at the quarterback's wrist band so he could know the plays.
Now as a senior and a captain, he is leading a Star Valley team that has aspirations of the post-season and has stood toe-to-toe with the top teams in the 4A Class thus far this season.
"I think the best thing is that this team is not selfish," he aid. "We're all working and communicating. We were playing 10 on 11 [against Green River] and had to pull together and play with heart and I love that about our team."
Mason is the son of Dr. Aaron and Shanna Brown. His plans include going into the family business.
"I'm going to BYU this fall and I want to major in Biology and go into pre-med and become a doctor and follow in my dad's footsteps," he stated.
His advice for others who have similar challenges?
"Keep working. Don't give up. Your disability doesn't define you. Your actions and your efforts do. Keep going."
Let us know what you think!
Tagged:
Mason Brown
Star Valley soccer