Tincup Fire continues to consume dead and down fuel
*The following is a news release from the Caribou-Targhee National Forest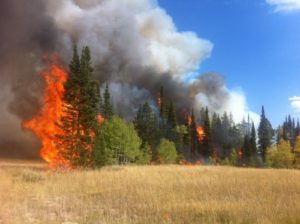 SODA SPRINGS, ID— The Tincup fire remains active and continues to consume dead and down fuel. Higher fuel moistures and significant live vegetation are currently keeping fire activity moderated, allowing a slow surface fire to rejuvenate the forest. Occasional single-tree torching has been observed. The Tincup Fire was discovered on July 30 approximately 30 miles northeast of Soda Springs near the Grays Lake Wildlife Refuge Headquarters. The lightning-caused fire is approximately 7 acres in size. The fire is slowly spreading towards the northeast away from private property, burning in rugged terrain within the Caribou Mountain Range.
The Caribou-Targhee National Forest, with the assistance of a long-term fire behavior analyst, has run several computer models to determine probabilities of fire growth and direction. With the above normal snowpack, precipitation and historic decrease in fire activity beginning mid-September, fire managers feel there is minimal risk allowing Tincup to play its natural role in the ecosystem. Management activities will focus on preventing fire spread toward private lands and public land infrastructure.

The Forest Service has established several management action points that will determine how the fire will be managed should the fire reach those points. These include modifying suppression actions if a possible increase of growth might affect range allotments, the general archery hunting season, private property to the north and west near Bridge Creek or impact the US Highway 34 and power line corridor.
FS lands often have vegetation and wildlife habitat that require fire to remain healthy and functioning. On forested lands, up to 60 percent more of the landscape burned historically than now, especially in the West. To diminish the "fire deficit" and thereby mitigate fire risk, the FS and partners are using this fire management strategy that protects values from harm, but also reduces future wildfire risk from excessive fuel accumulation. Fire officials will continue to monitor weather and fuel conditions daily to predict the fire's spread.
Smoke from the Tincup Fire will be visible likely until a major precipitation event occurs or until it snows. Fire managers urge individuals to use caution and stay out of the area due to fire hazards. Currently no closures are in effect.
For more information on the Tincup Fire please visit inciweb at: https://inciweb.nwcg.gov/incident/6489/.
Tagged:
Caribou-Targhee National Forest
Grays Lake Wildlife Refuge Headquarters
Soda Springs Idaho
Tincup Fire