Town of Alpine donates a former police vehicle to Alpine EMS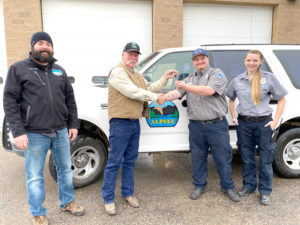 The Town of Alpine has donated its former police vehicle to the Alpine EMS Department. The Ford Expedition was turned over to the Alpine EMS Department this last week.
"Our EMS was in need of a vehicle," said Alpine Mayor Kennis Lutz. "The town had a vehicle it could afford to get rid of."
According to Alpine EMS Chief Phil Jorgensen, the addition of the vehicle will be tremendous to first responders.
"This donation is awesome," Jorgensen said. "We are going to use this vehicle to get up and down the canyon for fast response to get on scene and figure out what equipment we might need up the canyon compared to sending everything up and turning a lot of vehicles around."
According to Alpine Town Councilman Justin Fritz, the donation of the vehicle is a win-win for the Town of Alpine and the Alpine EMS Department.
"This is a great addition to the Alpine Fire and EMS," Fritz said. "It will take some of the wear and tear off the ambulances."

According to Mayor Kennis Lutz, this donation is an example of how the town and first responders are working together to meet the growing needs of the Alpine community.
"I'm pretty excited to have the vehicle here," said Tessa Nalley, Alpine EMT. "The four-wheel drive is going to be really great, especially with winter coming up. I'm very thankful the town is giving this to us."
Tagged:
Alpine EMS
Town of Alpine