Tractor time – regional farmer has a passion for good machines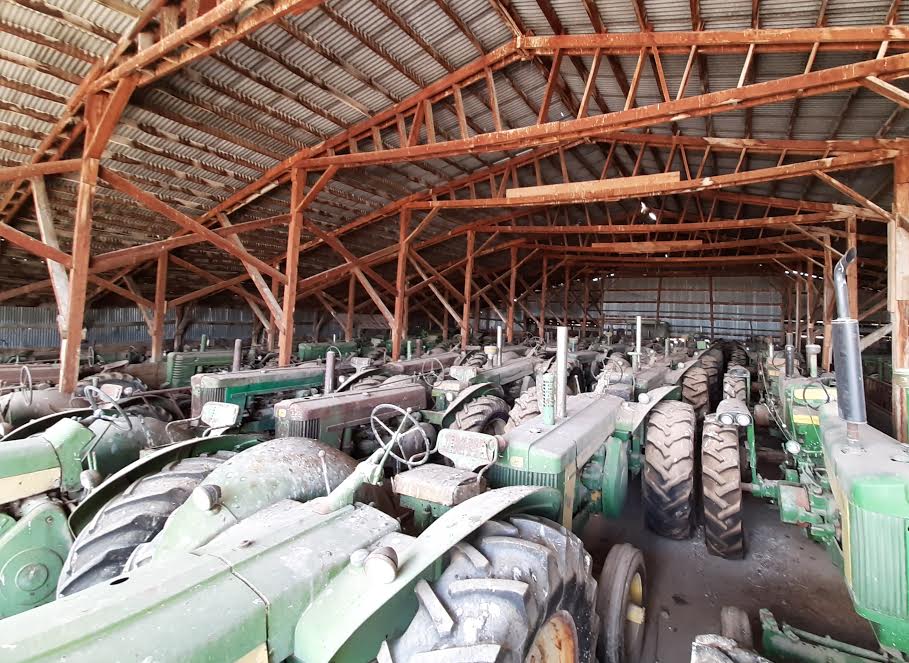 ◆ Brad and LeeAnn Woolstenhulme own around 250 tractors.
By the time he graduated from high school in 1977, Brad Woolstenhulme of Montpelier, Idaho, owned a dairy and 11 acres of ground.
Today, he and his team run over 17,000 acres of farmland, harvesting mostly wheat and alfalfa hay, and raising nearly 400 head of beef cattle. This kind of work takes muscle, and the muscle Woolstenhulme chooses is usually the John Deere variety.
Woolstenhulme and his wife LeeAnn own around 250 tractors, including two Allis Chalmers models and five International models. The remainder of their equipment collection includes one of nearly each tractor model ever manufactured by John Deere.
"When I was a kid, I bought a couple of [John Deere tractors] from neighbors. They were worn out and stuff, and I rebuilt them and got them running. I liked the older John Deere tractors and I have been collecting them ever since. I have actually got one of every model of the tractors they made except for one or two of the real rare ones. I've got close to 250 tractors that I have bought and hauled home."
"LeeAnn likes to travel," said Brad. "We've hauled tractors from Canada and every state in the country to get every different model and variety that we have. We have just collected a lot and we have restored a few of them. My goal is to try to someday get them fixed up, but I'm so busy farming."

The Woolstenhulme's also operate their properties with nine one-ton balers, seven combines, seven swathers and various implements like air drills. Tractors that aren't in the operating fleet are stored in one of two enormous sheds that together are nearly the size of a football field, stoically awaiting Brad's mechanical skill to restore them to their former glory.
"I knew when I was a little kid what I wanted to do and how I wanted to do it, and I just have loved every day of it," said Brad. "I was born in 1959. My Dad had a little beef cow farm [in Montpelier] with 60 beef cows. I had 3 siblings and we ran the little farm. My dad worked at one of the mines in Soda Springs. My mom and us kids ran the farm. When I was about 13, he decided to sell some of the beef and build a dairy. My dad always went to work, and I was there to run the dairy. I really enjoyed it."
As a youth, Brad loved the vocational agriculture program at Bear Lake High School and participated with his whole heart. He loved it so much that, even though he had chores to do at 4 a.m., he would often sneak out his bedroom window in the middle of the night and go to work in the welding shop at the high school. His advisor, Mr. David Bennet, trusted him with a key and encouraged other students to work with him.
"I had this drive to make money and expand," said Brad. "I probably built 100 trailers and wood-burning stoves back in high school. The teacher told all the other kids, 'All of you kids who don't have a project of your own, just work for Brad.' I had an assembly line – kind of a welding business going during high school."
With that kind of work ethic and entrepreneurship, Brad earned the distinguished American Degree from the National FFA Association. The year he graduated, he was also prestigiously named an "FFA American Farmer," representing the Western United States as one of four national winners.
As graduation approached, Brad talked long and hard to convince his father to sell him the dairy. His father wasn't ready to retire, but eventually Brad won his father over and made his first farm purchase on May 1, 1977.
Brad and LeeAnn married in the fall of that year, and in the decades to follow, they have welcomed six children, several sons and daughters-in-law, a passel of grandchildren and twelve employees to their family.
In addition to his growing family, his farming operation exploded to include farms in Oneida and Power Counties in Idaho, and in Snowville, Utah. He has also spent time running a trucking business and owned and operated an agriculture equipment dealership for a short time.
"My farm got bigger and bigger as I started buying and leasing farms from people," said Brad. "I leased and bought and tried and did everything I could. And I have just been farming and farming ever since."
The Woolstenhulme's marriage is unique with the teamwork that it takes to run such a large operation. Brad runs the farm in Montpelier. LeeAnn is on site at the farm west of Malad where they run about 12,000 acres. During the summer months, they work together, but separately, to ensure that everything gets done, taking Sunday's for family time.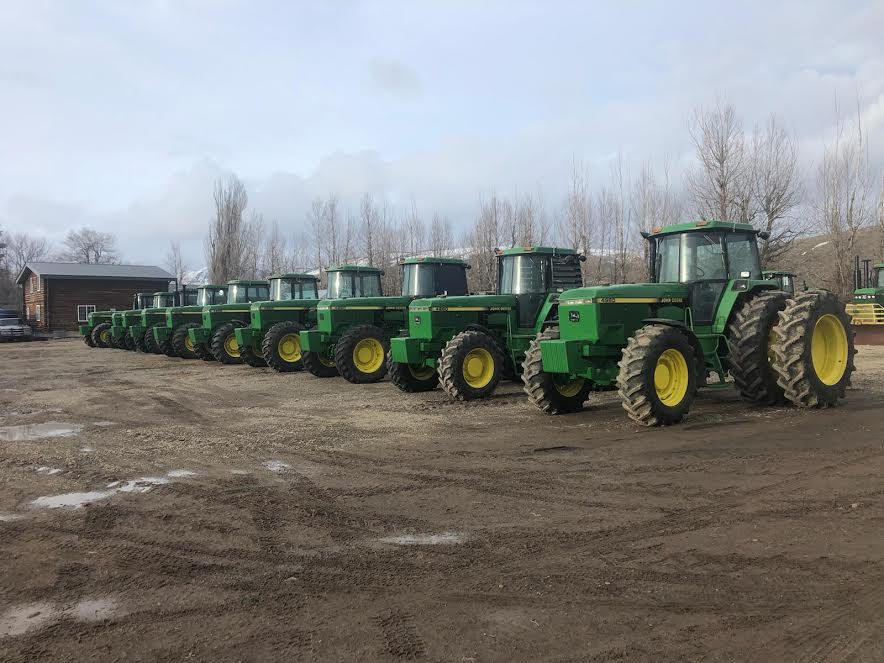 "It doesn't matter if I am buying a million-dollar farm or five old tractors in New York, LeeAnn is behind me 100 percent of the way and she's rode millions of miles with me," said Brad. "She's here part of the time when they are not haying or cutting grain. In the wintertime, I drive one of the semi's a lot. If I've got 100 trips to go to Twin Falls, she rides every one of them with me. She is always right there helping, taking care of the employees, and doing the book work. I mean, she is really, really supportive of everything we have done. Seven days a week, and 100 miles apart, we are working on the same things."
Unlike many farm and ranch bosses, Brad keeps all his family and employees busy year-round. When the snow falls, his team divides the responsibilities and prepares for the coming season. A few of them continue trucking hay and grain for export, one tends to the beef cattle, and the rest of them are at the shop in Montpelier where they service and repair operation equipment.
"The last 10 years or so, I have also started buying tractors that have a bad engine or that need repairs that people don't feel like they can cost-effectively repair. I buy 15 to 25 a year. They come from all over, like Kansas, Minnesota and Texas. Each winter, we put them in the shop and rebuild the engines and the transmissions and do the tires and the inside of the cabs, and basically put them back in really good shape and resell them. That's gotten to be a good sideline deal. We've always got at least 20 tractors sitting here that are all redone and ready to sell year-round. It's a money-maker, but it mostly keeps all my boys here and working."
One of Brad's highest priorities is taking care of his team. He wants his crew to feel like family. At age 61, he works each day along-side them and personally takes the more uncomfortable responsibilities, like running the one tractor that may not have air conditioning that day.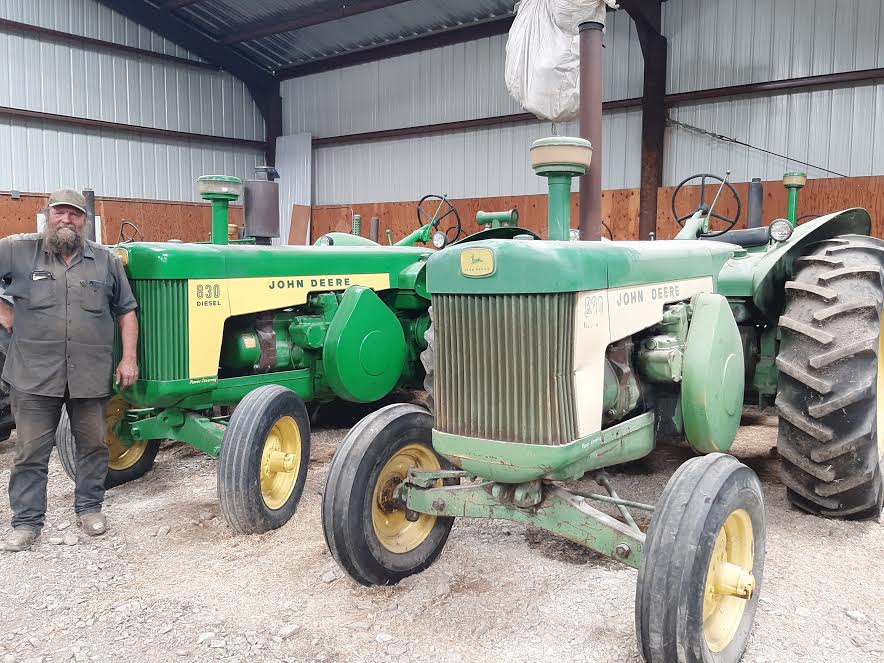 "We work pretty hard, but once a year in the wintertime, I take all my employees on a trip," said Brad. 'I have had them back to the John Deere Factory and the Caterpillar Factory. I've taken them on a couple of different cruises. They work really hard for me and I appreciate that, so I do my best to reward them and show them a good time. If it wasn't for them, I couldn't make this work. They are really hard-working, good people and excellent workers."
"I just love the work and the people and everything, and I've just enjoyed the challenge of what I do," said Brad. "I don't have any hobbies. I've never watched a football game in my life – either live or on TV. My hobby is just farming. That's just all I know how to do. We enjoy what we are doing, and we have had a great time. It's a good life."
Tagged:
Brad Woolstenhulme
John Deere tractors
LeeAnn Wolstenhulme
Montpelier Idaho