University of Wyoming visits ExxonMobile Shute Creek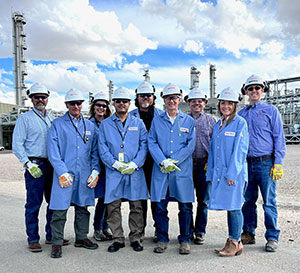 • ExxonMobil plans for a $400 million investment at Shute Creek.
SVI Media/UW News
University of Wyoming President Ed Seidel and other UW representatives got a close look at the world's largest carbon capture facility during a visit to ExxonMobil's Shute Creek natural gas processing plant near LaBarge earlier this week.
Accompanying Seidel on the visit were UW School of Energy Resources Executive Director Holly Krutka; Cameron Wright, dean of the College of Engineering and Physical Sciences; Mike Smith, vice president for governmental affairs and community engagement; Professor Vamegh Rasouli, head of the Department of Energy and Petroleum Engineering; and Angela Ver Ploeg, UW Foundation director of corporate engagement.
"This was a wonderful opportunity to visit this important industrial facility in western Wyoming and learn about the innovative work taking place there," Seidel says. "Not only is the Shute Creek facility a major employer in our state, but ExxonMobil is, in many respects, leading the way in Wyoming's burgeoning carbon capture and utilization industry."
In 2022, ExxonMobil announced a $400 million investment at the Shute Creek facility, which has captured more carbon dioxide than any other facility in the world. The expansion project now underway will capture up to 1.2 million metric tons of CO2, in addition to the 6-7 million tons captured there each year. Much of that is used for enhanced oil recovery projects and other industrial uses.
In addition to producing natural gas, Shute Creek is one of the world's largest sources of helium, producing approximately 20 percent of global supply.
Let us know what you think!
Tagged:
ExxonMobil Shute Creek
Holly Krutka
LaBarge
President Ed Seidel
University of Wyoming