UW faculty, staff, students visit Idaho National Laboratory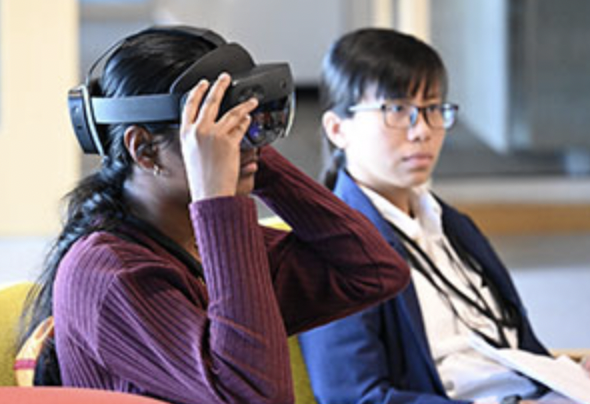 • UW School of Energy coordinates visit.
SVI Media/UW Report
A cohort of University of Wyoming faculty, staff and students visited Idaho National Laboratory (INL) in Idaho Falls, Idaho, last week as part of a collaborative effort to strengthen connections and facilitate research opportunities between the two entities.
Hosted by INL and coordinated with the UW School of Energy Resources (SER) and the College of Engineering and Physical Sciences, the multidisciplinary group represented 10 different departments, including the departments of Geology and Geophysics, Chemistry, Mathematics and Statistics, Physics and Astronomy, and multiple engineering disciplines.
"Though we are diverse in our research, all of our missions call for us to advance human knowledge to make a safer, cleaner world with a higher standard of living for everyone," says SER Academic Director Kami Danaei. "This was an exceptional opportunity to experience the world-class facilities INL houses, learn about their operations and build valuable contacts for both our students and our researchers."
The visit began with a welcome networking reception with INL representatives before a full-day tour of the lab facilities, including the Energy Systems Lab, Collaborative Computing Center and Energy Systems Lab, where the UW team learned about the initiatives led by INL in areas of nuclear engineering, cybersecurity and workforce development.
"We were proud to host faculty and students from the University of Wyoming at Idaho National Laboratory," says Marianne Walck, INL's deputy laboratory director for science and technology and chief research officer. "Our partnerships throughout the region help prepare students for emerging career opportunities in the energy and security sectors. Innovation in science and technology is vital as Wyoming and other states diversify their energy economies."
One of the U.S. Department of Energy's 17 national laboratories, INL operations focus on driving nuclear energy research, clean technologies and renewable energy systems, with additional support directed to the critical infrastructure needed to deploy, monitor and train a workforce for advanced technologies. INL houses an exceptional array of scientific expertise, equipment and instruments to help shape extraordinary new innovations into practical, everyday uses.
"We are so incredibly grateful to INL for inviting us to their facilities," says Tyler Grabner, director of career services for the College of Engineering and Physical Sciences. "SER and the College of Engineering and Physical Sciences have a long history of collaboration with the national labs to advance novel research, but INL has been particularly engaged with UW in the last couple of years.
"Nuclear is an emerging topic of interest in Wyoming and a real area of growth that will play an even larger role into the future," Grabner continues. "We want to make sure that our students are set up for success to support that industry and be competitive in employment opportunities. We are so thankful to INL for showcasing the variety of careers and research opportunities available to UW."
Let us know what you think!