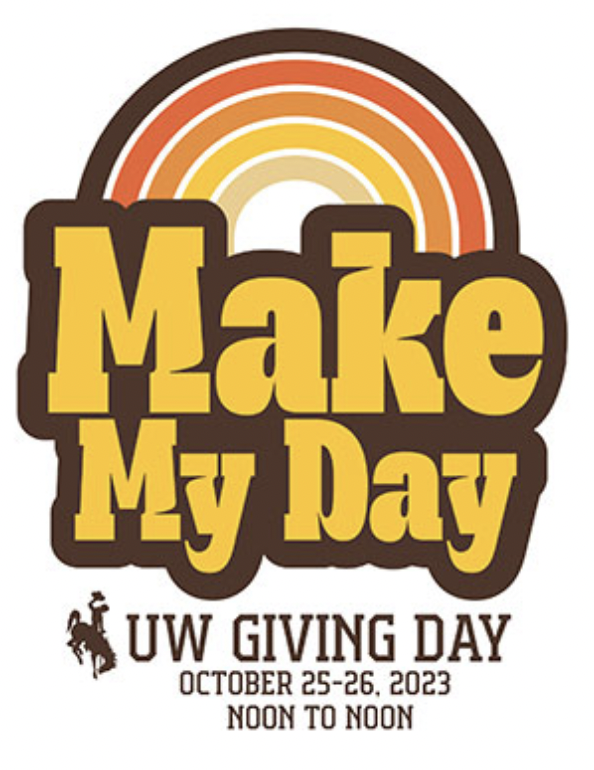 The University of Wyoming urges people to "make my day" for UW Giving Day.
"Over the last nine years, Giving Day has made a tremendous impact at UW, showing us the strength of our collective generosity," says John Stark, president and CEO of the UW Foundation. "But it's not just about the donations — it's about fostering a culture of philanthropy on campus that will make a difference to the students, faculty and programs at UW long after Giving Day is over."
This year, UW Giving Day will take place Wednesday to Thursday, Oct. 25-26, noon to noon. UW supporters can rally together and support the students of today and tomorrow by giving to campaigns of UW units, programs, colleges and student-led organizations.
Matches and challenges are an important incentive for UW Giving Day, and the McMurry Foundation of Casper generously provided this year's kickoff match, which is $500,000 for a 2:1 match for gifts of up to $5,000.
Donors can give at www.uwyo.edu/givingday and support the effort on social media with the hashtags #uwgivingday and #makemyday.
"Our students are at the heart of our university's mission, and it's inspiring to watch the culture of philanthropy grow within the student community," says Clancee Rea, UW Foundation director of annual giving and the Donor Experience Program. "This is just the beginning of a profound lasting impact for UW and the state of Wyoming that I hope will continue on for many years to come."
UW Giving Day is UW's annual day of giving spearheaded by the UW Foundation that takes place online and across campus. It has an immeasurable impact on UW students and the faculty, staff and programs that support them.
There are more than 200 fundraising campaigns created by UW colleges, programs and organizations large and small. Leading up to UW's Giving Day, programs from across UW can create campaigns to raise money for their areas. They create buzz, contact their alumni, help establish matching funds and create friendly competitions with other units on campus.
The event creates fundraising opportunities for small student-led organizations that otherwise wouldn't participate in a campaign of this size. On UW Giving Day, every gift makes a difference.
"I am excited about the increased level of student and young alumni engagement we are seeing this Giving Day," Rea says. "We have more than 40 student organizations participating and a $20,000 match available for our young alumni."
This year, more than $1 million is available in matching and challenge funds, which allow donors to increase the impact of their giving.
Matching funds are funds used to double the impact of a gift. For example, if a donor gives $100 to a program that is eligible for a match, the gift will be matched with an additional $100, meaning $200 overall goes to support that program.
Challenges are similar but generally are based on the number of donors. Once a threshold is reached, the fund is unlocked. For example, a challenge may be set up to unlock a fund once a program has 100 donors. Once 100 donors have given any amount to a program, the fund is unlocked.
In previous years, these matching and challenge funds have gone quickly, so donors are encouraged to plan ahead.
The following matches and challenges will go live at noon Wednesday, the start of UW Giving Day. See more details at www.uwyo.edu/givingday, and click on the matches and challenges link.
The McMurry Foundation's kickoff match of $500,000 that will provide a 2:1 match for gifts of up to $5,000 means that, if you give $100, your gift will have a $300 impact on the area you designate.
Other matches that go live at noon include the Overall Giving Day Donor Challenge; the Student Organizations Donor Challenge; the Club Sports Donor Challenge; the Fraternity and Sorority Life Donor Challenge; the Athletics Donor Challenge; and the Alumni Donor Challenge.
At 3 p.m. Wednesday, the following matches will go live: the UW Board of Trustees Scholarship Match; the UW Foundation Board 3 p.m. Match; President Ed Seidel's UW Faculty/Staff Match; and Graduates of the Last Decade Match.
Two matches will go live Thursday. At midnight Oct. 25-26, the UW Foundation Board Midnight Match will go live. The UW Foundation Board Mystery Match will go live at an undisclosed time — so, if you haven't yet been able to secure a match, keep an eye on the UW Foundation's Facebook page Thursday for when this one goes live.
There are additional college- and unit-specific matching and challenge funds as well.
Gifts of cryptocurrency also are accepted during UW Giving Day (www.uwyo.edu/givecrypto). UW was the first university to accept gifts of cryptocurrency, starting in 2018.
For more information, call the UW Foundation at (307) 766-6300 or email foundation@uwyo.edu.
Let us know what you think!
Tagged:
Clancee Rea
John Stark
McMurry Foundation of Casper
University of Wyoming
UW Foundation
UW Giving Day