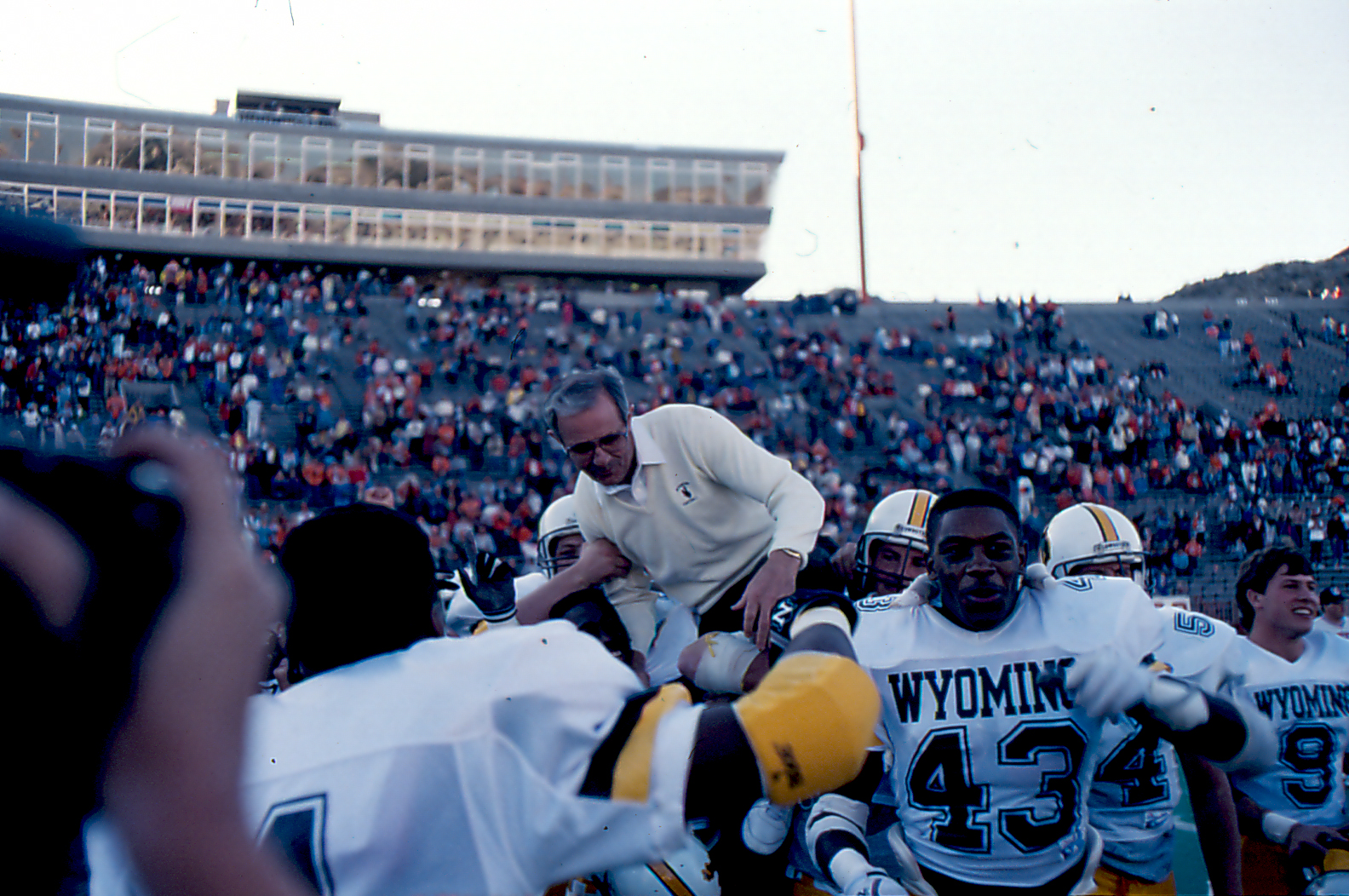 • Roach led the Athletic Department from 1987-96 and Led Cowboys to Holiday Bowl in 1987 and 1988 and Copper Bowl in 1990
 LARAMIE, Wyo. (Sept. 4, 2023) – Paul Roach, the architect of one of the most successful eras in University of Wyoming athletics history has passed away.
Roach died peacefully on Sunday with his wife, Marge, at his side.  He was 95.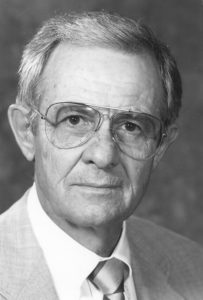 The only man in UW history to serve as athletics director and head football coach simultaneously, Roach served as the school's AD from 1987 through 1996, and head football coach from 1987-90, taking over the football program at 58-years-old after Dennis Erickson had left for Washington State after just one season.  Roach soon become one of the biggest stories in collegiate football directing the Pokes to a 20-5 record in his first two years, two championships and two bowl-game appearances.
"Coach Roach was so much more than a damn good coach," said UW Athletics Director Tom Burman.  "He was caring, smart, disciplined, funny, but most of all a great communicator.  He knew when and how to say things—a skill few have, and he did it without an ego.  Our thoughts and prayers go out to Marge and his entire family. Wyoming will be forever grateful to him. We will all miss Coach Roach!"
As athletics director, he guided Wyoming's total athletic program through tremendous success.  During his time as AD, the school produced some 280 academic all-conference performers in all sports. His vision helped established the Rochelle Athletics Center.
As head football coach, he took over a program that was 27-32 in the five previous seasons and led the Cowboys to back-to-back Western Athletic Conference Championships in 1987 and 1988, going undefeated in league play both years.  He was named the league's Coach of the Year following each of those seasons.  He was named the Kodak Region V Coach of the Year in 1987, and was a two-time finalist for National Coach the Year. During his four-year tenure, he guided the Cowboys to a 35-15-0 record and three bowl-game appearances, the 1987 and 1988 Holiday Bowl and the 1990 Copper Bowl.
"Coach Roach was a great mentor and friend," said Head Coach Craig Bohl. "He was a phenomenal coach and person.  He meant so much to his players and the Wyoming fans.  Rest in peace Coach."
Roach's name will forever be synonymous with Wyoming's rich athletic tradition.  During his first stint with UW from 1962 through 1970, he was the Cowboy offensive coordinator and backfield coach when Wyoming earned three consecutive WAC Championships, won the 1966 Sun Bowl and appeared in the 1968 Sugar Bowl.
He left Wyoming following the 1970 season but returned in November of 1985 to become the Executive Director of the Cowboy Joe Club.  He was appointed Athletics Director on Sept. 1, 1986.
When he left Wyoming in 1970, Roach coached two years at the University of Wisconsin, then accepted a position with the Oakland Raiders.  As a member of John Madden's staff, Roach helped lead the Raiders to three Western Division titles and one AFC Championship game appearance.  Following a two-year stint as offensive coordinator for Bart Starr at Green Bay, he was named backfield coach with the Denver Broncos and served in that capacity from 1977 through 1980.  During his time in Denver the Broncos played in their first Super Bowl.
Following that season Roach entered private business, and for five years was the co-owner and President of Western Pro Sports, Inc., and Western Financial Services, an organization which served as a negotiating agency for professional football players.
In November of 1985, Roach decided to make a career move, moving back to the state he learned to love two decades earlier, to join the Cowboy Joe Club as its director. He loved "the proud, tough-minded people of the Equality State," as he called them.  After one year with the Cowboy Joe Club, he was named UW's Athletics Director.
"Paul was one of the most inspirational people I've ever been associated with," said Randy Welniak, UW's Senior Associate Athletics Director, who was the Pokes' quarterback during the 1988 season.
"Coach Roach was not only an outstanding coach, but an even better individual.  Those of us who were fortunate to have been coached by Paul, knew we were going to be prepared for every game and ultimately play our very best.  He had an impact on the University of Wyoming and the football program that will be remembered for years to come.  I am forever grateful for the impact he had on my life and the impact he had on the Cowboy football program."
Roach retired from UW in 1996.
Let us know what you think!