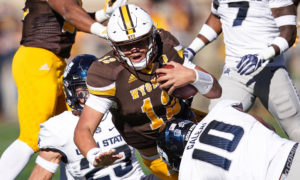 CHEYENNE, Wyo. – University of Wyoming Athletics and Cowboy Football will again be hosting its annual Military Appreciation Day Sept. 28, as the Cowboys face the UNLV Rebels at War Memorial Stadium. Kickoff time is still to be determined.
Each year through donations by Cowboy fans and a match provided by UW Athletics, free tickets are made available to currently-serving military, veterans and their families through VETTIX.  Veterans are strongly encouraged to sign up and get verified via VETTIX as soon as possible as the process may take a few days.
In addition, a very small amount of tickets will be made available to veterans through the Wyoming Veterans Commission for those who do not receive tickets through VETTIX or do not have access to a computer. Due to limited tickets, veterans can request two tickets per veteran.
Additionally, once donated tickets have been exhausted, a ticket discount will be available to currently-serving military, veterans and their families for tickets purchased in advance or the day of the game, with proper ID.
Access VETTIX via https://www.vettix.org/ref/242534.  Select "CREATE AN ACCOUNT" located in the upper right hand corner. Follow the instructions to begin creating your account.  You will need to validate your military/veteran status by providing a copy of one of the requested documents and a valid photo ID.
For more information on Military Appreciation Day, or to request tickets if you do not have access to VETTIX, contact the Wyoming Veterans Commission 307-777-8152.  You must contact the Commission by Sept. 14 if you are interested in tickets.

Let us know what you think!
Tagged:
Cowboy Football
University of Wyoming athletics
War Memorial Stadium