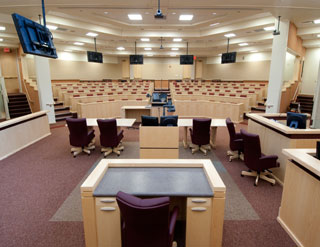 LARAMIE (WNE) — University of Wyoming officials visited the Legislature's Joint Appropriations Committee to make a last-minute request for $12 million to fund a $22 million renovation and expansion of the university's College of Law on the eve of college's 100th anniversary.
The project had not made it into UW's formal budget request in mid-2019 which was vetted by the State Construction Department and Gov. Mark Gordon's office before going to the Legislature in December.
"We were designing the facility and didn't know the cost of the facility over the summer," College of Law Dean Klint Alexander told JAC on Friday afternoon. "We did not want to come before you when we didn't know what the cost was going to be, and that process played out between May and August 2019."
The board of trustees approved the project's exterior design in September after private fundraising began in November 2018. Since that time, Alexander said that $5 million has been pledged and that another $1 million is likely to be raised by a planned construction date of October 2020.
The project would add about 19,000 square feet and renovate about 23,000 square feet of existing space.
If the Legislature approves the request during the upcoming 2021-2022 budget session, which begins Feb. 10, UW Trustee John McKinley said his board is likely to approve funding for the rest of the project.

Tagged:
Dean Klint Alexander
University of Wyoming Law School
Wyoming Joint Appropriations Committee