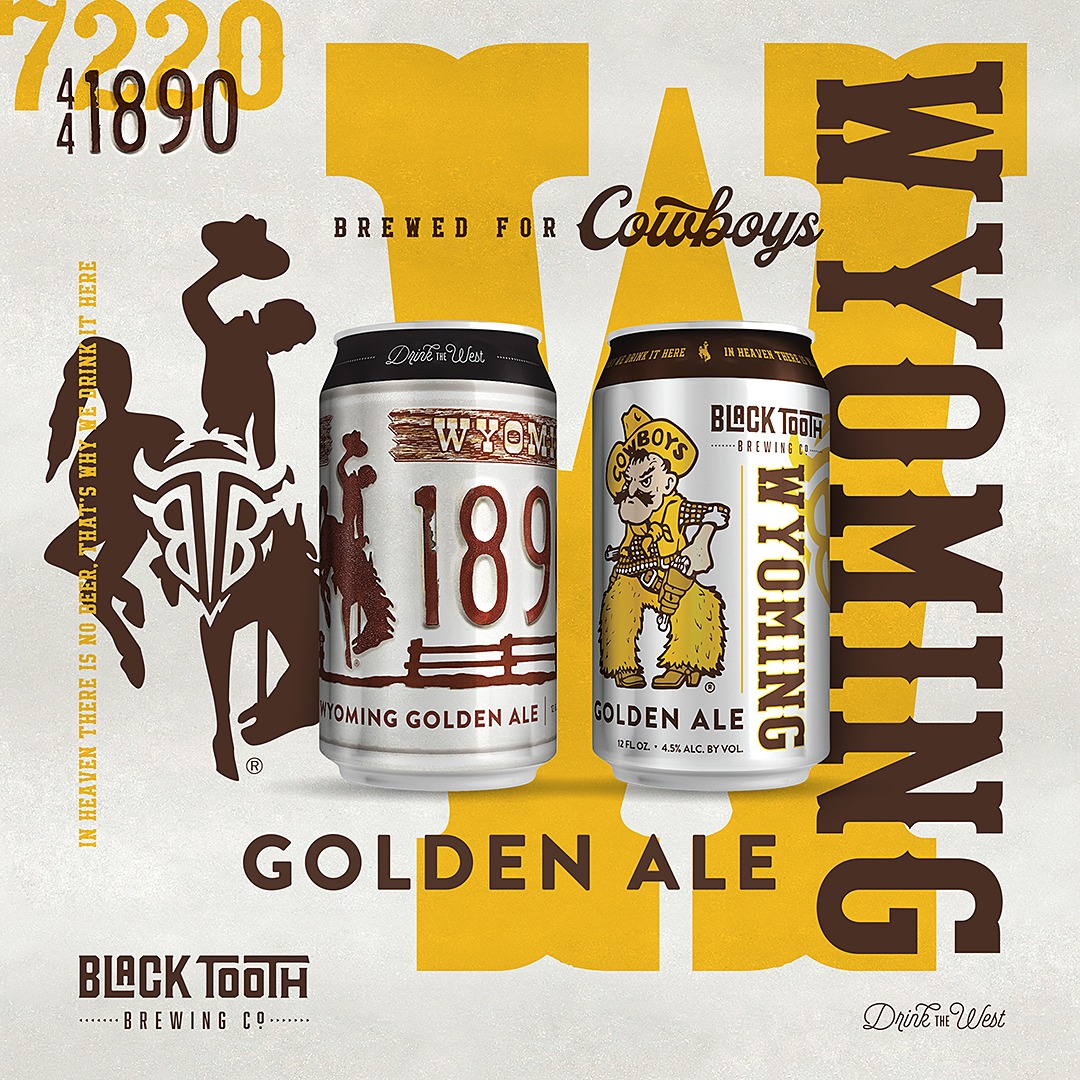 • Craft beer cans will feature Pistol Pete, classic bucking horse
By Aedan Hannon
Casper Star-Tribune
Via- Wyoming News Exchange
CASPER — Beer, beer, get your beer, University of Wyoming fans. 
UW Athletics and the state of Wyoming announced Friday that they would partner with Sheridan-based Black Tooth Brewing Company on a new craft beer called Wyoming Golden Ale, a light bodied, straw-colored beer with "subtle fruity notes reminiscent of pineapple." 
The new craft beer will be available year-round but have two unique cans that rotate seasonally and pay homage to UW sports and Wyoming. 
From September to May, UW fans will be able to buy Wyoming Golden Ale in cans with mascot Pistol Pete accented by the university's brown and gold colors, according to a school announcement.
 UW fans will also be able to buy UWbranded Bud Light cans with the school's Steamboat logo this fall as part of an ongoing relationship with beer maker Anheuser-Busch. 
"We are very excited for this collaboration with Black Tooth Brewing," UW Athletic Director Tom Burman said in a statement. "The product and packaging of Wyoming Golden Ale is special and unique that will highlight this great state. We are very thankful for this collaboration along with our partnership with Anheuser-Busch to give our fans a Wyoming branded drink at their local stores and at our athletics events." 
The beer's other label will feature Wyoming's classic bucking horse and rider and historic license plate imaging in a nod to the state's history.
It will be available from Memorial Day to Labor Day. The new beer and brand will launch ahead of the summer on consecutive days in Cheyenne, Casper and Sheridan beginning May 25. 
The collaboration follows other universities that have looked to partner with local breweries and create dedicated craft beers, including "Old Aggie," a partnership between New Belgium Brewing and rivals Colorado State University.
"Black Tooth Brewing Company was extremely flattered to be recognized as the Craft Beer collaborator for the State and The University of Wyoming this past Winter," Tim Barnes, a cofounder of Black Tooth Brewing Company, said in a statement. "As a company founded in Wyoming and more importantly, a company focused on Wyoming this was a very natural collaboration for us. The Bucking Horse and Rider is one of the lasting and iconic images associated with the State of Wyoming and to have an opportunity to add a World Class beer and The Black Tooth Brewing Company Buffalo icon alongside it was a can't miss opportunity we are very fortunate to be able to execute on."
Let us know what you think!
Tagged:
Black Tooth Brewing Company
Pistol Pete
University of Wyoming beer
UW Athletics
Wyoming Golden Ale