(Video) – Star Valley Boys vs Natrona at the Flaming Gorge Classic
Due to equipment issues in Green River, video of the Star Valley Boys basketball game may not be available. Live audio of the game can be found on Swift 98.7 FM in Star Valley, as well as online at SVInews.com/swift-98-7 and on the radio tab of the SVI News App.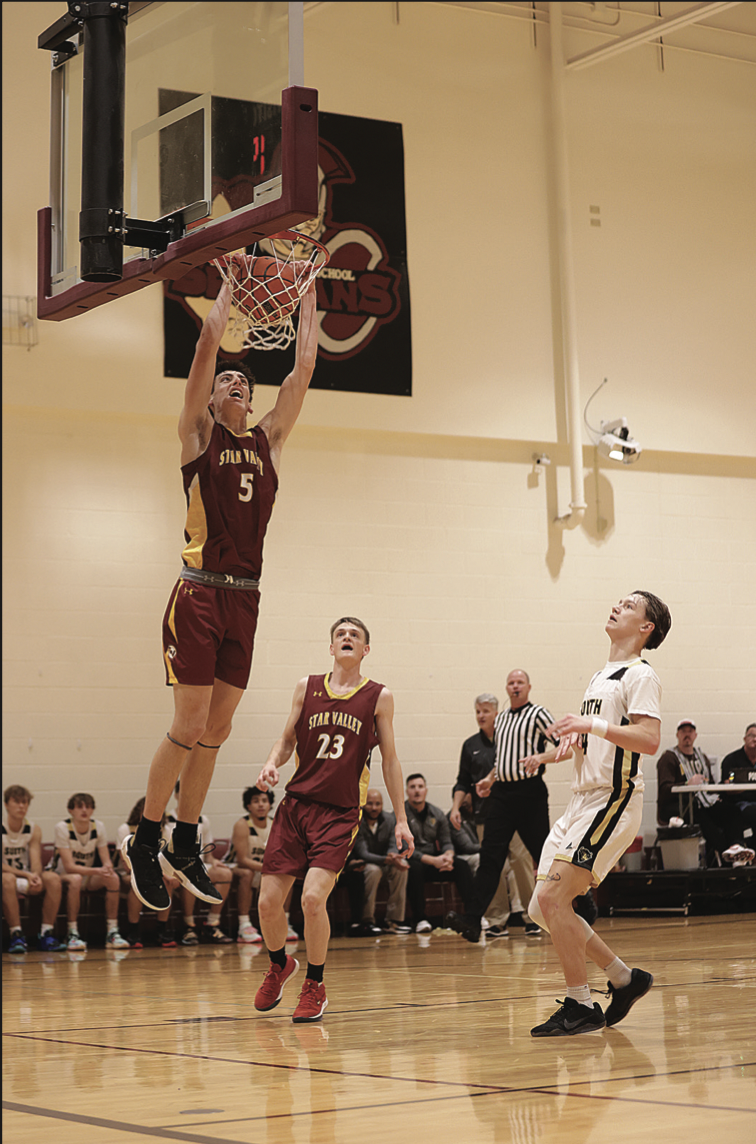 The Braves (3-1), fresh into the Wyopreps.com Coaches and Media Poll at #5 will try and keep that ranking as they take on the undefeated Natrona Mustangs (3-0) as part of the Flaming Gorge in Green River. Join Duke Dance (@Duke_Dance) and Dahl Erickson (@DahlErickson) and the SVI Crew as they bring you the First Bank of Wyoming Countdown to Tip-off starting at approximately 2:30 pm.
Traditional radio coverage will also be provided on Swift 98 in the Star Valley area and online here.


• Boys facing Natrona this Friday in Green River.
(This article appeared in the December 14, 2022 edition of the Star Valley Independent.)
The Star Valley Braves squeezed in four games over three days at the Strannigan Tournament in Riverton to start the 2022-23 campaign, winning three of them. The Braves opened up with a loss to Laramie but then defeated Lander, Cheyenne South and #5 Sheridan to close things out. Coach Mitch Schwab commented on the opening weekend.
"First things first I did not like the entire Laramie game," he stated. "We didn't run the offense one time that whole game. First game jitters or whatever it may be, we didn't know what to do. By the time we got to the Sheridan game we got a taste of what we're capable of. The defense we saw against Sheridan is what we've been practicing. They played up to that competition and then beat them at their own game. That's what we've been trying to implement. I told them I'll be very nit-picky. Our guys are still way better than what we've showed."
The Braves were well balanced and used their height to their advantage in their wins.
"The thing I was most pleased with was our rebounding," Schwab added. "Attacking the boards on offense and finding our guy. Just because we're tall we're not going to get them. We have to box out and that made a big difference in the Sheridan game. Most teams will get ten points on second-chance points but if you can win that category that's a ten-point swing. We just need more repetition on offense."
This week will have just a single contest for the boys as they are facing off against Natrona on Friday afternoon in Green River in a late addition to the schedule. The Braves beat the Mustangs three times last season.
"Natrona is not the same team we saw last year," Schwab said. "They had a great weekend. I watched a little film against Green River which I plan to review. As of now I know they are playing much better basketball than they were last year. We can't just walk in and expect to win. We have to be the most aggressive team on the court."
Let us know what you think!