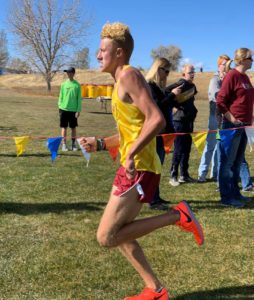 Peter Visser has been named the Wyoming Gatorade Cross-Country Runner of the Year.
The Star Valley High School junior has now won the award for the second time after dominating the Wyoming 3A state championships and helping propel the Braves back to the 2019 Wyoming 3A Cross-Country team title.
Nicknamed the "Repo Men" by Visser, the squad left no doubt as they brought back the championship after a one-year absence which snapped a six-year streak by the SVHS boys.
Visser placed eighth at the Nike Cross Nationals Northwest Regional and received All-Region honors. He also placed 21st at the Foot Locker West Region Championships in December.
His current time in the Indoor 3200 meter race this season has him ranked #18 in the country.
Visser will be part of a Star Valley contingent that will run at the 2020 Simplot Games in Pocatello, Idaho this weekend.
He and Shane Henderson are the only two boys to win the award from Star Valley. Visser joins Hailey [Ricks] Whetten as the only other SVHS athlete to repeat the award.
Look for more information on this accolade in the February 12, 2020 edition of the Star Valley Independent.
Tagged:
Peter Visser
Star Valley High School
Wyoming Gatorade Cross-Country Runner of the Year