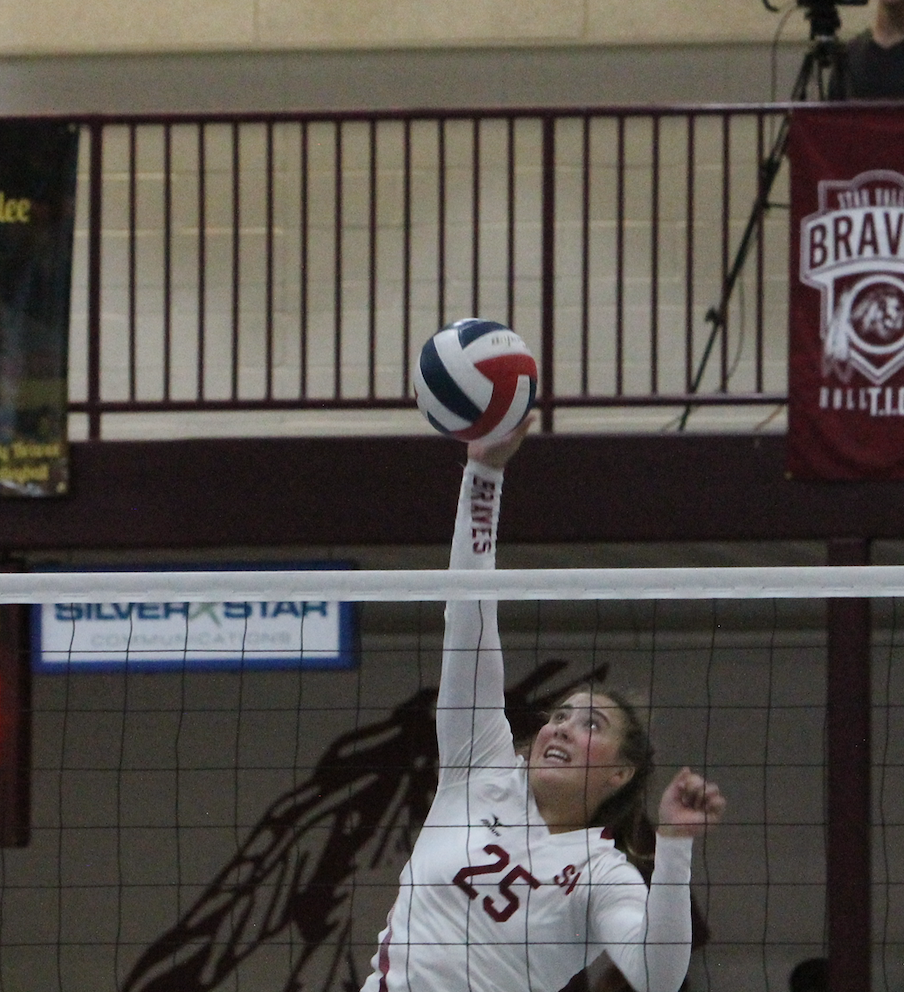 ————
◆ Spikers on the road in Cody and Riverton this weekend.
The Lady Braves Volleyball team enjoyed yet another weekend at home as they hosted the SVHS Invite last Saturday with teams attending from around the region.
At the end of the day, the Sugar-Salem Diggers outlasted Star Valley 2-1 in the championship match.
"I think they came out and did pretty well in the invite," said head coach Blake Peterson. "We continue to learn and grow and we continue to fine tune some things."
In particular, Peterson praised the players' service game.
"On Saturday we did a lot of good things against Sugar-Salem," he added. Our serve has been a lot better."
The Lady Braves did not have to wait long for redemption as they faced off against Sugar-Salem on Tuesday evening. The results were not quite what the team wanted as the Diggers swept Star Valley 17-25, 15-25, 23-25.
Peterson said the girls were not happy with their effort off the bus.
"The girls even said it after the match that we didn't really compete on Tuesday night until the last set," he stated. "So we just need to focus on ourselves and do what we need to do regardless of who we're playing. We're still a young team and striving to be mentally strong."
An opportunity to do just that awaits the Lady Braves this weekend as they make the long trip to Park County to face off against the Cody Fillies who lead the 4A Northwest with just a single loss on the season. Coach Stephanie Birch leads the squad and was on the same staff as Peterson when the Kemmerer Lady Rangers won the 2A state title in 2013; the program's first in 30 years.
"I know they are well coached," Peterson said of Cody. "She was my assistant in Kemmerer so I know they are going to play a good brand of volleyball. It will be a good measuring stick for us and our girls are excited to go up and play and get things going."
With many players such as McKenna Brog, Addie Jenkins, Mia Hutchinson and McKenna Frazier all vying for attacks, Peterson feels the group is finding their respective roles and strengths within the team.
"They are settling in," he added. "We're going to put the best girls where they need to be and if that means we make changes through out the year then we'll do that. But they are competing with one another and playing hard. That's something we'll play by ear. They are a fun group. We're excited to start region play and see what they are able to do."
The varsity match is expected to start at 6 p.m. Layne Parmenter and Brandy Taylor will bring audio coverage of the event back home.
On Saturday the team will take on Riverton High school with a 1 p.m. varsity start time.

SVHS Invite
Star Valley: 2 Kemmerer: 0 (25-18, 25-14)
Cokeville: 1 Star Valley: 1 (25-23, 21-25)
Evanston: 1 Pinedale: 1 (25-22, 21-25)
Evanston: 2 Kemmerer: 0 (25-19, 25-20)
Pinedale: 2 Cokeville: 0 (25-17, 25-23)
Sugar-Salem: 2 Star Valley: 1 (25-22, 14-25, 25-21)
Standings
4A Northwest
Cody 6-1 1-0
Natrona 3-2
Rock Springs 3-3
Riverton 1-3 0-1
4A Southwest
Star Valley 6-2-1
Jackson 3-2
Evanston 3-5-1
Green River 0-5
4A Northwest
Thunder Basin 6-2 1-0
Kelly Walsh 5-1 1-0
Campbell Cnty 4-4 0-1
Sheridan 0-5 0-1
4A Southeast
Laramie 6-0
East 4-2
Central 1-3
South 1-6
3A Southwest
Mtn. View 9-1 1-0
Pinedale 6-1-1
Lyman 6-3
Kemmerer 2-6 0-1
1A Southwest
Farson-Eden 4-1 1-0
Saratoga 3-3 1-0
Cokeville 4-4-1
Little Snake 4-2 1-1
Encampment 2-3 0-1
Tagged:
Blake Peterson
Cody Fillies Volleyball
Lady Braves volleyball
Star Valley High School
Stephanie Birch