Western Wyoming Snow & Wind Totals
Another windy snowstorm pounded Wyoming Sunday and Monday, bringing several inches of snow to some areas while other areas saw wind gusts exceeding 100 MPH.
The National Weather Service reports that Mt. Coffin in the Greys River area of Lincoln County recorded a wind gust of 112 MPH Monday morning.  The same peak recorded a gust of 120 MPH on Dec. 20, 2018.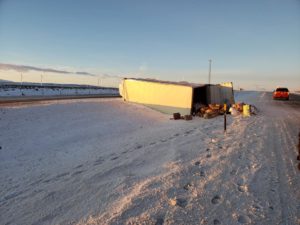 In south Lincoln County, the Kemmerer Airport recorded a peak wind gust of 46 MPH at 10:55 AM Monday morning.
The storm also brought significant snowfall to northern Lincoln County, dropping 15 inches on Commissary Ridge and 13 inches on Blind Bull Summit.  Star Valley Ranch had the most valley accumulation in Lincoln County with 9.3 inches, followed by 6 inches in Thayne and Bedford and  5 inches in Smoot.
The storm also made travel conditions treacherous, with whiteout conditions reported across Wyoming Monday.  I-80 in Southeast Wyoming was closed for several hours along with 4 main highways in eastern Idaho.  As of Tuesday morning, WYDOT reported that Black Ice Advisories remained in effect throughout most of western and southwestern Wyoming.