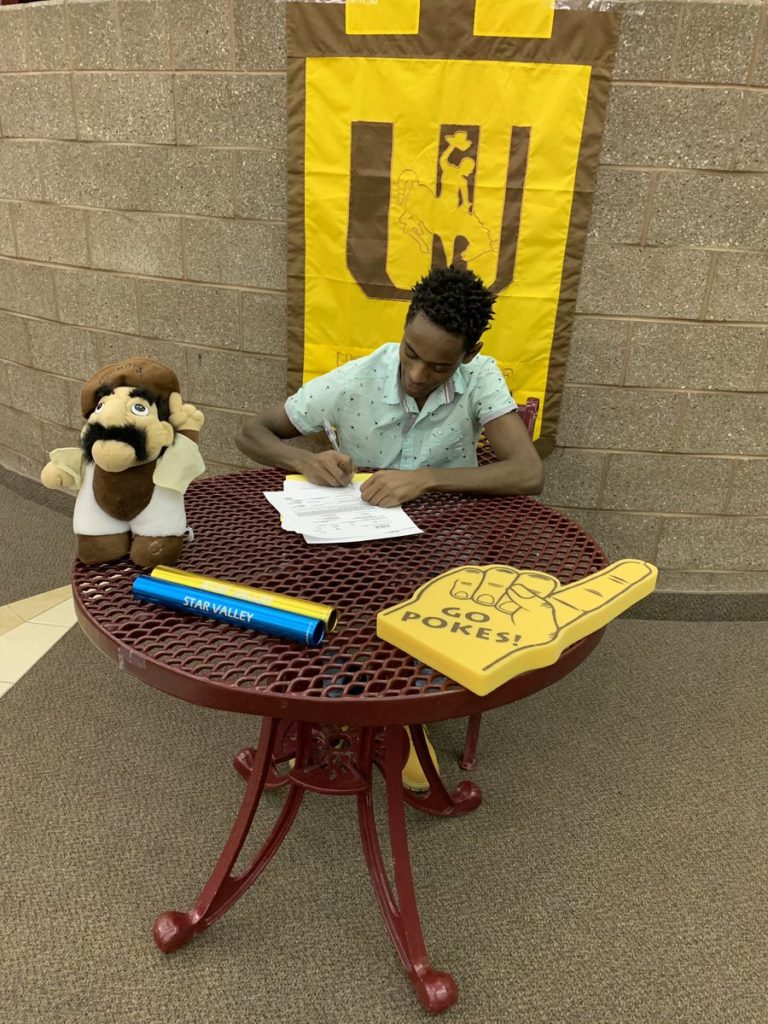 Star Valley High School senior, Asefa Wetzel, signed his letter of intent to run for the University of Wyoming on Tuesday, February 12. Wetzel is one of the most decorated runners in Star Valley history. He is a three-time state champion as a member of the Braves cross-country team. He also was the individual state champion in 2017. He has been a key member of the Braves track & field team which won three consecutive Wyoming 3A titles as well and holds school records in the Indoor 1600 (4:18.10) & 3200 (9:24.45) meter events and the outdoor 1600 meter run (4:16.74).
Wetzel has overcome a serious knee injury in the last year and has already shattered his own 1600 meter indoor record this winter. He joins recent SVHS teammates such as Wesley Kallgren and Nic Demler who have earned collegiate scholarships from the track program. Both signed to run for Weber State University.
Both Trevor Ricks and Hailey (Ricks) Whetten competed for Weber State as well, earning multiple Big Sky All-Conference nods.
UW Track & Field has had several SVHS runners compete for them in the past decade. Kirsten McKen, Tyler Skinner, Andy Mcken and Charlie Fisher all competed in the Brown & Gold. The last SVHS athlete to earn a scholarship to Laramie was Audrey West who graduated in 2010.
Asefa is the son of Joe and Christina Wetzel of Grover. Wetzel has been coached at SVHS by Ty Draney and Heather Thompson.
Tagged:
Asefa Wetzel
Star Valley High School Cross-Country
Star Valley High School Track & Field
University of Wyoming Track & Field