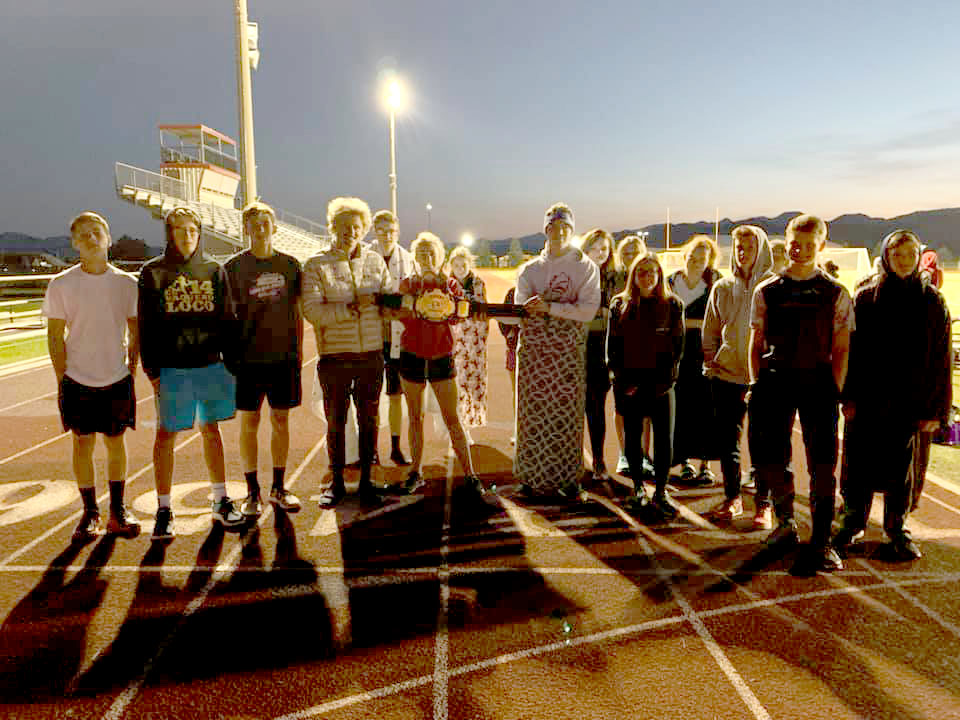 —————–
◆ Schedule and procedure changes won't stop the SVHS Distance Posse.
They are a different breed. The people running while the rest of us drive. Those that are up both early and late to get in the vital miles to improve their craft and their time.
For the rest of us, it was Sunday night ticking over into Monday morning.
For them it was Cross-mas. The beginning of the fall sports season and the first opportunity to officially start the cross-country season.
A total of 38 runners met at Braves Field ready to embrace the challenge of another season. What they did is just plain remarkable to the rest of us.
"We just kind of left it up to them," replied head coach Ty Draney. "With the current Covid-19 regulations they didn't want us camping out so we divided up into two teams and from midnight until 6 a.m. we had someone on the track the whole time for each team so we could see who could accumulate the most miles."
While the majority of Star Valley residents slept, the two groups logged a total of 111.5 miles on the track with the Crimson team holding a slim advantage at the end with 56.5 miles compared to 55.0.
"We also had a corn hole tournament so you had a chance to gain up to a mile for your team," Draney said. "It actually came down to triple overtime and it ended up being a factor. It ended up being about a mile and half between the two teams."
With just under six hours of running.

As it turns out, all those laps should prove handy for a boys team that has won seven of the last eight Wyoming 3A titles and has the state's fastest runner in Peter Visser. Because the rest of the group will have to replace a lot of departing seniors.
"We have a pretty interesting team this year," Draney added. "We're as inexperienced as we've been in a decade. It seemed like a good way for the older kids to take the load when they needed to and give the younger kids a taste of what we do."
The numbers are there and so is the template. When it's all said and done, the program should top 40 once again as it has for many years.
What will be different are some of the starting line procedures and the schedule itself as teams in Wyoming are avoiding overnight stays for the most part. Which means the state preview meet in Afton which took place last year will most certainly not have the 20-plus teams it did last year.
This year's first meet will be a trio of winning programs counting on their high program expectations.
Pocatello, Soda Springs and Star Valley typically get together for a Summitview High-Altitude Running Camp or SHARC camp. This year they will start their season on Thursday August 27 after 15 years of sharing summer experiences. The meet will take place in Soda Springs.
Let us know what you think!
Tagged:
Star Valley High School Cross-Country
Wyoming high school sports