Wild horses back in court amid swelling populations, planned roundups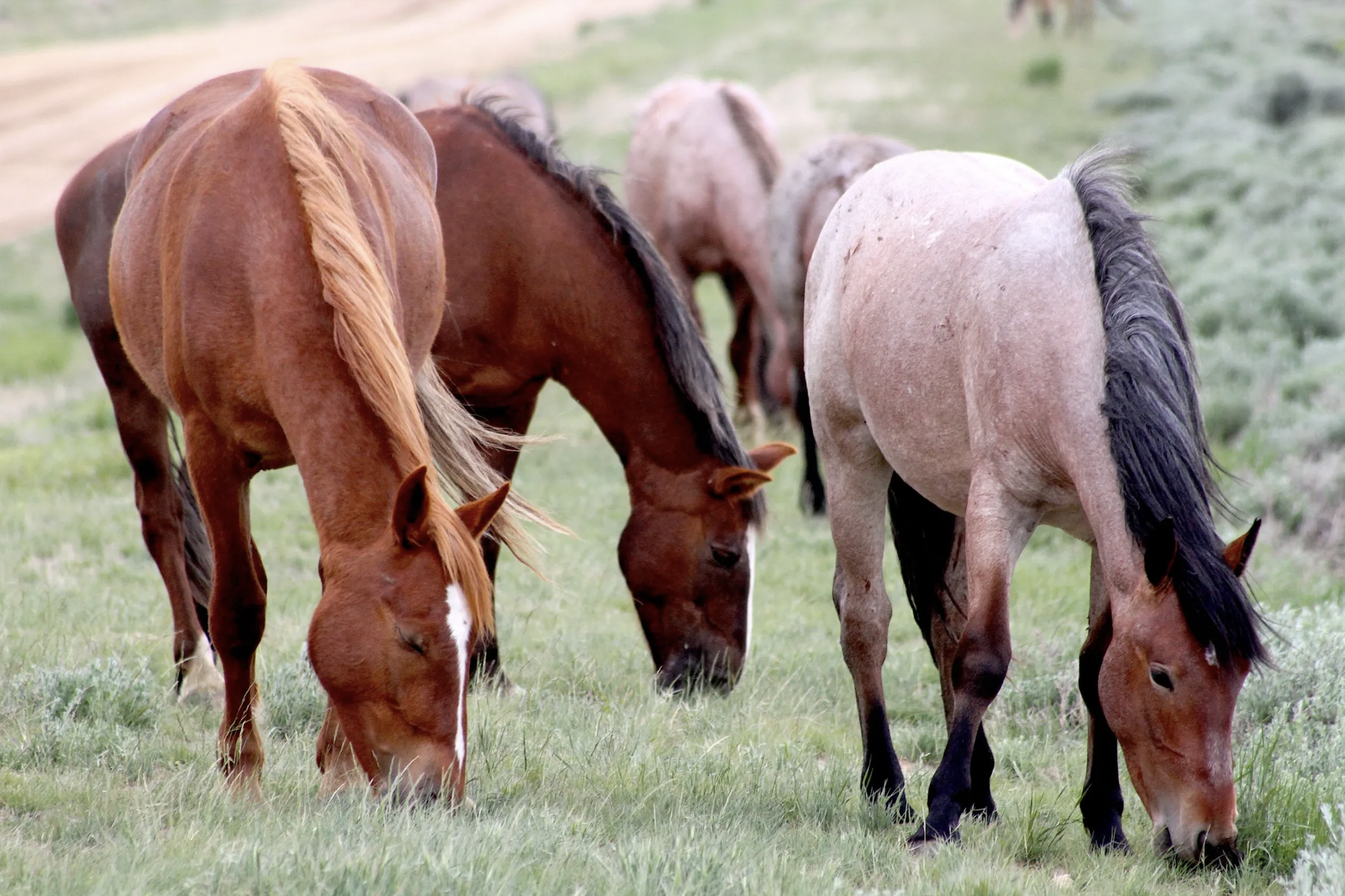 • Mustang advocates have mounted a legal fight aiming to reverse a Bureau of Land Management decision calling for zero horses in portions of the checkerboard.
By Mike Koshmrl, WyoFile.com
ROCK SPRINGS — Jim Magagna summed up one difficulty of wild horse management in two words:  
Always litigation. 
"This current litigation is a threat to the program," charged Magagna, a longtime lobbyist for the Wyoming Stock Growers Association. He was testifying before the Wyoming Legislature's Select Federal Natural Resource Management Committee at its June 14 meeting at Western Wyoming Community College. 
Magagna was referring to lawsuits and a congressional effort that seek to prohibit the use of helicopters in rounding up wild horses. Feral equine populations are well above the federal government's objective both nationally and in Wyoming, and aerially assisted roundups are a key tool in managers' efforts to trim the herds.
Earlier in the same meeting, Kris Kirby, the associate state director for the Bureau of Land Management's Wyoming Office, addressed another mustang-related lawsuit. Her agency recently released a decision to strive for zero wild horses in some portions of southwestern Wyoming. A coalition of wild horse advocates that includes the American Wild Horse Campaign, Animal Welfare Institute, Western Watersheds Project and private citizens promptly sued, asking a judge to throw out the agency's plan.
"There is no connection at all between the appropriate management level that has been set for wild horses in the Red Desert and land health," Western Watersheds Project Director Erik Molvar told WyoFile. "It's been set for the convenience of the livestock industry. They have a vested interest in getting rid of anything that competes with cattle on public lands. Around Laramie the livestock industry has been trying to get rid of elk. It's the same thing." 
Two representatives of the Rock Springs Grazing Association also testified at the interim committee meeting, outlining the association's decades-long legal fight with the BLM over feral horse numbers. More than four decades ago, the U.S. District Court ordered BLM to remove all wild horses that exceeded an agreed-upon 500-animal cap from the checkerboard — a 40-mile-wide belt of land stretching across southern Wyoming in which square-mile blocks of BLM land are interspersed with blocks of state and private land in a checkerboard pattern — within two years. 
Don Schramm, the association's land operations manager, told lawmakers it's well known that the BLM and local ranchers in Rock Springs disagree about how many mustangs are truly out on the range. His organization would like to see a broader effort to deal with the issue, he said. 
"The legislatures of Wyoming and surrounding states should establish a team effort to … mitigate the overpopulation of wild horses on state, private and public land," Schramm said. 
The population of wild horses across Wyoming, he said, is around 7,000. Kirby earlier provided an even higher figure. The BLM, she said, estimates there are 8,181 wild horses on the range in Wyoming, which is "significantly higher" than the upper "appropriate management level" of 3,725 horses for the state's 16 herd management units. Although winter just decimated native pronghorn and mule deer in the corner of the state where most of its wild horses dwell, the long-lasting, inverted snowpack did not have the same effect on the bigger-bodied hooved newcomers. 
"We are not seeing the same level of [wild horse] mortality that a lot of the ungulates in the state experienced," said Kirby, who described her assessment as "anecdotal." 
Meanwhile, plans are in place to forcefully lower mustang numbers in a way that nature did not. Two Wyoming horse gathers planned for October 2023 are the second and third highest-priority horse roundups in the nation, Kirby said, though funding for neither has been secured. One would occur near Lander and one in the McCullough Peaks area. If they do go forward, the BLM estimates that 2,600 horses — some 32% of the population — could be removed from Wyoming. 
Those plans come on the heels of a 2021 wild horse roundup that successfully wrangled 4,200 southwestern Wyoming mustangs and permanently removed 3,500 of them from the landscape. 
While some of those animals are adopted through programs like the Wyoming Honor Farm, many others live out their days eating government-funded feed on private pastureland. The fate of thousands of feral horses removed from western landscapes has been the topic of a long-running debate, and it too came up at the Rock Springs meeting.
Rep. John Winter (R-Thermopolis), who advocated for wild horse slaughter facilities last legislative session, pressed the BLM officials to clarify their horse disposal solutions. 
"Do you folks really think this adopt-a-horse program is the answer?" Winter asked. "Where are we at on it today as far as demand and ability to send them in that direction?" 
The adopt-a-horse program, Kirby responded, is "very successful." So far this year, she said, the Wheatland off-range corral has found homes for 500 horses, more than half of the facility's 930-horse goal.  
"We're really finding a lot of success through the online corral," Kirby said.
WyoFile is an independent nonprofit news organization focused on Wyoming people, places and policy.
Let us know what you think!