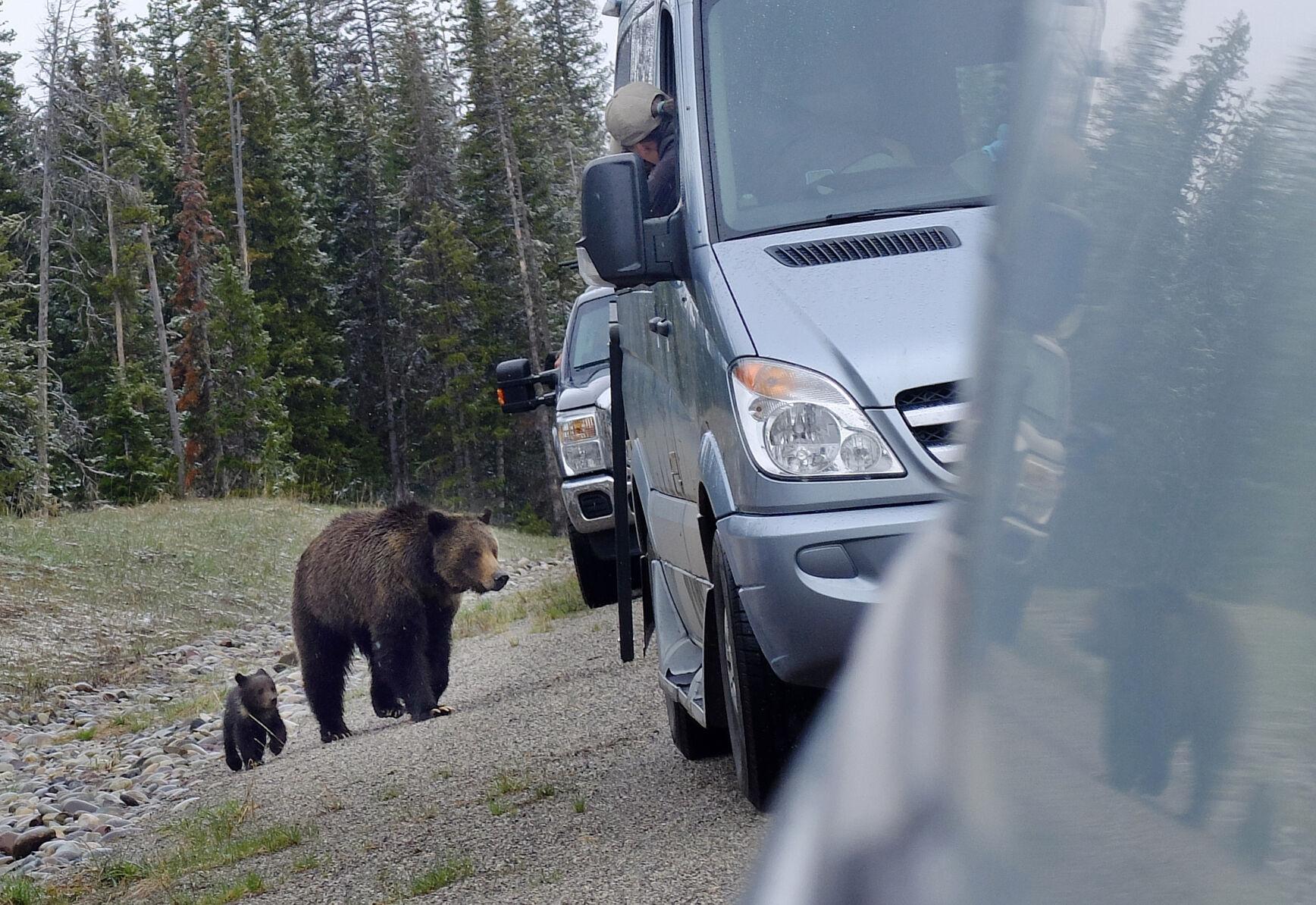 JACKSON (WNE) — A famous Togwotee Pass grizzly bear briefly showed her and her cubs' snouts last week, prompting a now annual plea from wildlife managers to wildlife watchers: Please, don't stop illegally to watch Grizzly 863.
To wildlife watchers the bruin is better known as Felicia.
Stopping in pullouts along the side of the highway between Buffalo Valley and Dubois is legal.
But pulling off on the side of the road is not and could yield wildlife watchers a $250 ticket.
"We don't want to stop viewing, but we want people to do it in the paved pullouts," said Hilary Cooley, the U.S. Fish and Wildlife Service's grizzly recovery coordinator.
State and federal officials also say illegal roadside viewing can be dangerous for bears because when people stop on the shoulder rather than a designated pullout, they're often too close to the bears. Wildlife managers, including in Grand Teton National Park, recommend that people stay 100 yards, or 300 feet, away from bruins.
When humans are too close, bears can become more comfortable with people and vehicles, Cooley said.
Neither situation is ideal.
Getting too cozy with people — or habituated, in the parlance of wildlife managers — can make bears more comfortable exploring campgrounds and other developed areas. If bears get into human-related foods in those areas, wildlife managers are much more likely to relocate or kill grizzlies to prevent conflict.
But getting too cozy with cars is also a problem. Vehicle strikes are a common bear death sentence.
The situation on Togwotee Pass is not new. Grizzly 863, like 399, whose home range is in Grand Teton National Park, is a roadside bear and frequents the shoulder of the highway that traverses the mountain pass. 
Let us know what you think!
Tagged:
Buffalo Valley
Dubois
Felicia the grizzly
Grand Teton National Park
Grizzly 863
Togwotee Pass grizzly bear
U.S. Fish and Wildlife