Women's Retreat scheduled for Mother's Day weekend at the Ford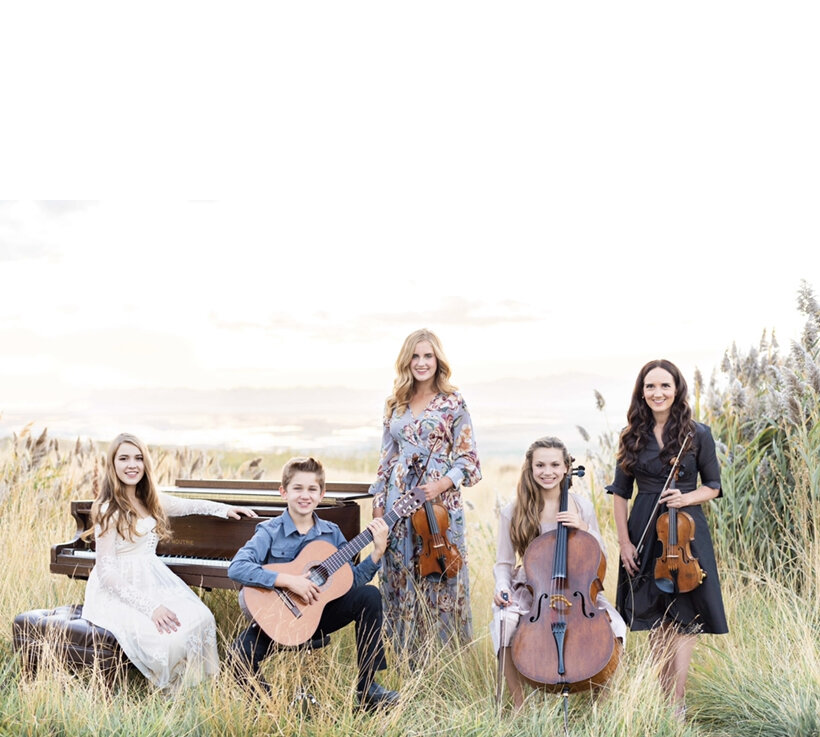 ◆ Events culminate with a public concert by Grammy-nominated violinist Jenny Oaks Baker.
Afton's historic Ford Theatre is offering something unique to women of all ages this Mother's Day weekend. Saturday, May 13 from 10 a.m. to 3 p.m., mothers, daughters and girlfriends are invited to the first annual Born to Create Women's Retreat. Grammy-nominated keynote speaker Jenny Oaks Baker leads the list of speakers who have prepared messages to uplift and inspire the creative woman. That evening, the Ford will ring with music presented by Baker and two of her children.
"[Baker] has a really cool story about how she was able to put her family first and was able to create and grow as a artist," shared James Arbizu, who serves on the Salt River Art's Society Board, in an interview with SVI News last week.
The line-up of presenters includes Danielle Steed, who has presented at many such events. Paul Kucharek, who is a retired military officer, plans to speak about female officers in the military and how they inspired him as they excelled in the military environment. Heather Hobbs, who is a local authority on health and wellbeing. Her interactive presentation, Lighting the Spark, supports people seeking ideas to increase personal creativity. Baker's keynote presentation is scheduled at the conclusion of the event.
Tickets to the retreat include vouchers that offer a $5 discount for lunch at various downtown Afton restaurants. Ladies will have 90 minutes for lunch with the option to eat at home or use their voucher to enjoy a meal in town.
"We want to encourage people to explore downtown," said Arbizu. "There are a lot of cool shops there that have opened that people may not be familiar with." A $5 voucher is also available with the purchase of each ticket to Baker's concert that evening, which is a separate purchase. "We are hoping that this will be something that normally people would go out of town for, but bring it here and hopefully it will be the quality that you might see in Idaho Falls or Logan."
Discussing her concert, Baker joined Duke Dance in an interview on the SVI Radio Network. "I am excited to be back [in Afton]," she shared. With exceptional credentials, Baker offers performance quality that is rare for a small town like Afton. A classically trained violinist, she completed her training at the Curtis Conservatory in Philadelphia and then Juilliard in New York City. She spent several years with the National Symphony Orchestra, which is one of the top five orchestras in the nation, until her fourth child was born, and she decided to resign from the group to be home with her children. For the last 16 years, she has dedicated herself to a solo career and to helping her children develop their own musical gifts.
The family has presented many concerts as a team. Though her older children are pursuing their educations and musical training at various locations throughout the globe, she still has two at home. They have planned a twenty-city Christmas tour for 2023. Her Easter program, The Redeemer, has been touring the country this spring.
"Growing up, I knew that I wanted to be a concert violinist and a stay-at-home mom, and I didn't know how I could do both, because they don't go together very well," shared Baker. "I never figured it out, but I know God figured it out and he helped me help [my children] develop their talents."
Her daughter, Sarah, and her son, Matthew, in collaboration with a "phenomenal pianist" they are working with will join her this weekend. "It will be just a lovely, lovely show."
Baker knows how women are stretched as they work with their whole hearts to serve their families, communities, and members of their faith. Speaking of the women's retreat, Baker shared, "Women give so much that we just get depleted. This is just kind of a renewing weekend for women. I'll be speaking for an hour as keynote on women as creators, and just the different creative aspects of womanhood. The evening show, I have titled 'Songs my mother Taught Me.' My mom started me on the violin when I was four years old, and I owe everything to what she taught me. It will just be a really sweet concert about helping us remember the role of women in our lives and being grateful for that. I hope families will come, because it will just be a beautiful family evening.
Speaking of the role her faith has played in her life as a professional musician, a mother and as a woman, Baker admits it's been a critical foundation for her. "My faith is completely integral to my music. Everything I do revolves around my faith. I am so grateful for the inspiration and the empowerment that my faith has given me. It has guided me throughout my life and helped me to do hard things." Producing her Easter and Christmas shows has been a challenging journey.
"I have the courage to do it because the Spirit has told me that that was what I'm supposed to do, and so I've done it. Everything I've done difficult in my life…just taking that leap of faith, everything has been because the Spirit has guided me….Everything that I have done is because of God and the strength that He's given me. I am so grateful for that. I'm grateful for the spirit I feel when I play and I'm grateful I can be the instru- ment through which that Spirit touches people. I wouldn't be anything without my faith, and so I'm so grateful for the way it has enabled me to do what I have done in my life."
Baker is looking forward to sharing that spirit with the people of Star Valley and the surrounding communities. "I know they will be inspired, and I know they will be entertained, and I know they will be uplifted and renewed." Central to the theme of her concert, Baker and her children have prepared to present a piece called "'Songs My Mother Taught Me.' That's a song I recorded right as my mom was dying. It's a song I played for her when she was dying 25 years ago, and so it's a really special piece to me and it's just a tribute to all that she did to give me music and help build my faith when I was younger. It will just be really touching, spiritually uplifting and entertaining show. So, I hope everyone will join us."
For tickets to the Women's Retreat and to Baker's concert, visit SaltRiverArts.com.
Let us know what you think!
Tagged:
Born to Create Women's Retreat
Curtis Conservatory
Danielle Steed
Heather Hobbs
James Arbizu
jenny oaks baker
Julliard
National Symphony Orchestra
Paul Kucharek
Salt River Arts Society